The lively, fresh 2002 Casa Lapostolle Sauvignon Blanc sports a lovely yellow and green-tinged robe. Its nose is equally intense and aromatic, offering a seductive dollop of citrus, melon, tropical fruits and grapefruit, which intertwine with smoky flint tones. On the palate, the Casa Lapostolle Sauvignon Blanc explodes with both a ripe juiciness and a mélange of crisp acidity, making it a perfect foil for spicy foods. A crisp, racy finish pleasantly lingers in the mouth after swallowing and completes this most attractive and refreshing wine. We have enjoyed the 2002 Casa Lapostolle Sauvignon Blanc only moderately chilled as well as ice cold; with equally fine results, so as you like it.
Without a doubt, summer was made for Sauvignon Blanc, so bring on all the fresh seafood and summertime fare you can muster because the 2002 Casa Lapostolle Sauvignon Blanc is the quintessential Sauvignon Blanc. Clams, mussels, oysters, shrimp, lobster, and just about anything that swims offer a natural pairing with this wine, but that's not all. The Casa Lapostolle Sauvignon Blanc is equally outstanding with salads, poultry, and a host of Asian dishes. Why not try it with a mixed green salad, with caramelized walnuts, poached pears, tomatoes and a fresh crumbled blue cheese. Caesar Salad provides another fine accompaniment as does a roasted free-range chicken, stuffed with sausage and smoked Gouda, and topped with a roasted red pepper cream sauce. Seared Sea Scallops, tossed with a Thai nut relish makes a fine marriage, too. For that matter, a comfortable chair on the deck overlooking the pool provides enough of an accompaniment to Casa Lapostolle's Sauvignon Blanc, so don't feel as if you have to cook or even take in because this lovely Sauvignon Blanc may be all the companionship you need. Enjoy!
Casa Lapostolle is a collaborative effort of two great families: the Marnier family from France and the Rabat family of Chile. Together with her husband, Cyril de Bournet and Don Jose Rabat Gorchs, Alexandra Marnier-Lapostolle reigns over one of South America's premier wine estates. In less than a decade, this winery has taken the international wine world by storm. In 1994, Alexandra Marnier-Lapostolle founded the Casa Lapostolle Winery, and with the world's most prominent winemaker Michel Rolland selected prime vineyard sites that would yield world-class wine. Until quite recently, the Marnier-Lapostolle family was best known as the creator and founder of the world renowned liqueur Grand Marnier, even though they have been involved in winemaking in France for generations, most notably as the owners of Chateau de Sancerre. In creating Casa Lapostolle, the Marnier-Lapostolle family has pursued the same uncompromising approach to quality that made Grand Marnier a household name. The family's objective at Casa Lapostolle is to consistently create world-class wines by marrying French expertise to the incomparable terroir of Chile. The Chilean climate is perfect for the cultivation of the vine, and the soil harbors no phylloxera. In addition, Chile contains a great number of old vines, mostly from French varietals that were brought from France in the 19th century before the dreaded vine louse devastated the parent stock in Europe. Consequently, many of these old vines continue to thrive in the vineyards of Chile, and all Chilean vines, old and new, grow naturally on their own rootstocks a phenomenon rarely seen in Europe or elsewhere in more than a century. The result is pure, natural tasting wines that express expert care and ideal growing conditions. Today, Casa Lapostolle comprises more than 750 acres of prime vineyards, located in three different growing areas. This estate produces two excellent white wines, a Bordeaux-style Sauvignon Blanc, which traditionally contains a small percentage of luscious Semillon, and a Chardonnay. Both deftly represent Chile's ability to turn out internationally acclaimed white wines. Cabernet Sauvignon, Merlot, and Carmenere (Chile's own unique red varietal) dominate Casa Lapostolle's excellent red wine portfolio and place this property among Chile's finest wine producers.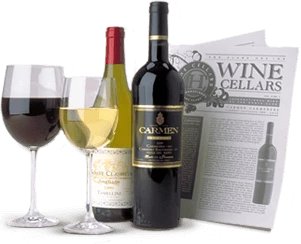 Enjoy Limited Production Estate
Bottled Wines
Discover limited production estate bottled wines such as Vergenoegd's internationally
acclaimed 2005 Cabernet Sauvignon, imported exclusively for our members.
DISCOVER OUR FOUR CLUBS