Casa Lapostolle's series of wines known as Cuvée Alexandre are the estate's luxury or reserve offerings, and they are named after Alexandre Marnier's great-father, Alexandre. They represent the finest varietal Chardonnay, Cabernet, and Merlot that this estate can fashion, and that alone says a lot. Unequivocally, the 2005 Casa Lapostolle Cuvée Alexandre Chardonnay constitutes a real tour de force in winemaking. It is, also, one of the very finest Chardonnays we have ever encountered from South America. In fact, it puts to shame many a white Burgundy of so called renown and plenty of top notch California Chardonnays, too. This is a suave, sophisticated Chardonnay that recalls the glory of Premier Cru Chassagne-Montrachet. On the nose and the palate, the 2005 Casa Lapostolle Cuvée Alexandre Chardonnay exhibits plenty of smooth, ripe, buttery fruit as well as a healthy dose of tender charm. And like fine white Burgundy, this wine will improve with a little aeration. Consequently, before serving the outstanding 2005 Cuvée Alexandre Chardonnay at cool room temperature (which is no more than 68° F), we suggest you allow it to breathe in the glass for at least five or ten minutes. You will be more than glad you did. Anticipated Maturity: 2007-2010.
The 2005 Casa Lapostolle Cuvée Alexandre Chardonnay is wine fit for the discerning palate. It is a classically wrought and expertly crafted Chardonnay that is born to accompany the finest foods and the tenderest morsels. Consequently, we suggest that you serve it with the very best hors d'oeuvres, fish, fowl, or fruits de mer that can be found. Salmon, sole, crab, scallops, and lobster all provide excellent seafood suggestions upon which one could easily build a wonderful dinner party, with the presence of the Cuvée Alexandre Chardonnay of course. However, seafood is not the only venue that one could choose to showcase this marvelous wine. Indeed, veal and other white meats provide equally impressive backdrops from which one can highlight Casa Lapostolle's finest white wine. Sautéed Veal Scallops with mushrooms and cream is a true French favorite, and this dish truly shines in the presence of Casa Lapostolle's most noble white wine. A plate of perfectly ripe, soft cheeses such as Port Salut and L'Edel de Cleron provide another wonderful opportunity to enjoy this fine Chardonnay. In fact, this supple, exquisite Chardonnay needs little to convince adherents of its greatness, except a clean glass, so enjoy!
Casa Lapostolle is a collaborative effort of two great wine families: the Marnier family of France (of Grand Marnier fame) and the Rabat family of Chile. At the helm of this premier property is Alexandra Marnier-Lapostolle, who together with her husband Cyril de Bournet and Don José Rabat Gorchs reign over what many now consider to be South America's finest wine estate. In little more than a decade, Casa Lapostolle has taken the international wine world by storm. In 1994, Alexandra Marnier-Lapostolle founded the Casa Lapostolle Winery, and with the world's most prominent winemaker Michel Rolland selected prime vineyard sites that now yield world-class wine. Until quite recently, the Marnier-Lapostolle family was best known as the creator and founder of the world renowned liqueur Grand Marnier, even though this family has been involved in winemaking in France for generations, most notably as the owners of Château de Sancerre. In creating Casa Lapostolle, the Marnier-Lapostolle family has pursued the same uncompromising approach to quality that made Grand Marnier a household name. The family's objective at Casa Lapostolle is to consistently create world-class wines by marrying French expertise to the incomparable terroir of Chile. The Chilean climate is perfect for the cultivation of the vine, and the soil harbors no phylloxera. In addition, Chile contains a great number of old vines, mostly from French varietals that were brought from France in the 19th century before the dreaded vine louse devastated the parent stock in Europe. Consequently, many of these old vines continue to thrive in the vineyards of Chile. Even today, nearly all Chilean vines, old and new, still grow naturally on their own rootstocks – a phenomenon rarely seen in Europe or elsewhere in more than a century. The result is pure, natural tasting wines that express expert care and nearly perfect growing conditions. Today, Casa Lapostolle comprises more than 750 acres of prime vineyards, located in three different growing areas. This estate produces several excellent white wines, a Bordeaux-style Sauvignon Blanc, which traditionally contains a small percentage of luscious Semillon, and two excellent Chardonnays. Nevertheless, red wines predominate as they do in most of South America. Cabernet Sauvignon, Merlot, and to a lesser extent Carmenère (Chile's own unique red varietal) dominate Casa Lapostolle's excellent red wine portfolio and place this property among Chile's finest wine producers. Casa Lapostolle's most consistently delicious and most critically acclaimed wines remain the estate's Cuvée Alexandre special reserve offerings, which are highly allocated and offered only in the finest vintages.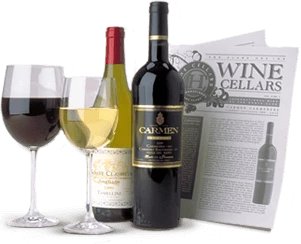 Enjoy Limited Production Estate
Bottled Wines
Discover limited production estate bottled wines such as Vergenoegd's internationally
acclaimed 2005 Cabernet Sauvignon, imported exclusively for our members.
DISCOVER OUR FOUR CLUBS