The 1999 Casa Lapostolle Chardonnay combines the suavity and elegance of white Burgundy with the broad, buttery flavors of a top notch California Chardonnay. In the nose, pure, ripe fruit is mingled with subtle mineral tones, underscoring the significance of "terroir" in the production of world class Chardonnay. A seamless mélange of white fruits: apple, peach and pear remind the taster that this is no ordinary New World offering. Butter and vanilla, emanating from the intelligent use of oak barrel aging, add complexity and definition to this wine, without overshadowing the clean fruit and subtle nuance of the wine itself. From the first sip to the last swallow, the 1999 Casa Lapostolle offers a rich, fulfilling glass of Chardonnay that doesn't fatigue the palate: instead, it gains length, depth and interest the more you drink it and the longer it breathes. Serve lightly chilled, but not icy, for optimum enjoyment.
We suggest the "classics" with the 1999 Casa Lapostolle Chardonnay, simply because this wine is as good or better that many of its more renowned Burgundian counterparts - the traditional accompaniments to Haute Cuisine. Well prepared quenelles of fish, poultry or veal all make first-rate offerings with this atypical Chilean Chardonnay. Poached salmon in a complex béchamel or veloute, lobster ravioli, and the classic Coquilles St. Jacques are other outstanding backdrops for the Casa Lapostolle. The old adage, " when you have it, flaunt it" definitely pertains to this outstanding South American wine. Of course, you won't regret sitting around sipping the Casa Lapostolle either. In fact, why not have a party and impress your friends? Enjoy!
Casa Lapostolle is the newest venture of the Marnier-Lapostolle family, founders and proprietors of the world-renowned liqueur, Grand Marnier. While best known for producing spirits and liqueurs, this celebrated family has been involved in winemaking for generations in France. Originally winegrowers in the Loire Valley, the Marnier-Lapostolles continue this vintner tradition today as owners of Chateau de Sancerre, as well as Casa Lapostolle. In creating Casa Lapostolle, the Marnier-Lapostolle family has pursued the same uncompromising approach to quality that made Grand Marnier a worldwide success. Their objective is simple as it is ambitious; to create world-class wines using French expertise and the superb terroir of Chile. After just four vintages, well-deserved critical acclaim has established Casa Lapostolle as one of the world's premier producers of wine. The strict adherence to traditional French winemaking techniques, combined with state-of-the-art facilities and a superb microclimate in the Rapel Valley, have made Casa Lapostolle one of the new shining stars in the world of wines today. When the Marnier-Lapostolle family decided to expand their fine wine business, they conducted extensive studies of vineyards throughout the world. They sought the ideal climate and soil conditions for the creation of truly world-class wines and found them, after an exhaustive search, in Chile, in the Rapel Valley, 100 miles south of Santiago. Alexandra Marnier Lapostolle, Chairperson of the new Casa Lapostolle Winery, wisely recruited world-renowned winemaker Michel Rolland to create their selection of distinctive New World wines. Protected by coastal mountains, the area enjoys warm days and cool nights, ideal growing conditions for producing perfectly ripe, balanced grapes. A $3 million renovation of the winery was undertaken to update all facilities, insuring the preservation of balance and the natural pure fruit character in the wine. The Marnier Lapostolle family has vowed that Casa Lapostolle will remain a small winery, producing only limited quantities of primarily Cabernet Sauvignon, Chardonnay, Merlot and Sauvignon Blanc, in order to insure that its wines will always be of the highest quality. And just one taste of this estate's wine will tell you why Robert Parker Jr. and other wine critics have been singing the praises of Alexandra Marnier Lapostolle: her mission is simple, she creates only the best at Casa Lapostolle.
The Difference It is Casa Lapostolle's total commitment to quality that makes the difference in the estate's wines. Unquestionably, this difference starts in the vineyard. For example, Casablanca is one of Chile's coolest and driest winegrowing regions, making it ideal for cool climate varieties like Chardonnay and Pinot Noir. Casa Lapostolle uses Casablanca fruit in both its Classic and Cuvee Alexandre Chardonnays. The cool climate and resulting ripe, tropical fruit aromas and firm structure of these wines is reminiscent of California's Carneros region, which yields many of the most expensive and satisfying of New World Chardonnays. All grapes used in Casa Lapostolle's wines are hand harvested in small picking baskets. This keeps each cluster intact, allowing the grapes to arrive at the winery at peak condition, preventing the oxidation that occurs with mechanical harvesting. Casa Lapostolle is one of the few wineries that use double jacketed tanks, permitting absolute temperature control of the fermentation. While refrigeration of fermentation tanks has been a common practice for years with white wine, until recently red wine fermentations were not controlled. The cold autumn evenings in Chile made the addition of hot water jackets to fermenters vital to maintain the warm fermentation temperatures needed to make this estate's rich red wines. Undoubtedly, no expense has been spared at Casa Lapostolle to create the best possible wines. Nearly all barrel aging (as well as fermentation) is done in specially selected French oak barrels, of which a large percentage of the 3500 barrels at Casa Lapostolle are new. Aging after bottling, prior to release and shipping, is also an important element of Casa Lapostolle's commitment to quality. All wines are given several months of bottle aging in a temperature-controlled warehouse prior to shipping. Casa Lapostolle's dedication to quality does not stop once the wine has left the winery. It is the only Chilean winery to ship all wines bound for the U.S. in refrigerated containers. Now that's progress. Such expensive practices not only underscore this family's commitment to excellence, but they reveal their dedication to optimum consumer enjoyment. Bravo!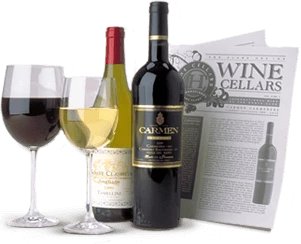 Enjoy Limited Production Estate
Bottled Wines
Discover limited production estate bottled wines such as Vergenoegd's internationally
acclaimed 2005 Cabernet Sauvignon, imported exclusively for our members.
DISCOVER OUR FOUR CLUBS