There is a certain color, a regal purple robe that exudes strength, character and charm, which typifies the best Cabernet Sauvignon wines - and certainly the 1998 Casa Lapostolle Cabernet Sauvignon is no exception. To match the visual delight wrought by this wine is a whole set of olfactory and gustatory pleasures: blackberry, cedar, cassis, tobacco and spices. Packed into this medium weight Cab is a hypothetical blend of good Bordeaux and first-rate California Cabernet Sauvignon. Requiring only fifteen or twenty minutes of airing prior to serving, the Casa Lapostolle is a real crowd pleaser. Serve at traditional room temperature.
Perfect for intimate gatherings or elegant dinner parties, the 1998 Casa Lapostolle all Cabernet Sauvignon is likely to please most palates, with or without food. Yet, our first choice is always to serve Cabernet Sauvignon with the finest cut of beef or lamb that the budget can stand. Most world class Cabernet-based wines are made with meat in mind. Filet Mignon, a rare marinated sirloin, lamb chops or a crown roast all provide outstanding accompaniments to this Casa Lapostolle. The natural tannin in the wine cuts through the fat of the meat and enhances its flavor, especially when the meat is served medium or rare. And, of course, even good old burgers on the grill will taste better with the Casa Lapostolle by its side, transforming a hum drum Monday into a holiday. Enjoy!
The goal at Casa Lapostolle is to produce complex wines of excellent quality that do not require long term aging to be appreciated. The strict adherence to traditional French winemaking techniques, combined with state-of-the-art facilities and a superb microclimate in the Rapel Valley, have made Casa Lapostolle one of the new shining stars in the world of wines today. When the Marnier-Lapostolle company decided to expand their fine wine business, they conducted extensive studies of vineyards throughout the world. They sought the ideal climate and soil conditions for the creation of truly world-class wines and found them, after an exhaustive search, in Chile, in the Rapel Valley, 100 miles south of Santiago. Alexandra Marnier Lapostolle, Chairperson of the new Casa Lapostolle Winery, recruited world-renowned winemaker Michel Rolland to create her family's selection of distinctive New World wines and serve as the estate's chief oenologist. Rolland was inspired by the vineyards; protected by coastal mountains, the area enjoys warm days and cool nights, ideal growing conditions for producing perfectly ripe, balanced grapes. A recent $3 million renovation of the winery has been undertaken to update all facilities, insuring the preservation of balance and the natural pure fruit character in the wine. Today, Casa Lapostolle has vowed to remain a small winery, producing only limited quantities in order to insure that its wine will always be of the highest quality. Award-winning Chardonnay, Merlot and Cabernet Sauvignon are the winery's flagship varietals.
More Michel Goubard Mont Avril Bourgogne Pinot Noir Secured! That's right! We bought more! We had to turn away so many of you on reorders of this exceptional Frech Gem, that we searched high and low for more…And found 15 cases! Rest assured it will go quickly, so call now if you want to reorder this one!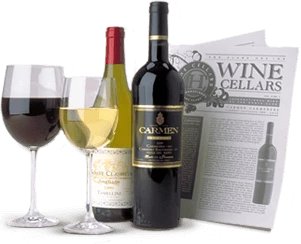 Enjoy Limited Production Estate
Bottled Wines
Discover limited production estate bottled wines such as Vergenoegd's internationally
acclaimed 2005 Cabernet Sauvignon, imported exclusively for our members.
DISCOVER OUR FOUR CLUBS