"If there is a wine better than good Pinot Noir, it is great Pinot Noir," states the old French adage, and to this we say Amen! So, bring on the 2005 Casa Barranca Arroyo Grande Unfiltered Pinot Noir and let's get down to the serious business of enjoying exceptional Pinot Noir – authentic, unfiltered, full-flavored California Pinot Noir. Scented, succulent and already ripe for drinking, the 2005 Casa Barranca Unfiltered Arroyo Grande Pinot Noir delights the senses with plenty of deep down black cherry fruit, hints of cinnamon, soy, and Asian spices. And just think, this wine is barely a year old. If there were ever justification for infanticide, it would the early consumption of a bottle of Casa Barranca's 2005 Arroyo Grande Pinot Noir, so what are you waiting for? Just allow this marvelously dense Pinot a little time in a decanter or glass to compose itself, and then enjoy how it caresses the palate and dazzles the senses. Moreover, don't be put off by the fact that this Pinot is not entirely crystal clear. Remember, the wine is unfiltered. Hence, it is alive and well and full of everything that good Pinot Noir should posses, even light, harmless sediment. Enjoy Casa Barranca's beautiful Arroyo Grande Pinot Noir at cool room temperature (64º-68º F). Anticipated maturity 2007-2011.
What does fine Pinot Noir need, other than an appropriate glass? Well, in the case of the 2005 Casa Barranca Arroyo Grande Unfiltered Pinot Noir, nothing. However, that should not stop anyone from doubling the pleasure of Casa Barranca's Pinot Noir by serving it with accompaniments of equal stature. The 2005 Arroyo Grande Pinot Noir has proven itself more than capable of standing up to a superbly prepared rack of lamb, served with tender young vegetables and Mediterranean garnish. Traditional French classics, such as Boeuf Bourguignonne and Coq au Vin provide other splendid opportunities to double the pleasure of this exceptional Pinot Noir. Simple beef or pork roasts, roast turkey with stuffing, baked ham, and savory country potato salads, leek tarts, and quiches all offer ample reward as well. Bon Appétit!
Casa Barranca is as much a state of mind as it is a winery and an individual place. Centered around the Pratt House, a meticulously maintained masterpiece of American architecture, the Casa Barranca winery sits atop a gorgeous set of hills above the idyll and mystical town of Ojai, California. A recipient of National Historical Landmark status Casa Barranca, meaning "house of the ravine," was designed in 1909 by Charles and Henry Greene. The Greene's were founders of the American Arts and Crafts Movement, and they designed Casa Barranca for Charles and Mary Pratt of Pratt Institute, and Pratt&Whitney fame. To highlight just how beautiful this place is, Architectural Digest has said of Casa Barranca: "a closer approximation to Shangri-la is hard to image." For centuries, California's Ojai Valley and surrounding sun drenched hills have provided dramatic scenic beauty, solitude, and spiritual comfort for its inhabitants – from the peaceful Chumash Indians to renowned authors, composers and spiritual leaders. Aldous Huxley treasured Ojai for its inner nature, and J. Krishnamurti called it "the most beautiful place on earth". Inspired by the breathtaking beauty of the Ojai Valley, Frank Capra used it as "Shangri-La" in his 1937 film classic, Lost Horizon. In 1994 Bill Moses, corporate CEO, investment banker, and serious winemaker purchased Casa Barranca. Bill has restored the luster to the Pratt House and totally revitalized the grounds of Casa Barranca, adding fruit trees, flowers, and of course grape vines. Under Bill's guiding hand Casa Barranca has maintained its Historic Landmark status. In keeping with the humble and pure ideals of the Arts and Crafts movement, the Pratt House and its estate are powered by solar electricity, draw their water from artesian springs and are of course surrounded by an organic vineyard and gardens which are farmed on sustainable, permaculture principles. Casa Barranca makes its wines from organic grapes and either totally eschews sulfites or adds only minimal amounts to its wines. The result is a bevy of delicious, handcrafted wines that recall the best of France's garagiste offerings. In a good vintage Casa Barranca produces only a little more than 4,000 cases of wine from a host of varietals. Viognier and Chardonnay are the preeminent white varietals here. Both are excellent. However, the purity and delicate flavors of Casa Barranca's 2005 Chardonnay truly sets this estate apart with this varietal in terms of both quality and style. Casa Barranca's most exciting red wines remain their organic, unfiltered Pinot Noir offerings and a luscious Rhône style red called Bungalow Red that has been likened to Châteauneuf-du-Pape. Small quantities of good Syrah as well as a forceful, age worthy Cabernet/Merlot blend round out the portfolio. We can hardly wait to see what Bill Moses and his capable young assistant Jean-Benoit will put out next.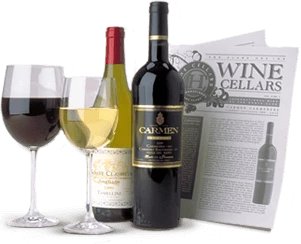 Enjoy Limited Production Estate
Bottled Wines
Discover limited production estate bottled wines such as Vergenoegd's internationally
acclaimed 2005 Cabernet Sauvignon, imported exclusively for our members.
DISCOVER OUR FOUR CLUBS