The goodness of the 2000 Cartlidge & Browne California Chardonnay begins with a beguiling aroma of tropical fruit and exotic spice, which turns into a potpourri of ripe, round, buttery flavors on the palate. Hints of oak and pineapple infused vanilla marry to apple and lemon drop flavors in the center of this wine. And if that's not enough to tantalize the senses, a dry, utterly pleasing Burgundian-style finish begs the taste buds for an encore. A smooth flavor filled Chardonnay, the 2000 Cartlidge & Browne California Chardonnay exhibits true personality plus; this is a wine with enough charm, style and good old fashioned drinking pleasure to please even the most discerning palate. It also makes us wonder why more California producers can't turn out Chardonnays as fine and flavorful as the Cartlidge & Browne for under $25.00 a bottle. We suggest serving this lovely Chardonnay fairly well chilled, and then allowing it to warm up slowly in the glass. This will permit the wine to run through its entire gamut of delicious flavors and textures. Yum!
Salmon is a natural accompaniment to the 2000 Cartlidge & Browne California Chardonnay. The fleshy, flavorful meat of fresh salmon provides what several panel members have called the 'perfect marriage for the Cartlidge & Browne Chardonnay.' Served poached or baked, in either a light cream or soy sauce, salmon takes on another dimension in the company of this Chardonnay. In turn, the Cartlidge & Browne reveals another layer of itself - a seamless brocade of fruit and oak and just enough of 'exotica' to be thoroughly captivating. Certainly, most other fish and poultry dishes make fine companions for this Chardonnay as well. Chicken salad, with walnuts, grapes and a hint of fresh thyme, is another of the panel's favorites with the Cartlidge & Browne. And remember, that special someone is worth a bottle of this wine, even without a fancy meal, so enjoy!
The Cartlidge & Browne odyssey began in1980 when Tony Cartlidge and Glenn Browne teamed up to make a few cases of good wine. The duo's first venture was a modest release of 1200 cases of Chardonnay, which to their utter amazement sold out in less than a month. Needless to say, the new dynamic duo of California Chardonnay had just begun their quest for oenological excellence, and they were not about to rest on their laurels. By 1982, the partners had begun Stratford wines with winemaker Paul Moser in the cellar, a relationship that endures today. Under Moser's guidance, Stratford wines reached nearly 80, 000 in just a few short years. Better still; the quality continued its meteoric rise, wowing consumers and critics alike. In 1992 the prestigious London International Wine Challenge voted the 1990 Stratford Zinfandel as Red Wine Of The Year from more than 3,000 entries worldwide. Meanwhile, this great winery's Cartlidge & Browne Chardonnay was winning numerous accolades and awards. Comments such as: 'a knockout Chardonnay', 'the best value in American Chardonnay', and 'the finest domestic wine value in the marketplace' are just a sampling of the praise leveled at the Cartlidge and Browne Chardonnay. Since their first release, this winery has consistently produced fabulous Chardonnays, which have outperformed the majority of big name Napa Valley estates, and for a lot less money. In essence, Cartlidge & Browne got it right the first time and haven't missed a step yet. The winery's 2000 Chardonnay may be their best effort to date. As in previous years the 2000 Cartlidge Browne Chardonnay is made primarily from premium grapes from the Sacramento River Delta. The balance is a blend of prime Napa and Sonoma fruit. Nearly three quarters of the wine was barrel fermented on its lies (skins and yeast) in both French and American oak barrels. After several attempts to procure enough of this great bargain, we were finally able to secure enough Cartlidge & Browne Chardonnay to offer to all of our club members. Enjoy!
An Ode To Chardonnay America has fallen in love with Chardonnay. At times, it seems as if a significant portion of the country's wine drinking population worships this French transplant. However, the situation in this country has not always been so favorable for the most noble of white vines. A little over a generation ago, there was barely a hundred acres of Chardonnay in America. Today, there are more than 100, 000 acres of Chardonnay in California alone. Moreover, America is not alone in its idolatry: Chardonnay is the most popular white grape in the world. It is also the most widely traveled grape variety. From Burgundy in its native France, Chardonnay has traveled the seven seas, settling on six continents. Due to versatility, vigor, and adaptability, as well as the sheer number of great wines it has produced on many continents, Chardonnay has earned the title of 'The King of White Wine.'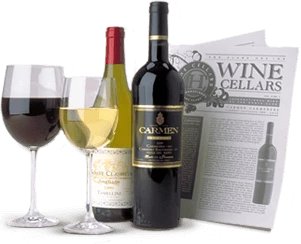 Enjoy Limited Production Estate
Bottled Wines
Discover limited production estate bottled wines such as Vergenoegd's internationally
acclaimed 2005 Cabernet Sauvignon, imported exclusively for our members.
DISCOVER OUR FOUR CLUBS