A hypothetical blend of white Burgundy from Chassagne-Montrachet and a top notch Chardonnay from Sonoma County, the 2000 Carmen Reserve Chardonnay offers the consumer the opportunity to have his cake and eat it. Pure, buttery tones and ripe clean fruit melt into subtle French oak, which thankfully accentuates the wine's attributes and overt charm, unlike many New World Chardonnays which purvey little more than oak overtones. Hints of a spice cachet add interest and complexity, both in the aroma and the flavor. Deep in color and long on flavor, the Carmen Reserve is one good reason why Chardonnay remains the number one premium white wine varietal the world over. In the case of the Carmen Reserve, it could easily serve as the "poster child" for Chardonnay, and act as a reminder of how good Chardonnay can be in the careful hands of skilled, serious practioners. Serve cool to moderately chilled, and enjoy!
A variety of rich, expertly prepared seafood dishes win our nod to accompany the 2000 Carmen Reserve Chardonnay. A delicious Mahi Mahi and a Carmelized Sea Scallops appetizer over a leek infused angel hair pasta are two of our favorite accompaniments. Other fine choices include grilled salmon steaks or even a simply steamed whole lobster, served with drawn butter. Served all by its lonesome, the 2000 Carmen Chardonnay remains delicious but like all truly good Chardonnay, complex dishes heighten the latent sensuality inherent in Chardonnay and add to the nuance of flavor in the wine.
Carmen is Chile's oldest wine brand, dating back to 1850. A century and a half ago Christian Lanz founded Vina Carmen and lovingly named the estate's beautiful vineyards for his wife. Today, Vina Carmen remains the showpiece Lanz envisioned. Combining tradition, superb vineyards and a new state of the art winery constructed in 1992, Vina Carmen is now South America's leading winery as well as its oldest. Under winemakers Alvaro Espinoza and Matias Lecaros, Carmen has for the past four years (1997, 1998, 1999, 2000) been named "Top Winery of the Year" by Wine & Spirits magazine. Presently, the more than 500 acres of Carmen Vineyards spread across several valleys and many micro-climates surrounding Chile's capital, Santiago. This constellation of microclimates allows Carmen to select the best grape varieties for each area and to excel with many different grapes and styles of wine, most notable Chardonnay, Sauvignon Blanc, Cabernet Sauvignon, Merlot and Carmenere, Chile's own, "indigenous" varietal. Recent Reserve Chardonnay bottlings from Carmen rival top rated California and French offerings in quality, capturing the finesse and subtle complexity of white Burgundy along with the pure, ripe fruit of Chardonnay from Napa or Sonoma. In essence, Carmen seems to have combined the best of both worlds in their Reserve Chardonnay, no mean feat in South America, or elsewhere.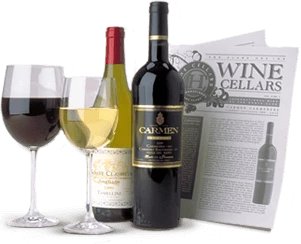 Enjoy Limited Production Estate
Bottled Wines
Discover limited production estate bottled wines such as Vergenoegd's internationally
acclaimed 2005 Cabernet Sauvignon, imported exclusively for our members.
DISCOVER OUR FOUR CLUBS