Reticent at first sniff, the 2000 Carmen Cabernet Sauvignon explodes after fifteen or twenty minutes open, revealing a seductive potpourri of blackberry, wild blueberry, bramble and eucalyptus. In the mouth, this wine continues to work its charm, coating the palate with rich textured fruit that is redolent with blackberry and cassis, smoke and jam. Each sip begs to be savored, pleading the gullet not to swallow and end the interlude, but alas' the goodness doesn't end with a swallow. The finish on this Carmen Cabernet combines consummate flavor with ripe tannins that haunts the senses. A medium to full-bodied wine, the 2000 Carmen Cabernet Sauvignon aptly demonstrates how well the finest Chilean reds combine the best attributes of fine Bordeaux with the ripe textured feel of the best New World Cabernet Sauvignons. We suggest serving the Reserve Carmen Cabernet after at least twenty to thirty minutes breathing time. Actually, a half hour in a decanter would work absolute magic with this wine, so be sure not to cheat yourself.
Food? Who needs food?' someone uttered. Well, that may be true, but the 2000 Carmen Cabernet Sauvignon has the ability to elevate fine cooking to the level of 'haute cuisine' and better still, good every day fare becomes a memorable meal in the company of this excellent offering from Carmen, so why not serve it with food? We have enjoyed this wine with everything from Beef Wellington to chicken fajitas, and frankly those were the best chicken fajitas we have ever tasted. The Carmen Cabernet Sauvignon may not need food to shine, but food certainly tastes better in the company of this Cabernet. Whether it be a mid week meatloaf or a special Saturday night veal chop, we have no qualms about recommending most meats, poultry included, with this wine: roast duck is an especially fine accompaniment. We also endorse the Carmen Cabernet with hard cheeses and rich, artery clogging sauces; this unfiltered wine has a way of cutting through fat and grease, thereby assuaging the fear of instant cardiac arrest. Enjoy!
Carmen is an amazing property. This great Chilean estate has the uncanny ability to consistently turn out top notch wines from each of its premium varietals, and the 2000 Carmen Reserve Cabernet Sauvignon is indeed another great effort from Chile's 'grande dame' of exquisite properties. Carmen is Chile's oldest wine brand, dating back to 1850. A century and a half ago Christian Lanz founded Vina Carmen and lovingly named the estate's beautiful vineyards for his wife. Today, Vina Carmen remains the showpiece Lanz envisioned more than a century and half ago. Combining tradition, superb vineyards and a new state of the art winery constructed in 1992, Vina Carmen is currently South America's leading winery as well as its oldest. Under winemakers Alvaro Espinoza and Matias Lecaros, Carmen has for the past four years (1997, 1998, 1999, 2000) been named 'Top Winery of the Year' by Wine & Spirits magazine, and current offerings look to be the finest this winery has produced to date. Presently, the more than 500 acres of Carmen Vineyards spread across several valleys and many micro-climates surrounding Chile's capital, Santiago. This constellation of microclimates allows Carmen to select the best grape varieties for each area and to excel with many different grapes and styles of wine. The winery has been extremely successful with French varietals, including the unique, lesser-known Bordeaux varietals, including Chile's own 'indigenous' grape, Carmenere. Internationally renowned winemaker, Alvaro Espinoza, joined Carmen in 1993 and for the past nine years has been augmenting his reputation by producing many of South America's most compelling wines. Alvaro, known both as a winemaker and a wine grower, has also instituted organic farming at Carmen. Beginning the endeavor with a 50-acre vineyard for Cabernet Sauvignon and Chardonnay for the winery's luxury 'Nativa' label, Carmen's mission each year is to increase the vineyard parcels grown under environmental sustainable standards. Using organic methods, the winery reduces the impact upon nature as much as possible and produces increasingly more interesting wines. Presently, Carmen uses no pesticides in their vineyards and is leading the way in Chile toward more environmentally sensitive viticulture. It has also made the commitment to bottle its estate bottled Reserve red wines unfiltered. In order to insure that Carmen's future will remain as bright as it's past, Carmen has retained the articulate and energetic Matias Lecaros as winemaker. Matias belongs to a traditional Chilean family that has been involved in agriculture and winegrowing since the 17th century. His father's family is originally from Ponguehue where they pioneered the plantation of vineyards in the Aconcaqua Valley, now one of Chile's most important viticultural appellations. Matias brings with him the ability and experience to continue Carmen's tradition of producing some of the best wines on the continent.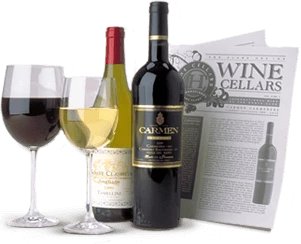 Enjoy Limited Production Estate
Bottled Wines
Discover limited production estate bottled wines such as Vergenoegd's internationally
acclaimed 2005 Cabernet Sauvignon, imported exclusively for our members.
DISCOVER OUR FOUR CLUBS