Soft, scented, and succulent in both bouquet and flavor, the 2007 Cape Rock Dry Red is an ingratiating blend of Bordeaux varietals that makes a compelling case for red wines in Robertson. Scents of crushed berries, cedar, and soft spring woods meld artfully with cacao and dark chocolate aromas to haunt the nose. And in the mouth, the Cape Rock Dry Red is both smooth and thoroughly captivating; it expands on the grateful palate and offers complex berry tones that display hints of cassis and mulberry. As one panel member so succinctly stated, "There is only one problem with this wine, it goes down just too darn easy." And there was no argument there. The dispute arose when it was discovered that there was barely enough of this delicious red for half of the panel to receive seconds . . . decisions, decisions. Consider yourself forewarned! Enjoy this flavorful, easy-to-drink Bordeaux blend at cool room temperature (62°-66° F), and keep a second bottle on hand to avoid a riot.
Versatility is the hallmark of the 2007 Cape Rock Dry Red. This affable, easy-to-drink meritage pairs extremely well with a wide variety of foods. Some of our favorite pairings with this wine are roasted and smoked meats, pastas with creamy tomato based sauces, and hunks of imported provolone cheese. Herb charged soups, salads, and grilled vegetables provide other excellent choices. For a grander affair, we suggest Rotisserie Chicken with sage and rosemary, Veal Milanese, or Cashew Crusted Pork Chops. Each offers an easy-to-prepare dinner party option to accompany the 2007 Cape Rock Dry Red. However, fancy fare need not be on the menu to open a bottle of this charming, huggable red. Hamburgers, buffalo burgers, and personal pizzas, even those with plenty of toppings, all provide ideal accompaniments to this tasty meritage from the Cape of South Africa. Enjoy!
Cape Rock is grown and produced at the venerable Van Loveren Estate. In fact, Cape Rock and Van Loveren are synonymous. Van Loveren is located on the banks of the Breede River in Robertson, one of South Africa's premier wine-producing regions. Two brothers, Nico and Wynand Retief, own this stunningly beautiful property, which lies just 100 miles from Cape Town. Yet it is not just the physical splendor of the place that captivates – its lanes are lined with rare red canna lilies. Van Loveren consistently fashions wines that are in every way as exquisite as the landscape. In the days of yore, Van Loveren was a large farm affectionately called Goudmyn (Goldmine). Today, it is a 330-acre wine estate that is highly regarded for its picturesque beauty and liquid gold, mostly in the form of delicious red and white wines. Van Loveren is currently one of the leading producers of premium Chardonnay and Sauvignon Blanc in South Africa and a driving force behind the recent success of red varietals in Robertson. The region's limestone-rich soil has always been deemed perfect for white wines, which has led some critics to compare Robertson's wines, and Van Loveren's wares in particular, to the renowned offerings of France's Pouilly-Fuissé (Chardonnay) and Sancerre (Sauvignon Blanc). However, with these pundits in mind, it is important to note that the Retief brothers fashion an entire portfolio of high quality white wines and red wines at their estate. In addition to their superb Chardonnay and Sauvignon Blanc, Van Loveren crafts excellent Colombard, Pinot Gris, and Riesling, along with two fine dessert wines and a delicious sparkling wine they call Papillon. Also, since the early 1990's, the Refief brothers have been working with premium red varietals, most notably Cabernet, Merlot, Shiraz, and Pinotage, South Africa's own unique varietal. The estate's Dry Red (a meritage) and Reserve Cabernets have been especially successful. We will almost certainly be hearing much more about this property in years to come, and tasting many more of its wine wares as well.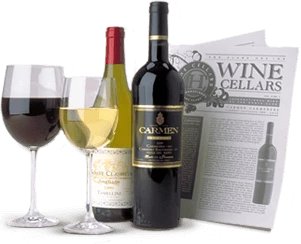 Enjoy Limited Production Estate
Bottled Wines
Discover limited production estate bottled wines such as Vergenoegd's internationally
acclaimed 2005 Cabernet Sauvignon, imported exclusively for our members.
DISCOVER OUR FOUR CLUBS