Balance is the hallmark of the 2003 Cape Mentelle Margaret River Shiraz. Despite its youth, the Cape Mentelle Shiraz is table ready and poised to offer a full-bodied tasting experience. A deep ruby red color and a gratifyingly voluptuous aroma let us know from the outset that here is a wine worth exploring. As one expects from a top quality Shiraz, a complex array of fruit flavors greets the palate. Pleasing in its intensity, an overall berry timbre holds lingering hints of blackberry, currant, and raspberry. A crisp tannic profile further awakens the senses; at the heart of this Shiraz pulses a mocha undercurrent that provides additional depth and richness. Currently the 2003 Shiraz offers a complementary and satisfying blend of ripe round fruit and youthful tannins, which will allow the winemaker's art to continue to mature and emerge as the wine ages. Meanwhile, a longish aftertaste follows to a heartening alcohol warmth and an emerging dryness, further evidence that the 2003 Cape Mentelle Shiraz will only grow more intriguing with age. Regardless of its future promise, uncork a bottle of the 2003 Cape Mentelle Shiraz tonight and revel in the exuberant robust charm of its youth. Serve at cool room temperature.
Listen closely to the Cape Mentelle Margaret River Shiraz 2003, and it will implore you to go outside and uncover the grill for one last hurrah before the cold of winter settles in. It doesn't really matter what you grill; the 2003 Cape Mentelle Shiraz possesses a variety of attributes that all desire to accompany your favorite grilled fish, meat or vegetable dish to perfection. On the one hand, the intense fruity flavor of the Shiraz says pair me with your best marinade and favorite cut of lamb or chicken. The balsamic vinegar of the marinade provides a pleasing contrast to the rich berry flavors of the wine. While on the other hand, the crisp tannic side to this still youthful Shiraz asks to be served with accompanying sides of grilled vegetables – winter squash, juicy caramelized onion wedges, and tender new potatoes. The sweetness imparted to these vegetables by the grill tends to mellow and blend the Shiraz's components to even greater depths of satisfaction. And finally, the subtle spices swirling throughout the glass demand the last word and request a heavily peppered steak grilled to mouth-watering perfection. So, it's nice to know that when the last warmish day of mid January thaw beckons, you can do no wrong by firing up the grill one more time and opening a bottle of the 2003 Cape Mentelle's Margaret River Shiraz. Enjoy!
Cape Mentelle's founding dates to 1970, which makes it one of the very first vineyards in Western Australia's now legendary Margaret River. This beautiful winery is situated between the town of Margaret River and the Cape from which the vineyard draws its name. The name Mentelle is in honor of two French brothers, Edmunde and Francois- Simon Mentelle, who in the 18th century were well-known geographers and cartographers: just one breathtaking look at this coast tells why they were honored to impart their name to such a far off place. To augment its natural charm and superb terroir, the Cape Mentelle vineyards are surrounded by landscaped native gardens that play host to an abundance of local birdlife. In short, Cape Mentelle is not only one of Western Australia's most prestigious wine addresses, it is also one of the most beautiful. The Cape Mentally vineyards and winery were originally established by David and Mark Hohnen. Nearly four decades later, Cape Mentelle is a four hundred acre enterprise that is devoted to producing an outstanding array of Margaret River wines, including Chardonnay, Sauvignon Blanc, Semillon, Shiraz, Cabernet Sauvignon, and most recently Zinfandel. In addition, it serves as a sister company to New Zealand's Cloudy Bay as both estates are now owned by Veuve Clicqout, the great French Champagne house.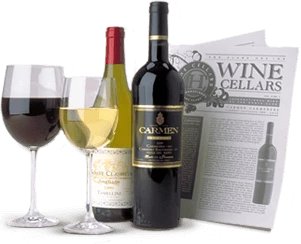 Enjoy Limited Production Estate
Bottled Wines
Discover limited production estate bottled wines such as Vergenoegd's internationally
acclaimed 2005 Cabernet Sauvignon, imported exclusively for our members.
DISCOVER OUR FOUR CLUBS