The Cape Mentelle Margaret River Cabernet Sauvignon is the progeny of the estate's oldest vineyard and the flagship wine from this outstanding producer. Furthermore, the 2001 Cape Mentelle Cabernet Sauvignon is simply one of Australia's most balanced and complex renditions of the world's most sought after red varietal. While balance has always been a hallmark of the wines of this splendid Margaret River winery, Cape Mentelle makes full-bodied wines that sacrifice neither flavor nor finesse. The 2001 wine weighs in at 15% alcohol; yet there is no suggestion of heat or heaviness anywhere in the wine. In fact, this Cabernet is quite accessible from the start and never fails to deliver oodles of flavor in a supremely balanced format. The 2001 Cape Mentelle opens up with a classic Cabernet aroma of cassis, chocolate, espresso, and menthol eucalyptus. One taster even remarked that "this wine's bouquet alone is worth the price of admission" to which we all nodded our heads. And as one expects from a top quality Cabernet, a complex array of fruit flavors follow. Pleasing in its intensity as well as its texture and complexity, hints of blackberry, currant, and freshly ground coffee greet the palate and enliven the day. Meanwhile, a good underpinning of ripe tannin carries this wine's cornucopia of flavors to a resounding crescendo. And, perhaps, the best news of all is that the 2001 Cape Mentelle Cabernet is just beginning to approach its apogee, which promises even more excitement in the years to come. Serve this wine at cool room temperature (62°-66° F) and allow it at least a few minutes of aeration before consuming. Anticipated Maturity: 2007-2015.
The wines of Cape Mentelle have an affinity for simple, full-flavored foods, which inevitably implores us to uncover the grill. After all, grilling is an Australian tradition, so this should come as no surprise. Moreover, the 2001 Cape Mentelle Cabernet Sauvignon possesses a variety of attributes that desire to accompany your favorite meat or vegetable dish to perfection. Beef, lamb, pork, and chicken on the barbecue all provide excellent opportunities to showcase Cape Mentelle's finest wine. And while you are at it, don't forget to put on some fresh vegetables, dabbed with a balsamic vinegar marinade, to complement the rich berry and roasted coffee bean tones in the wine. The sweetness imparted to the vegetables by the grill tends to further concentrate this wine's tasty components and provide for even greater enjoyment. For those able or willing to take their culinary arts up a notch, we suggest pairing the complex 2001 Cape Mentelle Cabernet Sauvignon with beef tenderloin, served with a creamy demi-glace and a lightly fried blue cheese potato cake or an almond crusted chicken breast, stuffed with prosciutto and a rich fruit salsa and served over wild rice. Enjoy!
Cape Mentelle's founding dates to 1970, which makes it one of the very first vineyards in Western Australia's now legendary Margaret River. This beautiful winery is situated between the town of Margaret River and the Cape from which the vineyard draws its name. The name Mentelle is in honor of two French brothers, Edmunde and Francois- Simon Mentelle, who in the 18th century were well-known geographers and cartographers: just one breathtaking look at this coast tells why they were honored to impart their name to such a far off place. To augment its natural charm and superb terroir, the Cape Mentelle vineyards are surrounded by landscaped native gardens that play host to an abundance of local birdlife. In short, Cape Mentelle is not only one of Western Australia's most prestigious wine addresses, it is also one of the most beautiful places on earth. The Cape Mentelle vineyards and winery were originally established by David and Mark Hohnen. Nearly four decades later, Cape Mentelle is a four hundred acre enterprise that is devoted to producing an outstanding array of Margaret River wines, including Chardonnay, Sauvignon Blanc, Semillon, Shiraz, Cabernet Sauvignon, and most recently Zinfandel. In addition, it serves as a sister company to New Zealand's Cloudy Bay as both estates are now owned by Veuve Clicqout, the great French Champagne house.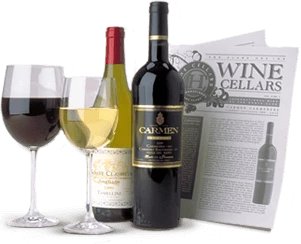 Enjoy Limited Production Estate
Bottled Wines
Discover limited production estate bottled wines such as Vergenoegd's internationally
acclaimed 2005 Cabernet Sauvignon, imported exclusively for our members.
DISCOVER OUR FOUR CLUBS