Lush, succulent and pleasantly sweet, but not cloying, the 2000 Cantine Aurora Tortona Piemonte Moscato embodies all that nature in its infinite fecundity can provide. Capturing the essence of a Bacchanalian harvest: the ripe sensuality of fruit hanging on the vine, the golden rays of an autumnal sun, and the freshness of an October breeze, this Moscato begs to be savored, yet pleads to be guzzled. Low in alcohol (only 5.5%, but long on flavor, the Piedmontese delight is both refreshing and satisfying. Made in the traditional Piedmontese manner, the wine is lightly golden and slightly frizzante or very lightly sparkling. Enjoy this traditional Piedmontese treasure fairly well chilled.
Either as an aperitif or after dinner cordial, the Cantine Aurora Moscato is both refreshing and enjoyable all on its own. Yet, our favorite accompaniments are rich pates when served as a prelude to dinner or fresh fruit tarts or better still, poached pears or peaches in savory sauces as dessert. Very fine dark chocolate also provides an excellent pairing, if you can stand the sensory overload. Moscato is a sensual, romantic wine making it a fine choice for an intimate evening. In addition, the 2000 Tortona Moscato has been called the perfect wine for those who think they don't like wine, but we find its appeal is far more universal. Several tasters on our panel plan to serve it as one of their Thanksgiving Dinner offerings, given the wine's wide appeal with the variety of savory foods and fruit based dishes, traditionally served at our nations annual feast! Enjoy!
The Cantine Aurora is part of the great Volpi estate of Piemonte, which was founded by Christina Cairo Volpi around 1900. Long known as restaurateurs, the Volpi's continue their passion for fine food and wine at Cantine Aurora and two outstanding restaurants: Trattoria del Cappel Verde and Bar Venezia. Today, cousins Bruno and Carlo Volpi run the winery, while the rest of the family tends to the kitchen. The Volpi's produce an assortment of famous Piedmontese wines, including Barolo and Barbaresco, but they are best known for their consistently excellent Barbera, Cortese and Moscato from the Tortona Hills near Asti. The greatest of the native white grapes of northern Italy, the Moscato vine produces a particularly fragrant, delicate wine in Tortona where it has grown for over 1000 years. The product of a single fermentation process, the Volpi Moscato is a refreshing wine made with adherence to the region's proud Moscato tradition; the estate uses filtration, centrifugation and cold stabilization to produce it's Moscato, rather than an abundance of harsh chemicals.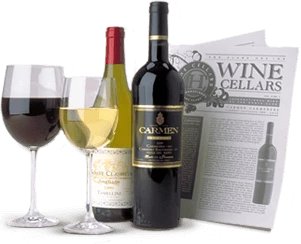 Enjoy Limited Production Estate
Bottled Wines
Discover limited production estate bottled wines such as Vergenoegd's internationally
acclaimed 2005 Cabernet Sauvignon, imported exclusively for our members.
DISCOVER OUR FOUR CLUBS