The 2015 Cantarutti Collio Orientali Ribolla Gialla offers a rich, eye-catching color and a harmonious aroma redolent with the scents of stone fruits and minerals along with hints of exotic spices. On the palate, the 2015 Cantarutti Ribolla Gialla reveals fine, textured fruit flavors, which give it a more luxurious feel than the more familiar Pinot Grigio and other lighter white wines from northern Italy. Medium-bodied and pleasantly dry, this wine lingers a bit on the palate and ends on a savory note. In typical Collio fashion, a glass of Cantarutti's Ribolla Gialla is an invitation to partake of the beauty and sunshine of summer in Collio. Served moderately chilled (40°-45° F) the 2015 Cantarutti Ribolla Gialla renders a rare and inviting glimpse of one of Italy's premier but little known white grape varieties. Enjoy!
Given the distinctive flavor and style of the 2015 Cantarutti Ribolla Gialla, it possesses a penchant for accompanying a variety of foods. Some of our favorite food pairings with Ribolla Gialla include seafood, especially scallops prepared in a myriad of ways. Whether the scallops are grilled, pan seared or baked in a traditional Coquilles St. Jacques, they make wonderful accompaniments to Cantarutti's 2015 Ribolla Gialla. Trout and other white fish provide splendid companions, too. For more adventuresome eaters, why not consider serving pan seared halibut with this wine in the company of tomato and poblano confit, crunchy tortilla with tempura, and radish and horseradish slaw served over a risotto cake with a sesame-mustard demi-glace? For those for whom simple is better, a salad of organic greens, endive, and prosciutto provides another tasty companion. Oregano Chicken, pounded chicken breasts baked with lemon, butter, white wine, and oregano, and then coated at the last minute with a thin layer of melted mozzarella cheese, offers yet another tasty treat in the company of Cantarutti's Ribolla Gialla. Buon appetito!
The Cantarutti estate is located in the picturesque town of San Giovanni al Natisone amid the Rosazzo hills. The Rosazzo hills lay at the heart of the Colli Orientali del Friuli, one of the most important DOC areas of northern Italy in the region known as Friuli Venezia Giulia. Cantarutti's vineyards enjoy a sweeping view in sight of an old abbey, which commands a special hillside spot. The series of hillside vineyards that make up the estate are caressed by gentle Adriatic breezes which waft from the nearby Gulf of Trieste.
Cantarutti was founded in the late 1960s when Friulian wines and viticulture were recovering from centuries of shifting fortunes and finally gaining an international reputation. Alfieri Cantarutti, convinced that the now famous hills of Colli Orientali would yield some of the finest wines in Italy, invested his time, money and passion into creating Cantarutti amid the scenic hills of his beloved Colli Orientali. He grew the estate to its present 56 hectares (138 acres). Alfieri's love and passion for the region and its wines have been passed to his daughter Antonella, who now runs the winery with her husband Fabrizio.
Cantarutti specializes in making wines from Colli Orientali's autochthonous grape varietals, which include Pinot Grigio, Ribolla Gialla, and Tocai Friulano for white wine and Refosco for red wine. Cantarutti and all of Friuli also enjoy a longstanding tradition of cultivating non-autochthonous varietals such as Sauvignon Blanc, Chardonnay, Merlot, and Cabernet Sauvignon among others. Both varietal bottlings and blends are crafted at Cantarutti; both practices are traditional in Colli Orientali and throughout Friuli.
For centuries the Colli Orientali languished in isolation and poverty due to its position at the crossroads of Latin, Germanic and Slavic cultures as well as the shifting tides of political unrest that date to antiquity and continued until the end of the Second World War. Consequently, it was not until after World War II and Europe's ensuing stability that Colli Orientali began its meteoric viticultural ascent. However, its land has always been ideal for the cultivation of the vine. In addition to being the source of Italy's finest Pinot Grigio, Colli Orientali claims several other award winning white wines, most notably from Pinot Bianco, Tocai Friulano and Ribolla Gialla – all traditional grape varieties. These varietals are produced either as single varietals as in the case of the Cantarutti Colli Orientali Ribolla Gialla or blended with other autochthonous grapes to produce charming white wines of unique character.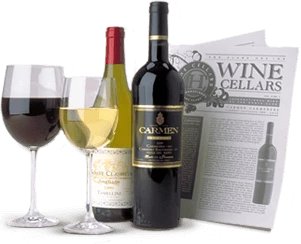 Enjoy Limited Production Estate
Bottled Wines
Discover limited production estate bottled wines such as Vergenoegd's internationally
acclaimed 2005 Cabernet Sauvignon, imported exclusively for our members.
DISCOVER OUR FOUR CLUBS