The 2004 Canneto Vino Nobile di Montepulciano Riserva is a big, brooding, old-fashioned Vino Nobile. It remains inky black in appearance; and from all other indications, too, Canneto's 2004 Vino Nobile Riserva is a wine built for the long haul. From a deep purple robe that bears only the faintest glint of garnet to a long, powerful finish, the 2004 Canneto Vino Nobile di Montepulciano Riserva provides the modern world a rare glimpse of traditional Vino Nobile – a truly noble wine of breed and depth that demands a decade or more to reach full maturity. However, this youthful Vino Nobile has already begun to blossom. With aeration it reveals a luxuriant nose that bears the scents of an awakening Tuscan landscape: spring violets and wild roses set beside the pleasant earthiness of a nearby forest floor. Fold in hints of truffle, dark chocolate, and roasted coffee and Canneto's 2004 Vino Nobile Riserva offers the taster a staggering statement, with promises of more to come. In an ideal world, we suggest cellaring the 2004 Canneto Vino Nobile Riserva for three or more years, but it can easily dazzle now at cool room temperature (60º- 64º F) after extended aeration. As with most young, world class Italian reds, the mantra for early consumption needs to be "let it breathe, let it breathe, let it breathe … and then enjoy."
A bottle or two of Canneto's 2004 Vino Nobile di Montepulciano Riserva provides the perfect accompaniment to most traditional Tuscan dishes – a classic cuisine that so deftly marries elegance to rusticity. So whether it is paired with a thick, mouthwatering Florentine Steak that has been slathered with olive oil and herbs or the hearty, country bean soup that Tuscan natives have fondly dubbed Ribollita (meaning re-boiled) the 2004 Canneto Vino Nobile di Montepulciano Riserva offers sublime companionship. Most assuredly, this Vino Nobile is rich enough to hold its own with any traditional Tuscan meal. We also recommend serving it with homemade Tortellini, stuffed with veal, herbs, Porcini mushrooms, and the finest hard Parmesan or Pecorino cheese Italy has to offer. In fact, this great Vino Nobile will elevate almost any well-prepared meat or pasta dish it is paired with, including Braised Lamb Shanks, served over creamy polenta, and Grain Fed Breast of Chicken that is placed in the company of walnut, onion, and Jalepeno pepper infused mashed potatoes. Enjoy this wine now and for years to come. Buon Appetito!
The Azienda Agricola Canneto stretches across the western slopes of the striking Tuscan hill town of Montepulciano, in full view of the renaissance church of Madonna di San Biagio. This renowned estate has enjoyed a long tradition of wine making. However, ever since its purchase in 1987 by the current Swiss owners, the Canneto property has been completely restored; and more importantly the Vino Nobile that now flows from its barrels is quite fine and can stand the test of time. The quality quotient at this winery should come as no surprise as everything at Canneto is done with great respect for tradition and with the utmost attention afforded to producing exceptional Vino Nobile in the classic style. And as one would expect, Canneto's vineyards and facilities are meticulously maintained; the new wine cellar is kept scrupulously clean and each vine and olive tree is pruned to perfection – the clearest reflections of the noble elixirs that bear the Canneto name. The Canneto estate encompasses some 106 acres, of which only 44 acres are planted with vines. Approximately 33 acres are registered for Vino Nobile. The vines are grown on moderately heavy, pebbly marl between 1,100 and 1,300 feet above sea level. Moreover, nearly all the vines are raised on southwest facing slopes, which affords them great sun exposure and full ripening. A sizeable portion of the rest of Azienda Agricola Canneto is devoted to the cultivation of olives for extra virgin olive oil. Today, Canneto's wines are available to only a select few. This exclusivity is a due to limited supply and great demand, especially from Europe. This is particularly the case for Canneto's flagship offering, Vino Nobile Riserva. Canneto's Riserva is produced only in superior vintages such as 1999 and 2004. In order to enjoy the Riserva status, Canneto's finest Vino Nobile is matured in wooden casks for three years, starting from January 1 following the harvest.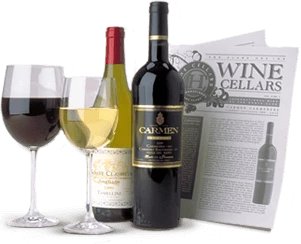 Enjoy Limited Production Estate
Bottled Wines
Discover limited production estate bottled wines such as Vergenoegd's internationally
acclaimed 2005 Cabernet Sauvignon, imported exclusively for our members.
DISCOVER OUR FOUR CLUBS