Made with organic grapes (70% Pinot Blanc, 30% Auxerrois), Camille Braun's Crémant d'Alsace Brut NV delights the eye with its lively persistent mousse and expressive nose and flavor. Delicate hints of ripe autumn apples, freshly baked shortbread, and spring flowers delight the nose. In the mouth, the wine's beautiful aromas re-emerge and expand on the palate. A delight to sip and savor or drink with abandon, Camille Braun's Crémant d'Alsace Brut NV is subtle, pleasantly round, and delightfully balanced. From the first sip until the very last drop, this superb Champagne Method sparkling wine presents itself as a true crowd pleaser. Elegance, purity, and a delightfully graceful finish make Camille Braun's Crémant d'Alsace Brut a welcome anytime companion. Enjoy this special Crémant d'Alsace Brut initially well chilled (37°-38° F) now and over the next several years. Anticipated maturity: 2023-2026. Enjoy!
The Camille Braun Crémant d'Alsace Brut NV provides the perfect wine to drink at any time. It glides gracefully over the tongue and charms the mouth with its delicate mousse, making it both an ideal aperitif and a welcome companion to a host of tasty morsels. Soft creamy cheeses, freshly picked apples and pears, crudités, and pâtés all make ideal first course accompaniments. Grilled or baked salmon over a bed of sautéed fennel makes for another delightful companion to Camille Braun's Crémant d'Alsace NV. Flaky white fish, poultry, ham, pork, and grand salads provide equally satisfying companions to Camille Braun's food friendly Crémant d'Alsace Brut. Roast turkey with all of the trimmings makes another splendid partner. Holidays and family gatherings or simply the need for a respite from the weather stained cares of life provide equally compelling interludes in the company of a glass or two of Camille Braun's certified organic biodynamic Crémant d'Alsace Brut NV. Bon appétit!
The Braun family traces its presence as farmers and wine growers in Alsace back to 1583. Since then, generations of wine growers have followed one another. With the purchase of a 17th century farmhouse in Orschwihr in 1902, the Brauns established their own family vineyards and domaine.
Orschwihr, located in southern Alsace along the renowned Alsace Route des Vins, has enjoyed fame since the Middle Ages for the high quality of its wines. In 1960, Camille Braun took over the family farm and began to focus exclusively on wine production and the bottling and sale of the property's own wines. Beginning with just 2.5 hectares, the domaine has grown to 15 hectares (44 acres) of vineyards in and around Orschwihr and Uffholtz. Camille's son Christophe took over the family business in 1987 and today runs the domaine with his charming wife, Chantal. The domaine consists of some 30 parcels, including the Grand Cru site Pfingstberg, documented since 1299, and single sites Bollenberg, Lippelsberg, Effenberg and Meissenberg. The farming at Camille Braun has been certified organic for more than 20 years and has been certified biodynamic since 2005. All the farming methods employed at the estate respect the environment and the character of the natural terroir.
Production at Camille Braun is tiny, just over 8,000 cases, due to natural farming methods and strict attention to quality. The result has been numerous awards, including the Prize for Excellence at the Concours National, awarded for the consistent quality of all the estate's wines, and a Gold Medal at the Concours National des Crémants for their Crémant Brut (a traditional Champagne Method sparkling wine and this month's feature). Camille Braun recently added a delicious Crémant d'Alsace Rosé Brut using a neighbor's Pinot Noir, which is equally impressive. In addition to producing outstanding Crémants, the Brauns also fashion one of Alsace's finest Pinot Blancs in its Vin Natural Pinot Blanc from 100% Auxerrois. Auxerrois is a traditional but distinct Alsace grape that is often blended with Pinot Blanc in both still and sparkling wines. Both Auxerrois and Pinot Blanc are legally entitled to be called Pinot Blanc. Small amounts of Sylvaner and other Alsace varietals are produced, too, including tiny lots of Grand Cru offerings – all worth seeking out.
Camille Braun's Crémant d'Alsace Brut NV is a delicate dry sparkling wine made in the Méthode Traditionnelle or Champagne Method. Like Champagne, Camile Braun's Crémant is a wine that is under pressure. It should always be well chilled before opening. Always exercise caution when opening a bottle of sparkling wine. Point the bottle away from people and objects. Use a clean towel or cloth to firmly grip the bottle. Gently remove the wire stopper while firmly holding the cork in place. Then with thumb and forefinger, remove the cork slowly from the bottle. Do not let the cork fly. Enjoy!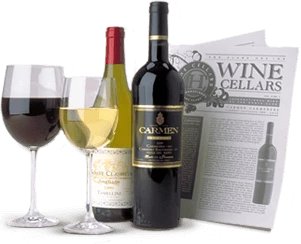 Enjoy Limited Production Estate
Bottled Wines
Discover limited production estate bottled wines such as Vergenoegd's internationally
acclaimed 2005 Cabernet Sauvignon, imported exclusively for our members.
DISCOVER OUR FOUR CLUBS