California's Central Coast is one of California's best sources for top notch Cabernet Sauvignon and thanks to picture perfect weather in 2013, a vintage that experienced neither extreme heat nor cold, the 2013 vintage produced outstanding Cabernet Sauvignon throughout the state. In the 2013 Cambridge Cellars Limited Cabernet Sauvignon, one gets treated to the essence of California Cabernet, including plenty of savory blackberry and currant scents and savors that sink deep into the marrow of the wine to offer one hearty, exuberant mouthful of Cabernet. Rich in fruit and extract and bolstered by a dollop of healthy tannins, all of which are refined by a fine patina of oak, it's hard to imagine a better young Cabernet Sauvignon than Cambridge Cellars' 2013 Limited. With that said, there is no doubt in our minds about one thing: the Cambridge Cellars' 2013 Limited Cabernet Sauvignon will continue to improve in bottle for several more years. It is ripe and ready now but will continue its upward trajectory longer than you can keep from pulling the cork. Enjoy this well-crafted Cabernet at cool room temperature (60°-64° F) after thirty minutes of aeration.
Although many of us enjoy Cabernet Sauvignon au naturel, meaning all on its own, Cabernet Sauvignon truly shines at table. Cambridge Cellars' 2013 Limited Cabernet Sauvignon is no exception. The glory of Cabernet Sauvignon, and this one in particular, is that it complements simple meals as well as it does more glorious culinary creations. With that said, we have to put in an initial plug for pairing Cabernet with meat, especially beef because of Cabernet's propensity for cutting through the fat in meat. In turn, meat seems to soften the tannins of young Cabernet Sauvignon. So, fire up the grill or light the oven! Put on a good old-fashioned rib-eye or New York strip steak and enjoy a glass or two of the 2013 Cambridge Cellars Limited Cabernet Sauvignon. For heart healthier beef options, consider Thai Sirloin Steak Lettuce Wraps or Chipotle Steak Sandwiches on ciabatta bread. Braised Lamb Shanks, served with garlic mashed potatoes and lentils; and Rotisserie or Spit Roasted Chicken, brushed with butter, olive oil, and Provencal herbs make good choices with Cambridge Cellars' Cabernet, too. But this wine is no one trick pony. A healthy and filling vegetarian dish will work equally well with the Cambridge Cellars Limited Cabernet Sauvignon, so why not consider Pan-Fried Quinoa Cakes made with kale, sweet potato, Parmesan cheese and of course quinoa? Too often, vegetables and grains play second fiddle to meat and fish because they are not filling enough for many carnivores. Yet, good quinoa cakes won't leave many folks wanting, and they stand up nicely to the rich flavors of the Cabernet. And for those who subscribe to the philosophy that less is more when it comes to accompaniments, we suggest serving a plate of soft, ripe cheeses with this laudable Cabernet. Fontina, Gouda and Saint Aubray comprise just a few of our favorite cheeses with the 2013 Limited Cabernet Sauvignon, but other finely crafted cheeses will shine as well. Enjoy!
Cambridge Cellars' story begins at the corner of Cambridge and Sunset in Novato, California at the southern end of Napa Valley. Australian transplants Kim and Bruce Cunningham launched Cambridge Cellars there in 2014, though their story begins long before 2014.
What began years ago as RNR (Revitalizing Neighborhood Recreation) among wine industry friends who enjoyed a bottle or more of wine together has turned into a full-fledged family and community affair in Cambridge Cellars. Kim and Bruce Cunningham have been in the wine industry for decades, but Cambridge Cellars is their first family winery, although they have represented wineries and made or purveyed wine, too, from Australia, California, Chile, Spain and elsewhere. They are also the proprietors of AW Direct, a successful importing company of premium wines from around the world. Unabashedly, their aim in founding Cambridge Cellars in Novato is to build a better future for the next generation, for their own children and the community at large, and to celebrate the positive momentum of their community of wine country farmers, artists and entrepreneurs. And it is safe to say that Kim, Bruce and their consulting Winemaker Douglas Danielak (Wine Spectator magazine named Cambridge Cellars' Douglas Danielak Winemaker to Watch in July 2014) are off to a fine start with their new venture, which includes two excellent new releases: the 2013 Cambridge Cellars Limited Central Coast Cabernet Sauvignon (this month's feature) and the 2013 Cambridge Cellars Limited Monterey Chardonnay. Both wines were made in small lots, 1,198 cases and 827 cases respectively, from two premier appellations.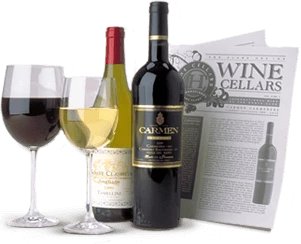 Enjoy Limited Production Estate
Bottled Wines
Discover limited production estate bottled wines such as Vergenoegd's internationally
acclaimed 2005 Cabernet Sauvignon, imported exclusively for our members.
DISCOVER OUR FOUR CLUBS