Zinfandel is California's own special variety and there is no better place to find exceptional Zinfandel than in California's Russian River Valley. The 2013 Cambridge Cellars Elsbree Vineyard Russian River Valley Zinfandel provides ample testimony to support that claim, as it is deeply colored, beautifully balanced, vibrant and rich in flavor. One hardly notices the wine's 14.9% alcohol as it delivers up an enticing bouquet of blueberry and black currant fruit, warm spices and hints of black pepper. On the palate, the youthful Elsbree Vineyard Zinfandel exhibits more of its structure, but never loses its composure. Instead, this Zin strikes a fine balance between red and black fruits, spice and tannin in the mouth. Best of all, it unfolds quickly in the glass, becoming deeper and more accessible with each sip. For optimal enjoyment, we suggest affording the youthful 2013 Cambridge Elsbree Vineyard Zinfandel 15-20 minutes of aeration before serving at cool room temperature (60º-65º F). Enjoy!
Zinfandel is the "All American Wine." It can be a mid-week staple or grace the finest holiday tables in the land. It is a wine made for American foods and American tastes, as eclectic as those tastes may be. The 2013 Cambridge Cellars Elsbree Vineyard Russian River Zinfandel pairs equally well with thick, juicy hamburgers with all of the fixings as it does with roast turkey, stuffing, and all the holiday trimmings. Lamb burgers or even veggie burgers topped with goat cheese and organic greens provide more complements to this Zin. The Elsbree Vineyard Zinfandel also provides the ideal companion to a Mediterranean diet and a host of southern Italian specialties. Penne pasta in a rich tomato cream sauce with chicken, broccoli, and roasted eggplant makes for a splendid accompaniment to this wine. Manicotti, lasagna, sausage and peppers, and almost any dish prepared with tomato sauce all pair well with this wine. Grilled, barbecued bone-in pork chops served with braised greens and polenta, and Tex-Mex specialties also make tasty complements to Cambridge Cellars newly released 2013 Elsbree Vineyard Zinfandel.
Cambridge Cellars' story begins at the corner of Cambridge and Sunset in Novato, California at the southern end of Napa Valley. Australian transplants Kim and Bruce Cunningham launched Cambridge Cellars there in 2014, though their story begins long before.
What began years ago as RNR (Revitalizing Neighborhood Recreation) among wine industry friends who enjoyed a bottle or more of wine together has turned into a full-fledged family and community affair in Cambridge Cellars. Although Bruce and Kim have been in the wine industry for decades, represented wineries around the world, and made or purveyed wine from Australia to Spain, Cambridge Cellars is the Cunninghams' first family winery. They are also the proprietors of AW Direct, a successful importing company of premium wines from around the world.
Unabashedly, Kim and Bruce's aim in founding Cambridge Cellars in Novato is to build a better future for the next generation, for their own children and the community at large, and to celebrate the positive momentum of their community of wine country farmers, artists and entrepreneurs. Kim, Bruce and their consulting Winemaker Douglas Danielak (Wine Spectator named Cambridge Cellars' Douglas Danielak Winemaker to Watch in July 2014) are off to a strong start with their new venture, which includes the superb single vineyard 2013 Elsbree Vineyard Zinfandel (this month's feature) and limited offerings of 2013 Central Coast Cabernet Sauvignon, Monterey Chardonnay and Russian River Pinot Noir. All Cambridge Cellars' wines are made in small lots, with most offerings well under 1,000 cases.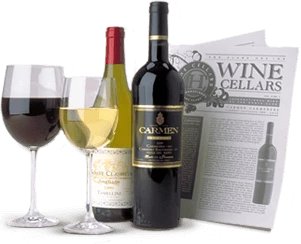 Enjoy Limited Production Estate
Bottled Wines
Discover limited production estate bottled wines such as Vergenoegd's internationally
acclaimed 2005 Cabernet Sauvignon, imported exclusively for our members.
DISCOVER OUR FOUR CLUBS