Opening a bottle of Caldora wine is always a satisfying hedonistic experience. In the case of the 2006 Caldora Montepulciano d'Abruzzo, the pleasure begins in the eye: this Montepulciano is bedecked in a saturated purple robe that is both immediately enticing and nearly impossible to resist. Moreover, the wine's visual allure is matched by a gush of soft fruit that wafts ever so willingly above the glass. And what follows on the palate is a supple, seductive blend of ripe cherry, plum, and milk chocolate flavors that winemaker Mario Ercolino has wrapped ever so adeptly around a vinous, medium body. As is the case with all of Caldora's wines, Ercolino's 2006 Montepulciano d'Abruzzo is neither weighty nor complex. However, it is one tasty, easy to drink, in your face red wine that offers great all year round drinking pleasure. Winemaker Mario Ercolino has fittingly captured the charming, friendly side of Montepulciano d'Abruzzo rather than the rustic, antithetical edge of the mercurial Montepulciano variety in the Abruzzo. We suggest serving this delicious Montepulciano d'Abruzzo at cool room temperature or even slightly cooler on a hot day (55°-65° F).
The 2006 Caldora Montepulciano d'Abruzzo provides the ideal house wine, for individuals and restaurants. The wine's soft, friendly flavors make it popular with a crowd and able to complement a wide variety of foods, without overpowering them. So, fire up the grill, bring on the burgers, barbecue chicken, and all the ribs you can muster. Make some pasta, with fresh tomato sauce and plenty of herbs of course, or order out for a really good pizza! And don't forget the staples of a simple southern Italian meal: garlic bread, antipasto, and fresh buffalo mozzarella, drizzled with olive oil and served with fully ripened plum tomatoes. But why limit yourself? With Caldora's Montepulciano, there is no need to stand on ceremony. Just open the bottle and pour a glass or two with whatever you are preparing; it is the Abruzzi way. Enjoy!
Caldora is a new winery that began in 2003, as a partnership between Valentino Sciotti and renowned Italian winemaker Mario Ercolino. This dynamic duo launched Caldora when they rented one of the largest cooperative wineries in the Abruzzo, outfitted it with new custom made technology specified by Ercolino, a winemaker obsessed with attaining the maximum expression of fruit in his wines, and then began fashioning the region's most prodigious wines from autochthonous varietals. To push Caldora's wines to an even higher level of quality, Sciotti and Ercolino have established an avant-garde vineyard management system that compensates grape growers who agree to adhere to rigidly specified agricultural standards, by paying them a set amount of money according to the size of the vineyards under production, rather than according to the quantity of grapes produced. The combination of excellent grapes and outstanding wine making have yielded results that speak volumes. In just a few short years, Ercolino's taste for intense, deep fruit in his wines has won many friends and transformed how the wine drinking world views the wines of the Abruzzo as well as the rare indigenous vines of the region. The Caldora production area is located in Ortona, mostly in the splendid Moro River Valley. Here a unique ribbon of land lies between the gleaming Adriatic and a precipitous 10,000 foot ridge of the Apennine Mountains. This special land possesses a microclimate that is ideal for Montepulciano, Pecorino, and the region's other indigenous grape varieties, which explains why winemaking has been prized in this region since the 3rd century AD and why consumers have quickly gobbled up Caldora's wines.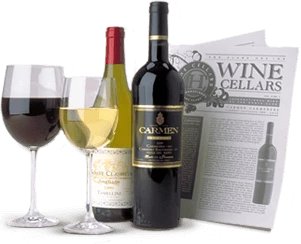 Enjoy Limited Production Estate
Bottled Wines
Discover limited production estate bottled wines such as Vergenoegd's internationally
acclaimed 2005 Cabernet Sauvignon, imported exclusively for our members.
DISCOVER OUR FOUR CLUBS