The 2003 Ca dei Frati I Frati Lugana is a delightfully elegant wine that wears a traditional Chablis-like robe of pale yellow, with a mere hint if green. In the nose the I Frati's aromatic profile is redolent with the fresh heady scent of early spring, a mélange of flower blossoms and the first fruits of an awakening land. In the mouth, satiny textured fruit caresses the palate and nearly explodes with the infusion of mineral and subtle earth that add to the wines complexity and disarming depth of flavor. Not surprisingly, Ca dei Frati's I Frati finishes with both elegance and panache, not to mention plenty of flavors. Concentrated, complex, and expressive, the 2003 I Frati is positively wicked in the most delightful way. We suggest serving this wine moderately chilled, typically around 45° F, and as often as you can find it.
The 2003 Ca dei Frati I Frati Lugana conjures the romance of the terraced, flower bedecked balconies above Lake Garda, not to mention the charm and allure of nearby Verona – the city that provided the world the lore of love in the guise of Romeo and Juliet. So, given the innate charm of this wine, accompaniments are optional. Nonetheless, we can suggest serving Ca dei Frati's Lugana with a variety of fresh water fare, including Trout Almandine. Many saltwater fish like flounder, fluke, halibut, and striped bass also provide superlative companions to one of the world's most charismatic white wines. Assorted hors d'oeuvres, stuffed mushroom caps, grilled vegetables, salads, and an array of quiche and vegetable pies offer other superlative choices. Although full-flavored and ready to stand up to more robust cooking, the glory of Lugana is, at least in our opinion, its subtle complex flavors and haunting charm, which are most evident in the company of simple, uncomplicated fare. Enjoy!
The hills above Lake Garda are almost as pretty as the white wine that flows from its sunny southern slopes: an aromatic, charming flavorful wine that goes by the name of Lugana. Nestled near the picturesque Sirmione peninsula, Ca dei Frati is the quintessential property in a stunningly beautiful region of northern Italy that poets and popes have likened to Eden, and then there is the estate's remarkable I Frati Lugana – the most seductive and delightful of white wines. For four generations the Dal Cero family has grown grapes and fashioned wines of legendary status from their modest 44 acre estate. Today, Igino, Franco, and Ana Maria Dal Cero run this impeccable azienda agricola. They combine the joys of tradition with the benefits of modern viticulture. In recent years they have modernized the old family cellar and introduced new equipment. They have also developed a new trellis system for their grapes that has further improved the estate's vineyards. Furthermore, the present Dal Cero trio has consented to selling at least a portion of their outstanding Lugana outside of Italy, which happily allows us to offer club members one of the wine world's most unique and venerable treasures. Like most Lugana producers along the shores of Lake Garda, Ca dei Frati makes a small amount of a charming red wine and a tiny bit of Chardonnay and Sauvignon Blanc, too, along with its more famous offering. Nevertheless, it is the estate's legendary Lugana I Frati, made from low yields of the Lugana grape (the local name for the region's particular clone of Trebbiano) that has bestowed nearly cult status upon this otherwise modest family run winery. So enamored are the local cognoscenti and now the growing number of international clientele that rarely is there even a few bottles of I Frati available at the cellar door: the estate's Lugana is sold out immediately upon release. So as to not totally disappoint visiting hopefuls, the Dal Cero family has frescoed the cellar walls, with the idea that if visitors cannot revel in the beauty of the family's wine, at least they can enjoy the artwork. In addition to Ca dei Frati's hallmark Lugana I Frati, the Dal Ceros also fashion another outstanding, but less traditional Lugana: Brolletino. Unlike the I Frati, the cru Brolletino is aged in small 225 liter oak barrels, which gives it an international style and an almost Burgundian character. It is fully mature upon release, but will retain its rich intense flavor for many years. Not surprisingly, it is produced in very small quantities.
A plate of well-selected cheeses provides an ideal complement to the 2003 Muri Veteres. Spanish cheeses offer a natural affinity with this month's wine selection, but we strongly suggest you not stop there. Therefore, we recommend as accompaniments to the Muri Veteres not only Manchego from Spain, but aged Swiss Appenzeller, Emmenthal, Monterey Jack, and just about any other natural soft cheese without a rind. For additional cheese pairings or to view this month's exquisite selection of international cheeses, click on www.cheesemonthclub.com and enjoy a taste of the good life!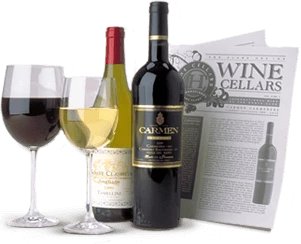 Enjoy Limited Production Estate
Bottled Wines
Discover limited production estate bottled wines such as Vergenoegd's internationally
acclaimed 2005 Cabernet Sauvignon, imported exclusively for our members.
DISCOVER OUR FOUR CLUBS