The 2003 Ca dei Frati Brolettino Lugana marries all of the ethereal, highly sensual attributes that make fine Lugana so compelling to creamy rich fruit – all of which give the 2003 Brolettino the weight and sophistication of a premier cru white Burgundy. Consequently, the 2003 Brolettino possesses the typical breed, elegance, and tremendous visual appeal of Lugana, along with plenty of plush fruit. It sports a luminescent yellow robe and an aromatic and flavor profile that is reminiscent of the fresh heady scents of early spring, a mélange of flower blossoms, and the first fruits of an awakening land. To this one adds subtle complexity and eminent texture, which are wrought from 10 months in small oak barrels, and a star is born. Subtle, yet rich, the soft sophisticated 2003 Brolettino finishes with a long, lingering finish that coats the mouth and amplifies the senses. We suggest serving this rare Lugana at no more than 40° F, and as often as you can.
The 2003 Ca dei Frati Brolettino Lugana is a highly versatile white wine, in spite of or, perhaps, on account of its extended stay in oak. Whereas, I Frati and other more typical Luganas are cut out to be exemplary aperitifs or to accompany the most delicate of fresh water fish such as trout, the 2003 Ca dei Frati Brolettino can espouse similar roles or be called upon to handle bolder, more complex fare with aplomb. Poached salmon, lobster, and even classic chicken recipes that call for cream, herbs, and a giblet stuffing will not overpower the 2003 Brolettino. A potato encrusted sea bass or pan seared halibut steak, served over spinach and accompanied by creamy risotto, poses no gastronomic overload either. In an ideal world, one would have at table at least two bottles of Ca dei Frati's brilliant Luganas: a bottle of the most recent release of I Frati to serve as an aperitif, followed by a bottle of two of the 2003 Brolettino to accompany the gustatory delights of a sophisticated kitchen. Nonetheless, whether you decide to serve food with the Brolettino or not, you are in for a treat. Enjoy!
The hills above Lake Garda are nearly as pretty as the comely white wine that flows from its sunny southern slopes: an aromatic, charming flavorful wine that goes by the name of Lugana. Ca dei Frati is the quintessential property in this stunningly beautiful region of the Italian Alps that poets and popes have likened to Eden, and then there is Ca dei Frati's remarkable Lugana wines – Brolettino and I Frati – the most seductive and delightful of Lombardy's white wines. For four generations the Dal Cero family has grown premium grapes and fashioned wines of legendary status from their modest 44-acre estate in northern Italy that lies nestled in the stunningly beautiful hills above Lake Garda's Sirmione Peninsula. From these sunny shores, Igino, Franco, and Ana Maria Dal Cero run their impeccable azienda agricola. They combine the joys of tradition with the benefits of modern viticulture. Recently, the family has modernized the old cellar and introduced new equipment. They have also developed a new trellis system for their grapes, which has further improved the estate's impeccably tended vineyards. Moreover, the present Dal Cero trio has consented to selling a small portion of their outstanding Lugana outside of Italy, which happily allows us to offer club members one of the wine world's most unique and venerable white wines. Ca dei Frati, like most Lugana producers, makes small amounts of a charming red wine and a tiny bit of Chardonnay and Sauvignon Blanc, too, along with its more famous Lugana offerings. Nevertheless, it is the estate's legendary Brolettino and I Frati, made from low yields of the Lugana grape (the local name for the region's particular clone of Trebbiano) that have bestowed nearly cult status upon this otherwise modest family run winery. So enamored are the local cognoscenti and now the growing number of international clientele that rarely is there even a bottle of I Frati or the estate's most elite offering Brolettino available at the cellar door: the estate's Lugana wines are sold out immediately upon release. In order not to totally disappoint visiting hopefuls, the Dal Cero family has frescoed the cellar walls, with the idea that if visitors cannot revel in the beauty of the family's wine, at least they can enjoy the artwork – a small consolation until the next vintage of Lugana is ready to exit the cellar door. Although I Frati and Brolettino are both outstanding examples of Lugana wine, they are quite different in nature. I Frati is light and lively: it is made to shine in the first three years of its life. It receives no aging in oak barriques. On the other hand, the very rare Brolettino is fashioned for the long haul. And unlike the I Frati, the cru Brolettino is aged in small 225 liter oak barrels, which gives the wine a creamy, almost Burgundian character. Brolettino is fully mature upon release, but will retain its rich intense flavor for many years. Not surprisingly, it is produced in miniscule quantities.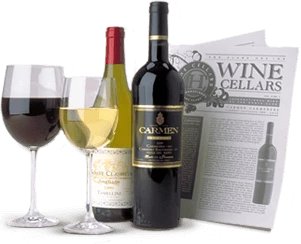 Enjoy Limited Production Estate
Bottled Wines
Discover limited production estate bottled wines such as Vergenoegd's internationally
acclaimed 2005 Cabernet Sauvignon, imported exclusively for our members.
DISCOVER OUR FOUR CLUBS