The 2002 Burford & Brown Private Selection North Coast Zinfandel is a round, vivacious dare we say sexy Zin. It is difficult to believe that this is Burford & Brown's first Zinfandel release, but then again with Peter Burford at the tap we shouldn't be surprised. This deeply colored, medium-bodied North Coast offering exudes an enchanting array of aromatic fireworks: raspberry, bramble, wild strawberry and an ample dose of vanilla caress the nose. Plush but far from flabby, Burford seems to have hit his debut Zinfandel just right. This Burford & Brown is an easy to drink Zin that avoids the hot, flabby, high alcohol, monolithic style of many other North Coast producers. In winemaking terms, Burford has found the sweet spot, which means he has produced a balanced wine with just the right amount of alcohol, fruit and acidity. Enjoy!
Bring on the meat mate. Rustle up some burgers or a good steak, and don't forget to serve them with some fried onions and a big wedge of Cheddar cheese. Or how about a thick extra cheese pizza or better still, the classic pepperoni pizza, accompanied by none other than a bottle of 2002 Burford & Brown Zinfandel. What's more, just about any southern Italian favorite is a good choice with this juicy Zin; a good thick, gently simmered marinara especially highlights the Burford & Brown's rich fruit and hedonistic frame. Hickory smoked pork barbecue, baby back ribs or marinated beef brisket that's been cooked slowly over a charcoal fire provide other winning combinations with Burford & Brown's debut Zinfandel.
Burford & Brown is a bodacious new venture starring Peter Burford and Adam Brown. Peter Burford, an Australian graduate of Roseworthy, Australia's premier School of Oenology, is perhaps best known as the recent impetus behind the renaissance and the rising consumer popularity enjoyed by Alexander Valley Vineyards. He has also been the vitality and driving force behind many of California's premier Zinfandel producers, including the world renowned Renwood Winery not bad for a young Australian lad. On the other side of this brand new coin is Adam Brown, the Sales and Marketing Manager extraordinaire for Alexander Valley Vineyards. Burford and Brown are characters, but two very talented and fun loving characters. Their venture was really born the first night they met. Burford, on hiatus from the great D'Arenberg Estate Winery in South Australia, had just finished his first California crush at Alexander Valley Vineyards when Adam Brown spotted him alongside Highway 101 in Healdsburg, California puffing a cigar a very fine cigar at that. Earlier, Burford had attended the company Christmas Party and was out relaxing. Adam Brown spotted Peter and decided to stop and pick up the poor bloke he had eyed at the edge of the road. He figured that anyone out at 1:00 A.M. in Peter's condition needed a ride home, so he stopped and picked him up (it wouldn't be the last time, we're told), and after a late night talking and getting to know each other, a friendship was born. The year was 1995. Peter was soon appointed winemaker at Alexander Valley Vineyards, a well-established Sonoma County estate. Soon the fortune of this outstanding property was on the upswing, and its offerings went from strength to strength as Burford perfected his craft working with the very same varieties he had mastered in Australia: Chardonnay, Cabernet Sauvignon, Merlot, and Syrah (Shiraz). But at Alexander Valley Vineyards, Burford also had the opportunity to work with Pinot Noir and Zinfandel, with which he became enamored. He eventually left Alexander Valley Vineyards and went to the Renwood Winery where he was able to work exclusively with Zinfandel, his new love. Subsequently, in typical Australian fashion, Peter was soon up for a new challenge and a taste of exotica, so by 1999 he found himself literally in the hot spot of winemaking Thailand. It was there in ancient Siam that Peter gained worldwide renown. There, he was able to harvest two crops a year, without traveling, one in the spring and another in the fall, not the customary single harvest that occurs in the fall everywhere in temperate climates. Although he had worked at prestigious wineries in both Australia and California, it was his work in Thailand that landed Peter as the feature of a three-page article in the Wine Spectator, and brought him ultimately to the attention of the wine world. And all this time, judging by the proximity of Thailand to Australia, we all thought Peter had just gone out on one of his famous walkabouts and got a little lost. Upon Peter's return to California, he re-united with Adam Brown and the topic of doing their own thing was re-visited. Their first endeavor was in 2001 when they produced a three hundred case lot of a knockout Barbera. In 2002 they crushed another small lot of superb Barbera, with the help of their wives and Adam's three children, and followed that with an excellent North Coast Zinfandel that they made from grapes they snatched from Ravenswood, completing the hat trick. In November 2003, the first bottle of Burford and Brown inched along the bottling line, and we are happy to say that we have procured nearly all of the 2002 Burford & Brown Zinfandel. We trust you will enjoy this wine as much as the tasting panel did.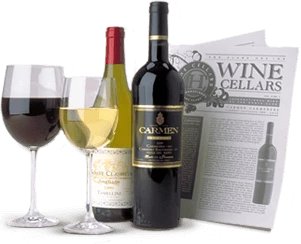 Enjoy Limited Production Estate
Bottled Wines
Discover limited production estate bottled wines such as Vergenoegd's internationally
acclaimed 2005 Cabernet Sauvignon, imported exclusively for our members.
DISCOVER OUR FOUR CLUBS