A distinctive, medium-bodied wine, the 1998 Buckeley's Cabernet-Merlot combines all of the scent and savor of Australia in a Bordeaux format. Sporting a ruby claret-like robe, soft succulent scents of blackberry, chocolate, plum, spice and eucalyptus well from the glass. Well-integrated fruit, oak, nutmeg and spicy berry flavors make for good, old-fashioned drinking from start to finish. The addition of Merlot in the Buckeley's has decidedly tamed the exotic, sometimes aggressive nature of Australian Cabernet Sauvignon without sacrificing flavor or finesse. In fact, the Buckeley's Cabernet-Merlot is a flavorful, seamless wine of charm and distinction that can be easily understood and appreciated without a lot of muss or fuss. We suggest opening it at least twenty to thirty minutes before serving. The only problem with allowing this wine a chance to breathe is we bet you won't be able to wait even twenty minutes before diving into this easy to drink beauty. Enjoy!
Considering the Buckeley's rich, ripe fruit and supple, textured feel, it complements a myriad of dishes without overpowering the natural flavors in food. We have enjoyed this wine as much with burgers and barbeque fare as we have with more haughty cuisine. We can just as easily endorse Buckeley's Cabernet-Merlot with a finely prepared crown roast of lamb as we can with a traditional steak and kidney pie. We have also enjoyed this wine immensely with ribs and kebabs. We like marinated, lightly grilled vegetables, too, as another accompaniment. Yet, one of our tasters proclaimed, "I don't need food with the Buckeley's, it's my new sit around sipping wine." And, indeed there is something to be said for consuming this Cabernet-Merlot with all or nothing. It has just enough spice and savor to pair up with uptown offerings, while it retains a smoothness and suavity rarely seen in such a young wine, rendering it easy to enjoy on its own. As always, we hope you will experiment, because rarely is there only a handful of dishes that do justice to a wine. Be adventuresome; no matter what you choose, we bet you will be always searching for more.
Buckeley's wines are the brainchild of importer Peter Click and celebrated Australian winemaker Rob Dundon. Produced from South Australia's finest vineyards in Barossa, McLaren Vale and Langhorne Creek (soon to be South Australia's next designated viticultural area or appellation), Buckeley's wines are all estate bottled at Dundon's historic Beresford Winery. Founded in 1896, the Beresford Winery is located in the picturesque Happy Valley of South Australia. Constructed on a grand scale from locally quarried stone, Beresford Winery stands as a testament to the wonderful insight of the original founders, the Horn brothers. The winery's grand old bluestone cellars were built into a solid rock hillside - no mean feat in itself over 100 years ago - to such an extent that half of the winery building is completely underground, providing wonderful naturally cool cellars. The Beresford Winery is constructed on four levels to take advantage of the slope and was originally intended to be an entirely gravity fed operation with grape reception at the top and final aging and dispatch on the lowest level. Apart from some of the original winemaking equipment which today serve as artifacts and historic memorabilia the original winery is in perfect working order. The massive jarrah posts and karri floorboards, reputedly hewn from old ship timbers and ballast, the 50 centimeter thick stone walls, the old vats, and even the resident friendly ghost - apparently the spirit of a dedicated cellar worker who died in the 1920 - all exude a wonderful history which engulfs all who visit this imposing structure. Despite a checkered history between 1930 and the arrival of the current owner and winemaker, Rob Dundon in 1989, Beresford Winery has been restored to the Horn Brother's original concept of producing estate-bottled wines of character that reflect the outstanding climate and soil ("Terroir" as the French would say) of South Australia's finest vineyards. State of the art winemaking equipment was installed in 1989 in such a way as to blend tradition, history, and modern technology. This ensures the production of some of South Australia's finest wines, all under the Buckeley's label. As with the Horn Brothers before him, Rob Dundon has won many awards and medals for his wines, guaranteeing him a burgeoning export, as well as domestic market. To date, Rob has accumulated over 1000 medals for his wines. Testament to Rob Dundon's ability to fashion supple, rich, full-flavored wines that consumers desire, Buckeley's is becoming increasingly more difficult to come by. Alas, this is the price of success. "Enjoy this wine while ye may". Although Buckeley's produces a Chardonnay, a Semillon/Chardonnay and a Shiraz, as well as the all splendid Cabernet/Merlot, it is the latter for which Buckeley's is most renowned.
To Have Buckeley's or None: The Story Behind the Name William Buckeley (1780-1856) was an Australian folk hero who had a life of considerable hardship involving more than several close brushes with death. After surviving it all, he retired to the bush to live with the local Aborigines for thirty-two years. Adopting many of their indigenous ways, he lived on a diet of witchetty grubs and possum, grew his hair long and wore simple clothes. Although he acquired the nickname of the "wild white man", all he really wanted was a little peace and quiet. Hence, the Australian colloquialism: "to have Buckeley's or none" meaning to have little or nothing or to have nothing but your own way. In the spirit of the expression we hope you enjoy Buckeley's wines: so drinkable you will always be searching for more. Blended from Cabernet Sauvignon and Merlot fruit grown in the McLaren Vale, Langhorne Creek and Barossa regions of South Australia, Buckeley's Cabernet-Merlot contains 84% Cabernet Sauvignon and 16% Merlot. The entire cepage was aged in three year old French barriques for 15 months before bottling.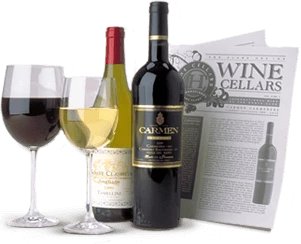 Enjoy Limited Production Estate
Bottled Wines
Discover limited production estate bottled wines such as Vergenoegd's internationally
acclaimed 2005 Cabernet Sauvignon, imported exclusively for our members.
DISCOVER OUR FOUR CLUBS