The 2001 Bouchard Aine & Fils Pouilly-Fuisse sports a bright, straw-colored robe that underscores the very clean, modern style of wine making practiced by this house. In the aroma, scents of vanilla cream and citrus, along with a restrained minerality, dominate the nose. Meanwhile, in the mouth, the savor of pure, clean Chardonnay fruit combines with hints of steel and orange peel. In short, the 2001 Bouchard Aine & Fils Pouilly-Fuisse is classic Pouilly-Fuisse ' an elegant, understated Chardonnay that pairs the austerity of real French Chablis with the rounder, fleshier, more varietal character of New World Chardonnay. Considering how refreshing and easy to drink this Pouilly-Fuisse is, we suggest you have at least two bottles on hand because like all respectable Pouilly-Fuisse the Bouchard goes down real easy. We suggest serving the 2001 Bouchard Aine & Fils Pouilly-Fuisse well chilled, allowing it to come up to just under cool room temperature by the second glass. Then, and probably only then, can one fully enjoy this wine's ultimate finesse.
Although seafood and fine fruits de mer may, indeed, be the tried and true accompaniments to Pouilly-Fuisse, they are not the only partners that make the 2001 Bouchard Aine & Fils Pouilly-Fuisse shine. Salads, pastas (especially those with cream based sauces), stir-fries, chicken, pork, and cheese pies all provide other splendid accompaniments to the Bouchard Pouilly-Fuisse. Yet, the glory of Pouilly-Fuisse is its propensity to stand on its own, providing the ultimate aperitif or an excellent 'starter' to a gathering of old or new friends, and the Bouchard Aine & Fils is no exception. So, whether it is winter, spring summer or fall, the Bouchard Pouilly-Fuisse can turn an ordinary evening into an extra ordinary night, with or without food to accompany it. Enjoy!
Bouchard Aine & Fils is a name that enjoys an enviable tradition, as one of Burgundy's oldest and most respected negociants. It is a name that has promoted quality Burgundy wines in France and abroad for more than 250 years and become a worldwide reference for many Burgundy wines. Moreover, Bouchard Aine & Fils is legendary for its early vision of the brand as the reference and symbol of quality. The history of Bouchard Aine & Fils dates back to the beginning of the 18th century, when Michel Bouchard, a cloth merchant from the neighboring Dauphine region, often traveled via Beaune on his way north to Flanders. His wealthy customers from the northern provinces asked him to bring them some of the famous wines from Burgundy; what started out as a service soon became his primary business. Bouchard settled in Beaune, the wine capital of Burgundy, where he and his eldest son founded the Bouchard wine company. From eldest son to eldest son, the Bouchards have kept alive the family tradition of the name Bouchard Aine & Fils (meaning the eldest son), forming a dynasty from one generation to the next. As a negociant Bouchard Aine & Fils exercises its longstanding expertise in wine selection, winemaking, and wine ageing (sometimes referred to as elevage), which it has developed across nine generations. This remarkable house maintains a unique partnership with growers and estates for sourcing both grapes and wine, always adding its high-class style of winemaking to each of its Burgundy offerings. Before the advent of modern marketing, there was the early vision of the brand, which Bouchard Aine & Fils and a number of the great Champagne houses just to the north of Burgundy pioneered. They created the brand as a consistent style and quality that consumers could recognize as synonymous with the house. In doing so, Bouchard set its course as a reliable purveyor of fine Burgundy wines, whose styles remain faithful to their respective varietals and preserve the unique characteristics of each wine's appellation of origin. For more than a century, the crest and vertical strip, key elements of the brand, have appeared on every bottle of premium Bouchard wines. Since its inception in the 19th century, this brand label has served as a unique, attributive and outstanding quality signature. Bouchard Aine & Fils offers a complete selection of premium wines from all the major vineyards and villages of Burgundy, including an exemplary collection of premier crus and grand crus.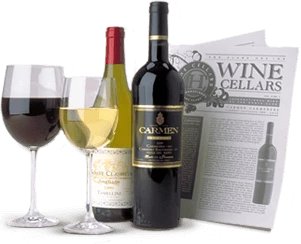 Enjoy Limited Production Estate
Bottled Wines
Discover limited production estate bottled wines such as Vergenoegd's internationally
acclaimed 2005 Cabernet Sauvignon, imported exclusively for our members.
DISCOVER OUR FOUR CLUBS