The 2009 Botani Moscatel Seco is 100% Moscatel de Alejandria. Whatever pre-conceived notions one may of have of Moscatel or Muscat, none apply to Botani. Botani Moscatel Seco is world class white wine made from one of the most ancient of all vines. It is fermented completely dry in a combination of stainless steel tanks and French oak barrels that gives it a sense of equilibrium. A pale straw colored wine, its perfume is akin to the scent of paradise: a floral mélange of rose petal, tropical fruit, mandarin orange, and subtle spice that no perfumery can top. In the mouth this alluring elixir glides across the palate. Ripe, dry, and supremely textured, it satisfies the senses without even the faintest suggestion of residual sugar, before gleefully sliding down the gullet. For optimal enjoyment we suggest serving the seductive 2009 Botani Moscatel Seco moderately chilled (40º-45º F), and often.
Given the dry, smooth-textured, mouth-filling flavors of the 2009 Botani Moscatel Seco, accompaniments will be an option for most of the tasters who are fortunate enough to come across a bottle of this wine. However, the Botani Seco is absolutely majestic with sushi, sashimi, and Thai food. It is equally stunning with Hudson Valley Foie Gras, served with Bartlett pear, smoked bacon, and a ciabbata toast that has been basted with a touch of wild honey. Clams Casino; Duck Confit; and Prince Edward Island Mussels, served in a hearty country mustard broth with saffron and leek, provide excellent companionship to Botani's mouth-filling Moscatel Seco, too. In fact, the 2009 Botani Moscatel Seco is a very versatile white wine that can accompany elegant, simple fare as well as dishes with a good bit of heat and spice. Enjoy!
Botani is a collaborative project of Jorge Ordonez, one of the best known and most influential Spanish wine importers, and the Kracher family of Austria. The Krachers are renowned for fashioning a stunning array of white wines that are the envy of many in Austria, while Jorge Ordonez is affectionately called The Master from Malaga for revitalizing many old vine vineyards in Spain and bringing their oenological treasures to the light of day. Together the Kracher and Ordonez families have combined their expertise to produce Botani, a rare dry Moscatel of profound quality that is made from very old Muscat vines that grow in the hills above Malaga. Jorge Ordonez who is originally from Malaga has returned to his native region to try and help resuscitate the wines of Malaga which were once famous throughout the wine drinking world. One taste of the Botani Moscatel Seco is all that is needed to be convinced of the resurrection of Malaga as a world class wine producing area and the merits of the Ordonez/Kracher partnership.
Jorge Ordonez came to the United States in 1987. When he arrived in this country he spoke no English, but he had a dream. Today, he is one of the most respected importers in the country and his unique, very special portfolio of Spanish wines known as The Fine Estates of Spain have taken North America by storm. Moreover, the name Jorge Ordonez is now synonymous with the renaissance in Spanish viticulture and as close to a guarantee in the world of wine that what rests inside a bottle that bears his name is one of the tastiest and most affordable wine treasures on earth. Ordonez's key to success has been his unfailing dedication to quality over quantity, coupled with a patient, systematic approach to opening and building each and every individual market. Ordonez leaves no part of the viticultural puzzle to chance. He works personally with each and every producer of the wines he offers for sale and he is meticulous in his selection as well as his distribution. In fact, each and every bottle of wine that bears the name of Jorge Ordonez leaves the winery under ideal, temperature controlled conditions and is delivered to his North American clients under similar circumstances. Nothing is done haphazard or left to chance. Is there any wonder then that the Spanish Renaissance in wine corresponds to Ordonez's quest to bring The Fine Estates of Spain to North America? Ordonez's accomplishments are no mean feats. The boy from Malaga has done well and justly earned the title "The Master of Malaga."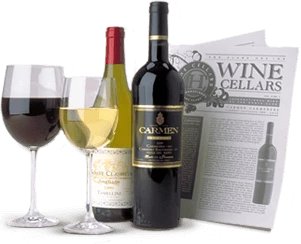 Enjoy Limited Production Estate
Bottled Wines
Discover limited production estate bottled wines such as Vergenoegd's internationally
acclaimed 2005 Cabernet Sauvignon, imported exclusively for our members.
DISCOVER OUR FOUR CLUBS