The certified organic 2012 Bosquet du Sanglier Côtes-du-Rhône embodies the essence of Grenache, offering the taster a classic and delicious example of the Rhône's most important grape variety. It's also as pure, natural and easy to drink as any red wine, and a true crowd pleaser, too, especially when brought to table. Medium-bodied and easy to drink, the soft, scented 2012 Bosquet du Sanglier Côtes-du-Rhône offers up a brilliant robe, a fragrant varietal nose, and plenty of flavor and texture in the guise of wild violets, velvety red and black fruits and subtle spice, not to mention a gentle engaging finish. From the moment this delicious Côtes-du-Rhône is poured, it ingratiates the senses. Yet, the wine will continue to evolve for hours in the glass, revealing the varying facets of Grenache. What more could one want from Côtes-du-Rhône? We suggest serving the lovely 2012 Bosquet du Sanglier at cool room temperature (60° F). Allow the wine 10-15 minutes of aeration to get the biggest bang for your buck, and enjoy!
Béatrice Bouche is indeed known as one of the finest country cooks in the Côtes-du-Rhône. And good old-fashioned country cooking (or down home fare as some of us are apt to say) provides the perfect, unpretentious accompaniment to the 2012 Bosquet du Sanglier Côtes-du-Rhône or any Bouche wine for that matter. Consequently, one of our all time favorite foods with Côtes-du-Rhône remains pizza, but not just any ordinary pizza. Perhaps the best-kept secret of Provence is this: Provence, rather than Italy, bears the distinction of being the ancestral home of pizza. Meanwhile, the region's second best secret is just how good Provencal pizzas are. The Provencal versions of the world's most popular food are what we commonly refer to as gourmet pizza. Consequently, some of our favorite accompaniments are perennially a three-cheese and black olive pizza; a chicken and mushroom pizza, with red onion, peppers, and Provencal herbs; and any number of vegetable pizzas with eggplant, zucchini, or artichoke. Light meats, pasta and almost anything served with fresh tomato sauce, including fish, also provide savory pairings in the company of the natural, easy to drink 2012 Bosquet du Sanglier. However, with that said, this magical wine from the outstanding 2012 vintage goes down ever so easily all by itself. Bon Appétit!
Bosquet du Sanglier is the domaine of Jean-Claude and Béatrice Bouche, a formidable husband and wife team who also own Domaine du Vieux Chêne. Bosquet du Sanglier comprises a true family affair. The Bouches' quintessential Provencal estate is located in the tiny village of Camaret. Intriguingly, Camaret lies at the heart and soul of the Vaucluse, Provence's beloved core. In fact, the great early 20th century French writer Marcel Pagnol set Camaret as the home of Jean and Florette, two of his more famous Provencal characters, from the novel and subsequent film Jean de Florette.
The Bouches began making wine together in 1978, and over the years they have emerged as leaders in the production of pure, naturally made, certified organic Côtes-du-Rhône wines. For nearly two decades, Jean-Claude and Béatrice Bouche have been certified organic producers of Côtes-du-Rhône, which means no chemical herbicides, pesticides, or fertilizers are ever used at their estate. In addition, the use of sulfites is strictly limited. The result is an enviable selection of individual Côtes-du-Rhône cuvees that highlight the appellation's two most important red varietals: Grenache and Syrah. Bosquet du Sanglier hails from 100% old vine Grenache, while some the estate's other cuvees are blends of Grenache and Syrah or are bottled with Syrah alone. Merlot and Vin de Pays are also fashioned here, and in recent years Bosquet du Sanglier has begun producing a very fleshy, natural tasting Viognier, too, which makes us wonder if this energetic couple ever has time to sleep, especially since all harvesting and nearly everything else at this property is done the old-fashioned way – by hand. Furthermore, Madame Bouche is reputed to be one of the region's outstanding Provencal cooks. Vive la Différence et Vive la Les Bouches!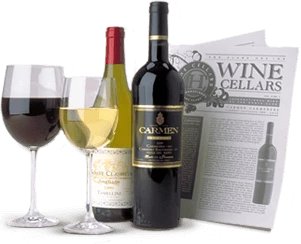 Enjoy Limited Production Estate
Bottled Wines
Discover limited production estate bottled wines such as Vergenoegd's internationally
acclaimed 2005 Cabernet Sauvignon, imported exclusively for our members.
DISCOVER OUR FOUR CLUBS