Wrapped in a brilliant robe of golden hue, the 2000 Bonterra Vineyards Chardonnay models the cheerful yellow smile of forsythia, waving in the April sun. In a world of good, but not very distinctive Chardonnays, Bonterra Chardonnay is impressive for its exceptionally pure fruit flavors and elegance. Apple, citrus, and white peach flavors shine from beneath an intriguing layer of oak and spice. Indeed, Bonterra's decision to barrel ferment this lovely Chardonnay in new and one to two year old barrels and to leave the wine on its lees for several months has added an extra dimension to the finished wine in the form of a lush, creamy texture. Stylistically, the Bonterra Chardonnay combines excellent acidity and purity of fruit, successfully straddling the line between a pure rich full-blown California Chardonnay and the delicacy and elegance of France in the form of first rate White Burgundy. Given this wine's supreme balance, it will continue to age well, gaining depth and nuance with each passing month. Serve it moderately chilled, and allow the wine to linger a few minutes in the glass before tasting.
The 2000 Bonterra Chardonnay will accompany the usual fish and fowl routine, and more. We heartily recommend the Bonterra when you are in the mood for a little something special. We are fond of serving it with a seafood pasta dish prepared with homemade penne pasta, mussels, clams, scallops and shrimp in a light cream and freshly crushed tomato and garlic sauce. Both the wine and the food contain creamy, textured elements along with balanced spice and acidity, allowing each to play off of the other in a most satisfying manner. Lobster and just about any other form of crustacean - baked, broiled, sautéed or steamed - make great accompaniments to the Bonterra, too. In a completely different vein, we also endorse a good quality, honey-glazed ham with the Bonterra Chardonnay, as many of our tasting panel members will attest. Enjoy!
Bonterra's motto, "Lovingly Nurtured, Organically Grown," incarnates this great Mendocino County vineyard's dedication and spirit. Bonterra wines are a natural expression of the unique climate and soil of the Mendocino coast, which evokes many vivid images of a pure, natural, rugged and unspoiled world. There is a serene beauty to Mendocino that is unmatched anywhere else in California wine country, and it is precisely that natural enchantment that Bonterra seeks to preserve in every bottle of its organically grown wines. The name "Bonterra" means good earth. All Bonterra wines are made from 100% organically grown grapes and are certified such by the state of California. All of the estate's vineyard's are farmed naturally - no herbicides, pesticides or synthetic fertilizers are used. Cover crops planted between the rows of vines provide a natural habitat for bad and good bugs alike, allowing the vine and grapes to flourish unfettered. Fertile soil with great vitality is the result. Grapes from these vineyards exude uncommon vibrancy and concentration, giving winemaker Robert Blue the finest ingredients to nurture into wine. Bonterra produces more than a half dozen varietal wines from Chardonnay to Syrah. To assist Blue and his dedicated staff, Bonterra maintains a five-acre organic garden in Hopland, California, which serves as an education center for the winery as well as the public. Fruits, vegetables, herbs, and edible and ornamental flowers are all grown at the Bonterra Garden for sensory enjoyment and education purposes. Many of the items grown in the garden can be introduced selectively into vineyards and farms to limit or manage the presence of pests and blights. Bonterra Vineyards is rapidly emerging as one of the world's leaders in organic farming, training an international coterie of winemakers in the art and science of natural grape growing and minimal intervention in the making of wine. Recently, Carmen oenologist and winemaker Alvaro Espinosa is reputed to have spent time at Bonterra, which convinced him to pursue organic grape production at Carmen, Chile's leading wine estate. Certainly, many others now subscribe to Bonterra's philosophy, while others are poised to follow suit. If more vineyards would adopt organic farming and biodynamic methods of agriculture, there would actually be less problems with pests and diseases, a fact that research studies are bearing out.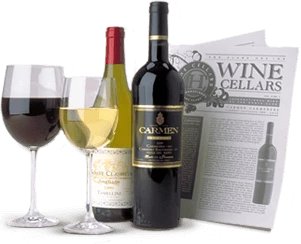 Enjoy Limited Production Estate
Bottled Wines
Discover limited production estate bottled wines such as Vergenoegd's internationally
acclaimed 2005 Cabernet Sauvignon, imported exclusively for our members.
DISCOVER OUR FOUR CLUBS