The deeply colored 2005 Montecastro Ribera del Duero is as charming and sophisticated as its creators and the hallowed terroir from whence it springs. It is also every bit as ingratiating as the estate's knockout 2003 and 2004 Ribera del Duero offerings, which remain some of the region's most compelling wines. Montecastro's 2005 Ribera del Duero offers an extremely deep, satisfying nose, intense, polished flavors, and a long finish that seemingly goes on forever. Aged for nearly a year and a half in small oak barrels, Montecastro's 2005 Ribera del Duero offers us the rare opportunity to enjoy hedonism in a glass. This prodigious offering provides all the elegance, breed, and explosive fruit one could ask for, along with ample tannin and smooth, polished oak to frame the center of this prodigious wine. Once again, low yields and expert wine making have propelled Montecastro to the forefront of producers in Ribera del Duero. Drink this outstanding offering now or tuck it away for several more years until it makes you cry, stamp your feet, and beg for more. As with all the finest Ribera del Duero wines, we suggest decanting the exceptional 2005 Montecastro at least an hour before serving at cool room temperature (62º-66º F). Anticipated maturity: 2010-2018.
Montecastro fashions a quintessential dinner party wine that will rise to the heights of the finest cuisine, so first and foremost we suggest planning an elegant dinner party around the 2005 Montecastro Ribera del Duero. Although charming, elegant, and plenty satisfying on its own, this aristocratic red positively shines in the company of well prepared dishes. We have found that the more savory the fare, the greater the reward with this wine. Rack of Lamb, served with a savory stuffing; Filets of Beef Tenderloin, covered with an herb infused medley of mushroom and accompanied by pearl onions; Venison Stew; Spit Roasted Quail, prepared with a wild rice risotto; and Crown Roast of Pork, served with onion and sage stuffing are just a few of the more tempting dishes we suggest with the 2005 Montecastro Ribera del Duero. Chicken, veal, and ham provide additional opportunities for gastronomic pleasure with the ebullient 2005 Montecastro. Enjoy!
Bodegas y Viñedos Montecastro was founded in 2001 by a group of Madrid professionals led by the prominent publishers of El Economista, Alfonso de Salas, the Marqués de Montecastro y Llanahermosa, and Juan Gonzalez. Since its inception, Montecastro has fashioned outstanding Ribera del Duero from established vineyards. This impeccably run property has built a modern bodega and modeled itself after the finest estates in Ribera del Duero, which is unquestionably one of Spain's top red wine producing appellations. From the beginning, Montecastro has made wine at the very highest level. They have focused on Tempranillo, the Ribera del Duero's most important varietal. Moreover, they have retained Jean-Francois Hébrard (of the famous Château Cheval Blanc) as technical director. Hébrard has overseen the acquisition of the property as well as all of the subsequent planting. He has also helped the estate select a small group of growers with old vines, who can appropriately augment the estate's 55 acres. Presently, Montecastro's vines range in age from 10 to 100 years of age, and all are subject to highly restricted yields and are situated at various altitudes and soils in order to add complexity to the ensuing wine. Montecastro is dedicated to sustainable methods of agriculture. Even the modern bodega emulates the region's traditional medieval subterranean chimney (zarcera), which serves a dual purpose: it provides natural ventilation and daylight illumination without resorting to the use of additional fossil fuels. Natural fermentation is the order of the day at Montecastro, too. Only new and second year barrels are used, and the results are remarkable. Come and taste the difference a little pride and hard work can achieve. Bravo!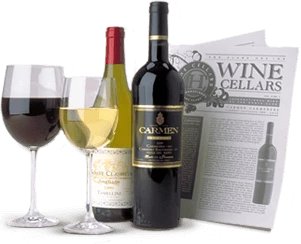 Enjoy Limited Production Estate
Bottled Wines
Discover limited production estate bottled wines such as Vergenoegd's internationally
acclaimed 2005 Cabernet Sauvignon, imported exclusively for our members.
DISCOVER OUR FOUR CLUBS