Like its red counterpart, the 2008 Emperador Macabeo is a 100% varietal and an intense young wine that offers splendid aromatics and a truly enjoyable mouthful of wine. For starters, this bright, sunshiny white wine offers luscious scents of dried pineapple, apricot, and herbs. On the palate, the 2008 Emperador Macabeo blossoms and deepens in flavor with each and every sip; deep-down fruit flavors mingle with the savor of herbs, minerals, and lemon zest. And with patience and a little aeration, this exhilarating, mouthfilling wine nearly explodes on the palate before finishing perfectly dry. Aromatic, heady, and vibrant, the 2008 Emperador Macabeo could easily serve as the poster child for Macabeo, Spain's most widely planted white varietal. Moreover, Bodegas Viticultores' Macabeo epitomizes the consummate quality that has emerged lately from Ribera del Guadiana and other heretofore unsung wine-producing regions of Spain. For optimal enjoyment, we suggest you provide this delicious wine a bit of aeration. We gave it a good chill (40º F) and then allowed it to sit in our glasses a few minutes before partaking. The only disappointment the panel had with this Macabeo came when we finished the bottle; watching grown men and woman beg, cajole, and grovel is never a pretty sight. Consequently, we recommend you have an extra bottle or two on hand. Enjoy!
Bodegas Viticultores' reputation rests on its ability to fashion fruit-driven, pleasure-giving wines from traditional Spanish varietals. Consequently, the 2008 Emperador Macabeo is built for good-old-fashioned drinking in mind, with or without food. Frankly, we enjoyed this wine immensely all by itself. However, we must confess that its greatest attribute may be its ability to accompany some very hearty, often-difficult-to-pair dishes. Seafood Paella, Shrimp and Angel Hair Pasta in a tomato basil sauce, and Pan Seared Chicken served with garlic mashed potatoes and zucchini in a black bean sauce are just a few dishes that shine in the presence of the 2008 Emperador Macabeo. Sushi and sashimi offer good choices, too. Soft cow or sheep's milk cheeses offer a tasty interlude with this wine as well, so why not skip dessert and save some 2008 Emperador Macabeo to accompany a platter of superb cheeses? Salud!
The Bodegas Viticultores de Barros was founded in 1983 by 35 quality growers from Extremadura's Tierra de Barros region. They pooled their resources to launch the venture. Their aim was to revitalize viticulture in the Tierra de Barros, which had long languished in the shadow of the Rioja and other more celebrated appellations to the north, and develop the full potential of their vineyards and winemaking. Thus, the Bodegas Viticultores de Barros was at the forefront of the vitcultural renaissance in Spain that began more than two decades ago. Today, Bodegas Viticultores de Barros encompasses 1,250 acres of vines. All of the bodegas' vineyards are grown in the typically deep red clay/chalk soils of the region, which retain the needed moisture for producing balanced fruit in one of Spain's most arid climates. Vintage consistency is nearly a given in the Tierra de Barros, and viticulture is organic out of necessity as well as tradition. The dry continental climate of the Barros area of Extremadura and the vineyards' relatively high altitudes (ranging from 1000 to 1700 feet) help to assure structure and elegance in the wines and limit the need for any chemical intervention. Bodegas Viticultores' specialty is fashioning wines to be drunk within the first few years of life by using the latest technology and following precise and selective harvesting techniques. Macabeo (also known as Viura) is the preferred varietal for white wines here, while Tempranillo is the varietal of choice for all of the bodegas' reds. Under the expert guidance of the Bodegas Viticultores de Barros winemaking team, this winery fashions only two wines, one white and the other red. Both wines are rich in flavor and highly aromatic, which renders them some of the finest wine values in the market today.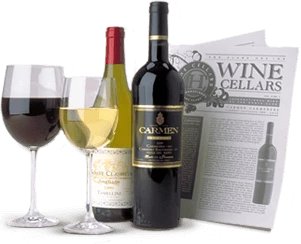 Enjoy Limited Production Estate
Bottled Wines
Discover limited production estate bottled wines such as Vergenoegd's internationally
acclaimed 2005 Cabernet Sauvignon, imported exclusively for our members.
DISCOVER OUR FOUR CLUBS