What a portrait the 2010 Condesa Eylo Verdejo makes! Imbued with a touch of the Castilian sun in its bright shiny robe, this ripe, sensuous Verdejo offers scents of apple and pear along with wafts of spring flowers. The wine's beguiling bouquet makes Val de Vid's 2010 Condesa Eylo nearly impossible to resist. Fleshy, yet elegant, racy, and impeccably balanced, the 2010 Condesa Eylo offers something wonderful in every sip. Pure fruit flavors tempered with hints of fennel and mineral enliven the palate and add complexity to Jose Antonio Merayo's delicious Rueda Verdejo. And as if that's not all, Condesa Eylo exits with a long, refreshing finish. We suggest moderate chilling (38°-42° F) for the 2010 Condesa Eylo, though some may prefer this wine icy cold, especially in warmer climates, but as you like it!
The 2010 Condesa Eylo Verdejo provides superb companionship to a host of traditional Spanish tapas as well as most anything that once swam in the sea. The wine's sumptuous flavors and impeccable balance pair beautifully with fish, shellfish, pasta, risotto, and of course paella. Pan Seared Flounder served over a bed of Portobello mushrooms and accompanied by sautéed spinach topped with goat cheese and onion and leek confit offers the 2010 Condesa Eylo a real chance to shine. Potato Crusted Sea Bass over chorizo, shrimp, and lump crab enchiladas provides another tasty accompaniment. Carnaroli Risotto served with wild morels, caramelized broccoli, and a healthy dose of Parmigiano Reggiano remains another one of our favorite accompaniments to Condesa Eylo's brilliant Verdejo. Clams, scallops, lobster, and baby mussels, steamed in a light garlic and herb cream sauce make great pairings, too. Crusted cheeses such as Brie and Camembert provide outstanding, easy to prepare accompaniments to Verdejo as well. Enjoy!
In 1996, Jose Antonio Merayo created the Bodegas Val de Vid in the heart of Rueda. He produces only fine white wine, made primarily from Verdejo – Spain's most illustrious white grape. With nearly 50 acres of vineyards devoted to Verdejo, an additional 6 acres of Viura and a miniscule amount of Sauvignon Blanc, Merayo fashions several outstanding wines, including Condesa Eylo – a tantalizing blend of 97% Verdejo and 3% Sauvignon Blanc.
Bodegas Val de Vid's vineyards enjoy a privileged terroir. Located on ancient alluvial soils from the nearby Duero River and its tributaries, Val de Vid's vineyards benefit from dry hot days and cool nights. Such ideal conditions yield Verdejo grapes of impeccable balance, exhibiting ideal levels of both sugar and acid. All of Val de Vid's wines are made in the bodegas' modern winery under the watchful eye of Jose Antonio Merayo.
Verdejo is a premium white grape that has long been cultivated in Spain. Though its spiritual home remains Spain's Rueda, an important viticultural area northwest of Madrid in an historic part of the ancient province of Castilla y León, Verdejo's origin is believed to be North Africa. Verdejo likely arrived in Rueda with the Moors prior to the 11th century. The grape played an important part in resettling Rueda after the 11th century Reconquest of Castilla when King Alfonso IV offered freehold ownership of land to those prepared to resettle Rueda. As a result, Verdejo thrived in Rueda until the 19th century and the advent of phylloxera, which decimated the region.
Fortunately, Verdejo was saved from extinction and re-planted widely throughout Rueda in the 1970s. Marqués de Riscal, a leading Rioja producer, came to Rueda and set up a bodega to make young, fresh white wines from native Verdejo grapes. Meanwhile, Angel Rodriquez was launching his quest at Martinsancho to revive Verdejo and restore the indigenous varietal to its former glory. Because of these efforts and the advent of modern wine equipment, Verdejo has never been better. It produces a smooth, highly aromatic wine today that is rich in varietal character. As a result, Rueda won D.O. (Denominación de Origen) status in 1980, and it has never looked back.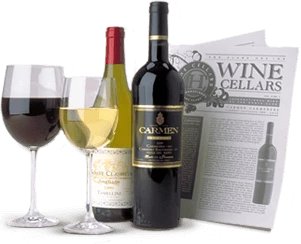 Enjoy Limited Production Estate
Bottled Wines
Discover limited production estate bottled wines such as Vergenoegd's internationally
acclaimed 2005 Cabernet Sauvignon, imported exclusively for our members.
DISCOVER OUR FOUR CLUBS