Tridente has always been one of Juan Gils' most compelling wines and one of the world's best bargains in old vine Tempranillo. As soon as the cork exits the bottle and splashes joyfully into a glass, the 2014 Tridente Tempranillo captivates the eye as well as the nose. It greets the eager taster with a saturated purple robe and a redolence that brings both joy and anticipation. Scents of ripe black fruits mixed with incense and sweet balsamic notes tantalize the eager nose and foreshadow the wine's broad voluminous flavors. In the mouth, concentrated blackberry and crème-de-cassis flavors infused with deft touches of graphite and toasted oak caress the palate. Concentrated, powerful, yet quite smooth with nary an edge, the 2014 Tridente Tempranillo provides ample testimony to the glory of old vine Tempranillo from Zamora and other prime vineyards throughout Castilla y León. Tridente's hedonistic Tempranillo is one bold, fine drinking wine that makes far too many Tempranillo based wines from nearby Ribera del Duero and Rioja taste like ordinary plonk. Enjoy this splendid well-endowed Tempranillo from Juan Gil and the ancient vineyards of Castilla y León at cool room temperature (60°-64° F) after a few minutes of aeration.
Tridente first captured our tasting panel's attention nearly a decade ago. The consensus then as now is that we would drink Tridente with almost anything or nothing at all, and that sentiment continues to hold true with the 2014 Tridente Tempranillo. One doesn't need much of anything with this wine, except another glass of it. We loved this Tempranillo with and without food, although we think you will agree that paella, pasta, roasted vegetables, mushrooms, and cured meats such as Spain's succulent Jamon Serrano or their more readily available Italian cousins in the forms of pepperoni, prosciutto, and salami make good companions to Tridente's old vine Tempranillo. Stews, sausages, red and white meats, and all kinds of mild to medium cheeses provide equally satisfying companionship. We tried a wide variety of foods with the 2014 Tridente Tempranillo, including Chicken Cacciatore served with roasted Brussel sprouts and pancetta, and found that it almost didn't matter what we served with it. One can even enjoy the 2014 Tridente Tempranillo with grilled salmon on a bed of organic greens with walnuts, cranberries and feta cheese. Pulled pork barbecue served with a spicy homemade slaw or roasted green beans with caramelized onions makes for another tasty pairing with this wine. Enjoy!
The 2014 Bodegas Tridente makes an ideal accompaniment to cheese. Tridente's bold flavors and subtle spice tones complement a variety of cheeses, especially those made from cow and sheep's milk. A glass of the 2014 Tridente with some English Farmhouse Cheshire, a slice of authentic Spanish Mahon, or a few morsels of Danish Havarti, will make any true cheese aficionado dance with delight. For more information on delicious gourmet cheeses, contact us at www.cheesemonthclub.com to savor the day!
If one follows the Duero River as it flows out of the mountains of the province of Soria in Castilla y León, one will soon discover many of Spain's most exciting and expensive wines. Along the way, one passes fields of grazing sheep and waving wheat as the land shimmers and glows under the scintillating Castilian sun, but most compelling for the thirsty oenophile in search of liquid gold lay the hallowed vineyards of Ribera del Duero and Zamora, home to Spain's most compelling grape variety – Tempranillo.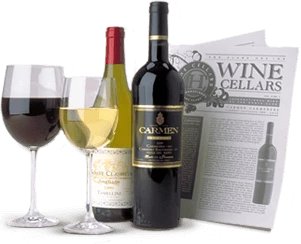 Enjoy Limited Production Estate
Bottled Wines
Discover limited production estate bottled wines such as Vergenoegd's internationally
acclaimed 2005 Cabernet Sauvignon, imported exclusively for our members.
DISCOVER OUR FOUR CLUBS