The 2010 Príncipe de Viana Navarra Crianza highlights the renaissance in wine making in Navarra and provides ample testimony to this ancient Spanish province's ability to produce attractive modern-style wine. A rich ruby robe greets the eye and is followed by attractive red fruit aromas of cherry and currant to whet one's appetite. Smooth, soft berry flavors infused with subtle hints of chestnut, coconut and vanilla fill the mouth. Bolstered by a 12 month hiatus in American oak barrels, Príncipe de Viana's Crianza finishes smooth and easy. This is a lithe medium-bodied red that offers good, easy drinking. Nevertheless, we suggest you afford it at least 10-15 minutes of aeration to blossom in the glass before drinking it at cellar temperature (55°-60° F).
Príncipe de Viana's 2010 Navarra Crianza offers great companionship to a variety of poultry, pasta, and meat dishes. Lamb and pork dishes are traditional favorites in Navarra and nearby Rioja, and lamb stew with carrots, potatoes, and assorted other root vegetables makes an especially tasty accompaniment to Príncipe de Viana's Crianza. Penne pasta, served with a heady white bean sauce, made with plenty of onion, garlic, red pepper, celery, and grated hard cheese, offers a tasty accompaniment that highlights the fresh, elegant side of this Crianza. Orzo salad made with roasted chicken or quail, spinach, red pepper, and Spanish olive oil makes another delicious companion. The 2010 Principe de Viana also pairs beautifully with the myriad of flavorful cow and sheep's milk cheeses that proliferate throughout Spain. Enjoy!
It never ceases to amaze us how much good wine flows from relatively obscure wine regions and from theretofore undiscovered wineries and winemakers, and from places not exactly on the tip of everyone's tongue. One such recent discovery hails from one of Spain's lesser known (at least in the US) and least understood viticultural regions - Bodegas Príncipe de Viana from the ancient province of Navarra.
Bodegas Príncipe de Viana was founded in 1983 as a special project of Caja Rural de Navarra, an agricultural lending institution created to provide financial assistance to the region's farmers and promote sustainable development of Navarra's essential farming sector. In testimony to the importance of agricultural products to the economy of Navarra, Bodegas Príncipe de Viana takes its name from an historic Navarran title of Spanish royal succession dating to 1423.
In its thirty years of existence, Príncipe de Viana has acquired nearly 1200 acres throughout the region, to which approximately one thousand acres of estate vineyards have been planted on chalky, stone-strewn plateaus that lay at the confluence of the Aragón and Ebro Rivers. As is the case with most Navarran producers, red wine grapes, both traditional Spanish grape varieties as well as an assortment of classic French varietals, dominate the viticultural scene at Principe de Viana. Garnacha, Graciano, Tempranillo, Chardonnay, Cabernet Sauvignon and Merlot all make their appearance at Príncipe de Viana, and happily find their way into a myriad of well-made wines.
Navarra is an ancient province of Spain as well as one of Spain's more prolific Denominacións de Origen (DO) for wine. It lies just south of the Pyrenees Mountains in north-central Spain. Since the 1980s, viticulture has staged a tremendous comeback in Navarra, as Navarra was especially devastated by phyolloxera in the early 20th century and the subsequent Spanish Civil War. Traditional Spanish grape varieties (Tempranillo, Garnacha, Garnacha Blanca, Graciano, Mazuelo, and Viura) predominate but are typically buttressed by French varietals (Cabernet Sauvignon, Chardonnay, and Merlot). Although red wine still reigns supreme in Navarra, at least in terms of quantity, Navarra now fashions a growing number of fine white wines as well. And the quality of both the red and white wines flowing from Navarra has increased dramatically over the last three decades, thanks at least in part to estates such as Príncipe de Viana.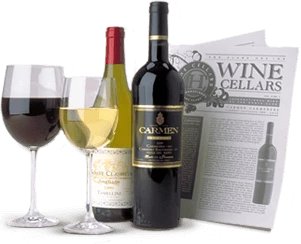 Enjoy Limited Production Estate
Bottled Wines
Discover limited production estate bottled wines such as Vergenoegd's internationally
acclaimed 2005 Cabernet Sauvignon, imported exclusively for our members.
DISCOVER OUR FOUR CLUBS