The 2001 Puerta Palma could easily double as a Cahors, the famous black wine of Southwest France. Almost opaque, and as dark and deep as any wine from Cahors we ever have tasted, the Puerta Palma is one big, brooding, power packed potion – a wine that can surely hold its own with the best of the big boys. A heady, high alcohol concoction, this beauty emanates an intriguing aroma of plums, stewed black fruits, basil, tobacco, and oak, but the palate profile is the real glory of the Puerta Palma as this wine explodes when it hits the tongue. In the mouth, the Puerta Palma reveals a broad array of deep down fruit flavors, bordered by solid tannins and an almost massive, but balanced structure. As it breathes, the Puerta Palma takes on a flamboyant, almost hedonistic quality, à la the finest young Rhône wines from Chateauneuf-du-Pape and Gigondas. Consequently, we suggest allowing this classic, very traditionally styled red at least thirty minutes or more in the glass or decanter before serving in or order to capture all its magic and mystery. Laying it down for 2-3 more years would pay dividends as well. Cool room temperature (below 68º F) remains our preference for imbibing the 2001 Puerta Palma. Enjoy!
The 2001 Puerta Palma is, indeed, a wine to ward off the chill of a cold winter's night, where it works its magic with or without a fire in the hearth. It's also a wonderful accompaniment to a genuine cassoulet, a hearty beef and vegetable stew, or a good old-fashioned t-bone steak. Puerta Palma is a wine to get the blood pumping and the heart racing. The 2001 Puerta Palma is what several members of the panel refer to as "a no heart attack wine." A regular diet of this wine is almost certain to keep the arteries clean, so bring on the meat and don't forget the cheese, too. Speaking of cheese, we have enjoyed the Puerta Palma with a host of Spanish cheeses, most notably Tetilla. Tetilla is a delicious, creamy cheese from Galicia that melts in your mouth. St. Maure, the elegant but very flavorful goat cheese from the Loire Valley of France, provides a wonderful accompaniment as well. For more winning cheese suggestions, visit our website at www.cheesemonth.com, and enjoy!
The Diaz family is, perhaps, best known for their pioneering work at nearby Lar de Barros, an innovative estate in the remote southwestern part of Spain called Extramadura. In the 1970's Marcelino Diaz, an Agricultural Engineer, began a revolution in the Extramadura by planting the highest quality red varietals on the bed of an ancient inland sea that had theretofore been used to grow only common white grapes for bulk wines. Marcelino's efforts surpassed even his finest expectations, resulting in the first internationally respected red wine from Extramadura. Moreover, his success gave impetus to the founding of the D.O. Ribera del Guadiana and the Bodega Marcelino Diaz. Bodegas Marcelino Diaz was launched in 2000 with the introduction of Puerta Palma, a full-bodied red that is made from Tempranillo (80%), Cabernet Sauvignon (15%), and Graciano (5%). Diaz established the vineyards for Puerta Palma in the Tierra de Barros sub-district of the Ribera del Guadiana. At 1500 feet above sea level, the grapes enjoy a healthy continental climate (hot summers and cold winters), where they mature perfectly in the vineyard's limestone rich soil. Puerta Palma is aged at least six months in new American oak and is held additional time in bottle before release. The result is a rich, powerful, age worthy wine that can stand up to hearty food and a cold winter's night.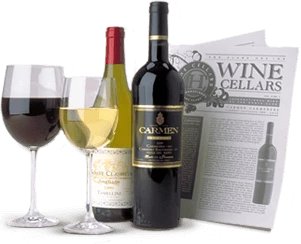 Enjoy Limited Production Estate
Bottled Wines
Discover limited production estate bottled wines such as Vergenoegd's internationally
acclaimed 2005 Cabernet Sauvignon, imported exclusively for our members.
DISCOVER OUR FOUR CLUBS