Viña Gormaz continues to be a source of exceptionally tasty Verdejo, as the delicious 2012 Viña Gormaz Rueda Verdejo amply attests. To initiate the appeal, the wine opens with the savory scents and flavors of apricot, citrus, melon, and spring flowers that tantalize the nose and palate. Medium-bodied and immediately gratifying the 2012 Viña Gormaz Rueda makes a great first impression, so much so that one could easily dismiss it as an exceptional aperitif or darn good quaff. However, it offers more than that. Subtle mineral tones emerge in the mouth to complement the fruit, and a lively acidity persists through to a gratifying finish. In short, the 2012 Viña Gormaz's Verdejo is just plain fun to drink. We suggest serving the 2012 Viña Gormaz Rueda moderately chilled (about 40º F), though some may prefer it a bit closer to ambient temperature as the wine tends to reveal more of its subtleties as it warms slightly in the glass. Enjoy!
Verdejo has emerged as one of Spain's most popular white wines, and the 2012 Viña Gormaz Rueda goes a long way to support that claim. It is truly a wine to sip and savor, or simply guzzle… but that's not all. We have found that it pairs especially well with tapas, fish, and all kinds of appetizers. Toasted bread rounds smeared with a delicate crab dip or lobster spread provide fine accompaniments to a first glass of Gormaz Verdejo. Shrimp, scallops, and prawns, prepared Provencal style in a heady white wine, garlic, and tomato sauce, won't cause this Viña Gormaz offering to blush either. Baked cod or haddock prepared with a panko crust, Calamari Frito, Maryland-Style Crab Cakes, sushi, and sashimi all offer additional, mouthwatering pairings. Melon wrapped in prosciutto or, better still, thin slices of Spain's peerless Jamon Ibérico, a delicious acorn fed ham, offers a peerless partner to Viña Gormaz's Rueda, too. And let's not forget all kinds of cow, sheep, and goat's milk cheeses.
Bodegas Gormaz has been turning out exemplary Ribera del Duero from old, head pruned Tempranillo vines since 1972. One of the original 16 bodegas of the D.O. Ribera del Duero, Bodegas Gormaz was originally founded as a cooperative consisting of some 360 growers in the Ribera del Duero province of Soria. Today, Bodegas Gormaz is privately owned and managed, and it is fashioning outstanding red and white wines from Ribera del Duero and Rueda respectively that simply must not be missed.
Brought to fore by Classical Wines of Spain, Bodegas Gormaz now consists of more than 1,300 acres of vines in Soria for making quintessential Ribera del Duero and a 125 acre estate vineyard on the Adaja River in Rueda for fashioning the bodega's exceptional white wine. Many of the vineyards of Bodegas Gormaz are in excess of 50 years of age and have been propagated from vine to vine in pre-phylloxera fashion, which means they grow on un-grafted rootstock, a rarity in the 21st century. The estate's reds are pure, rich, unadulterated Ribera del Duero from 100% old vine Tempranillo. Moreover, the estate's Rueda is equally impressive. Bodegas Gormaz fashions its delicious Rueda from Verdejo, the region's finest traditional grape variety, and small quantities of Viura, another indigenous white grape variety.
Rueda lies to the northwest of Madrid in an historic part of ancient Castilla y León. Rueda, especially the town of Nava del Rey and the surrounding countryside, is known for its extraordinary architecture. Many opulent churches, monasteries, and mansions punctuate the region, highlighting Rueda's important role in the medieval Reconquest of Spain from the Moors. In more recent years, Rueda has gained prominence as Spain's leading D.O. (Denominación de Origen) for still premium white wines with the traditional Verdejo grape variety leading the way. Brought back from near extinction, Verdejo enjoys a place of honor among Spain's white grape varieties. In order for a wine to bear the name Rueda, it must contain a minimum of 50% Verdejo, although leading examples from Viña Gormaz and other premium producers contain 90-100% Verdejo.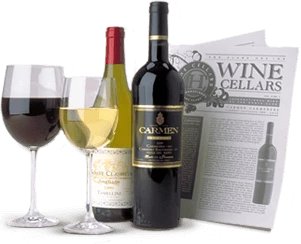 Enjoy Limited Production Estate
Bottled Wines
Discover limited production estate bottled wines such as Vergenoegd's internationally
acclaimed 2005 Cabernet Sauvignon, imported exclusively for our members.
DISCOVER OUR FOUR CLUBS