Viña Gormaz fashions juicy, flamboyant wines, so it came as no surprise to us that Bodegas Gormaz's 2011 Ribera del Duero Tempranillo more than lives up to the estate's growing reputation for delivering delicious, fruit forward Tempranillo. And as one would expect from old vine Ribera del Duero Tempranillo, the 2011 Viña Gormaz sports a dark, captivating robe of regal purple. Even more enthralling is the wine's voluptuous bouquet, which is resplendent with the scents of ripe dark berries, spring woodlands, and wild herbs. Approachable, friendly, and downright irresistible, this old vine Tempranillo thoroughly captivates the nose as well as the palate. Richly fruity and loaded with flavor, this youthful offering fills the mouth, making it a true pleasure to drink from start to finish. Opulent and ripe, Bodegas Gormaz's 2011 Ribera del Duero requires only 15-20 minutes of aeration, but there is sufficient tannin to propel the wine to even greater heights. Enjoy this Ribera del Duero now or lay it down for another year to gain further charm and verve. And as with all fine red Spanish wines, we suggest serving the 2011 Gormaz Ribera del Duero at no more than 65º F.
Given the opulent, succulent style of the 2011 Viña Gormaz Ribera del Duero, it pairs beautifully with any number of foods. Some of our favorite accompaniments to this juicy Tempranillo include chicken chili, spicy country cassoulet, and traditional paella, made with chicken, shrimp and scallops. The paella might come as a surprise to some, but we have come to crave authentic paella with young Ribera del Duero. We have also found this wine to be particularly well suited to tapas, the traditional "small dishes" that are featured appetizers in nearly all Spanish restaurants. Some especially tasty tapas selections to pair with the 2011 Viña Gormaz include duck, quail or pheasant confit and a white bean and shredded chicken dish with tomatoes, onions, and peppers. For those who prefer contemporary American selections, we suggest pairing duck, pork, or beef sliders with the delicious 2011 Gormaz Ribera del Duero. If the culinary arts elude you, no need to worry, a simple herb roasted chicken will offer more than a satisfactory accompaniment to this Tempranillo. Artisanal Farmhouse Cheshire cheese, a slice of Spanish Mahon, or a bite of a full-flavored Swiss Appenzeller pairs nicely, too. Enjoy!
Bodegas Gormaz has been turning out exemplary Ribera del Duero from old, head-pruned Tempranillo vines since 1972. One of the original 16 bodegas of the D.O. Ribera del Duero, Bodegas Gormaz was initially founded as a cooperative consisting of some 360 growers in the Ribera del Duero province of Soria. Today, Bodegas Gormaz is privately owned and managed, and it is fashioning wines that simply should not be missed.
Brought to fore by Classical Wines of Spain, Bodegas Gormaz now consists of more than 1,300 acres of vines in Soria. As Soria lies at a very high elevation, it remains the least developed area of the appellation, just beyond the center of commercial development in the Ribera del Duero. Consequently, its vineyards have not been re-planted, and most of the vines at Bodegas Gormaz are in excess of 50 years of age and have been propagated from vine to vine in pre-phylloxera fashion. In other words, the vineyards of Bodegas Gormaz grow on un-grafted rootstock, a rarity in the 21st century. What results is pure, rich, unadulterated Ribera del Duero from 100% old vine Tempranillo.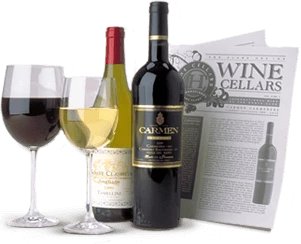 Enjoy Limited Production Estate
Bottled Wines
Discover limited production estate bottled wines such as Vergenoegd's internationally
acclaimed 2005 Cabernet Sauvignon, imported exclusively for our members.
DISCOVER OUR FOUR CLUBS