Another brilliant effort from Bodegas Borsao, the 2007 Monte Oton offers tremendous eye appeal, incredible structure, and a wealth of seductive flavors. Deep ruby red with purple highlights, the 2007 Bodegas Borsao Monte Oton paints a portrait of hedonistic pleasure, which it aptly displays with bright fruit-laden aromas that pour forthrightly from the glass and beg to be inhaled. Cherry, berry, cola, and spice all make their appearances and affirm one's highest hopes. Nearly explosive in the mouth, this vibrant, youthful red may even offer more flavor and depth than some wine drinkers are accustomed to. In short, the 2007 Monte Oton is no wimpy wisp of a Grenache; it is a first rate Grenache from old vines that is packed with flair and flavor. It drinks like a first rate the Côtes-du-Rhône from the south of France, but like its Borsao siblings it outperforms the vast majority of Côtes-du-Rhône offerings we have tasted recently. And the 2007 Monte Oton has not even reached its prime. With a few more months in bottle, the 2007 Monte Oton will simmer down and shed just enough of its youthful tannin to be downright irresistible. However, there is no need to wait to enjoy this wine. Just open a bottle and pour it into a glass. In a few short minutes the fireworks will begin. For optimum enjoyment we suggest serving the 2007 Monte Oton at cool room temperature (no more than 66º F). Enjoy!
The 2007 Bodegas Borsao Monte Oton is the ideal wine for rich, piquant dishes, as it can hold its own with most any food or sauce you want to pair with it. However, it does equally well with everyday fare. So whether it is barbecued chicken, mom's midweek meatloaf, or spicy ribs, Monte Oton is ready to stand and deliver. Traditional southern Italian specialties such as Pasta Fresca, Eggplant Parmigiana, and Sausage and Peppers work well, too. Other notable accompaniments include brick-oven-baked calzones stuffed with three kinds of cheeses; a whole Rotisserie Roasted Chicken stuffed with onion, garlic, and Mediterranean herbs; and all kinds of cheeses. Like all of Bodegas Borsao's red wines, 2007 Monte Oton provides an outstanding accompaniment to cow and sheep's milk cheeses as well as to Chèvre (goat cheese). The rich fruit and overt charm of the 2007 Monte Oton pair beautifully with traditional Spanish cheeses such as Iberico (Eye-BEAR-ee-coh), Idiazábal (Eee-dee-ya-ZA-bal), Manchego (Mahn-CHAY-go), Mahon (Ma-Hone), and Tetilla (Teh-Tee-ya). This wine also does justice to Brie, Camembert, and other crusted cheeses like few other red wines. And of course there is no law that prohibits you from enjoying the Monte Oton by itself; if there were, we would all be in jail.
Monte Oton is the newest venture from the highly acclaimed Spanish producer Bodegas Borsao. Bodegas Borsao is located in the town of Borja, which is set amid the undulating hills of Zaragoza in sight of Mt. Moncayo, the highest mountain in the Iberian Range. Borja is an ancient town whose origins can be traced back to the 4th century B.C. and beyond. The original name of the town was Bursao, from which the name of the bodega is loosely derived. Founded in 1958, Bodegas Borsao is a meticulously run winery that sits astride the lower part of the Ebro River, just south of the Rioja and the southern tip of Navarra. This is Garnacha country, home to one of Spain's most important but undervalued red varietals. Such is the importance of the local Garnacha grape in Campo de Borja that this viticultural enclave is known as "The Garnacha Land of Spain." Not surprisingly, Bodegas Borsao specializes in the production of Garnacha, the region's most important varietal. Nearly three-quarters of the grape production in Campo de Borja is devoted to Garnacha, or Grenache, as the grape is known to the rest of the world. From vineyards located high in the hills of Moncayo (1,200 – 3,000 feet above sea level), Bodegas Borsao fashions a host of Grenache-based wines. The winery's entry level red, the delicious, easy-drinking Viña Borgia, is born of 100% Garnacha. The winery's newest venture, Monte Oton, is even more appealing. It, too, is comprised of 100% Garnacha, but it offers a richer, fuller, more structured experience than the Viña Borgia. The bodega also offers a special selection labeled simply as Borsao. It is typically a blend of 75% Garnacha and 25% Tempranillo, which is Spain's other ubiquitous varietal. As one would expect, red wine is king at Bodegas Borsao, but this well-run modern winery also fashions small quantities of very good white and rosé wines in addition to its extensive portfolio of excellent Grenache based reds.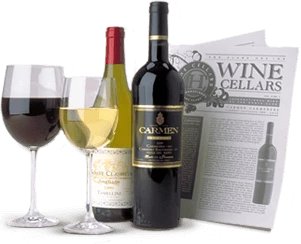 Enjoy Limited Production Estate
Bottled Wines
Discover limited production estate bottled wines such as Vergenoegd's internationally
acclaimed 2005 Cabernet Sauvignon, imported exclusively for our members.
DISCOVER OUR FOUR CLUBS