Soft as satin and smooth as silk, the 2001 Savannah Chanelle Santa Lucia Highlands Pinot Noir is pure pleasure in a glass. Lightly colored, but oh so alluring, this cool climate Pinot Noir offers up an array of enticing scents: cherry blossoms, cola nut, strawberry, and a hint of oriental spice the telltale cachet of all first rate Pinot Noirs, whether they are from Burgundy or some other suitable, cool climate locale. Soft, round and supple on the palate, the Savannah Chanelle fills the senses but finishes with consummate grace and nary an edge. We suggest that you serve this delightful Burgundian style Pinot Noir fairly cool, preferably between cellar temperature and cool room temperature (55°-65° F). And like most Pinot Noir wines, we prefer consuming the Savannah Chanelle Santa Lucia Highlands straight away, without muss or fuss, or extended breathing time. Just pop the cork and have a party!
Considering how charming and gentle the 2001 Savannah-Chanelle Santa Lucia Highlands Pinot Noir is, it almost goes without saying that food is a superfluous accompaniment. Certainly, this elegant Beaune-style Pinot can stand admirably on its lovely legs. Nevertheless, fine classic cooking complements this noble effort. Coq au Vin, Quiche Lorraine, grilled or roasted pork tenderloin that is served with brandied apples and caramelized onions, whole spit fired rotisserie chickens, and most salmon recipes, bar those with a hot or exotic sauce, conjure additional enjoyment from this classic Pinot Noir. In order to preserve the supreme class and finesse of this natural tasting Burgundian look alike, we suggest that a light hand prevail with the garlic, herb and more piquant spices, which more naturally suit much more rustic wines. For a superb, but out of the ordinary pairing, Champagne Truffles, made with a combination of white and mild dark chocolate can provide a great finale with the last glass of the 2001 Savannah-Chanelle Pinot at dessert, that is if you can make it to dessert with any of this lovely wine left in your glass. For other expertly selected chocolates, please consult our international chocolate of the month club enjoy!
Savannah-Chanelle Vineyards is a landmark winery along California's historic Chaine d'Or (Golden Chain). Nestled in the Santa Cruz Mountains, high above Silicon Valley, this historic property has been home to friends, family, and fine wines since its founding in 1892 by French immigrant Pierre Pourroy. Located just over three miles from the village of Saratoga, Savannah-Chanelle continues the celebrated history and the viticultural legacy that was born on this site more than a century ago. Purchased in 1996 by Michael and Kellie Ballard, this turn of the century estate now bears the name of the Ballards' two daughters. The present winery occupies 58 acres, with only 15 of those acres under cultivation. From this tiny vineyard plot flow five award winning varietals: Chardonnay, Carignane, Cabernet Franc, Pinot Noir, and Zinfandel. The property's Zinfandel vines date to 1910, while Savannah-Chanelle's Cabernet Franc plantings hale from 1920 the oldest Cabernet Franc plantings in California. Yet, despite the abundance of varietals from which to choose and many old vines, Pinot Noir remains Savannah-Chanelle's raison d'etre. Michael Ballard and Winemaker Anthony Craig make a formidable team that is bent on turning Savannah-Chanelle into a Pinot Noir house that is second to none. In Michael Ballard's own words: We are obsessed by Pinot Noir we have launched a program to create the finest examples of California Pinot Noir by drawing grapes from the best Pinot-growing areas in the state, among them the Sonoma Coast and the Santa Lucia Highlands. We have also planted a new Pinot Noir vineyard just above our tasting room. Given the passion for Pinot at this estate, it should then come as no surprise that 80 percent of Savannah-Chanelle's entire production is small lots of delicious Pinot Noir. Bottled un-fined and loosely filtered, each and every bottle emanates the elegance and supreme balance of Pinot Noir, the planet's most finicky and ultimately most enjoyable grape varietal. Salut!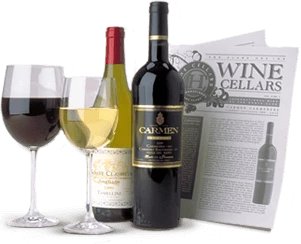 Enjoy Limited Production Estate
Bottled Wines
Discover limited production estate bottled wines such as Vergenoegd's internationally
acclaimed 2005 Cabernet Sauvignon, imported exclusively for our members.
DISCOVER OUR FOUR CLUBS