As aficionados of Agapito Rico's wines have come to expect, the 2006 Bodegas Agapito Rico Carchelo provides yet another crowd-pleasing experience. The 2006 Carchelo offers up copious quantities of black cherry and plum fruit, both on the nose and on the palate. To add to Carchelo's charm is a healthy dollop of anise in the wine's core, a deft touch of sandalwood, and plenty of luscious vinosity. Deep in color, long on flavor, and smooth as silk in the finish, it is easy to see why Carchelo makes every important wine critic's "Best Buy" list. A blend of 50% Mourvèdre (locally known as Monastrell), 30% Tempranillo, and 20% Merlot, the 2006 Carchelo supplies a wealth of flavor and intensity; yet it never seems heavy or out of balance. Although Mourvèdre has a reputation for being a shy bearing grape that is difficult to grow, Carchelo serves as testimony to the virtues of this demanding varietal. Mourvèdre is a very special, highly flavored grape that is well worth the fuss. We suggest serving the 2006 Carchelo cool or slightly chilled (about 58°-60° F for 15-20 minutes in the refrigerator). Enjoy!
Made to accompany the delights of the Mediterranean kitchen, the 2006 Carchelo provides a superb match to fresh pastas, savory stews, spicy vegetable dishes, and simple cuts of meat. Flautas, fajitas, tacos, hamburgers, ribs, pork barbecue and Shepherd's Pie all supply enjoyable accompaniments, too. In our experience, the real problem with Carchelo is not so much deciding what to serve with it, but deciding who to serve it to and how much to get because Carchelo always has a way of disappearing quickly. This wine always seems to bring a smile to people's faces. Could it be the 14.5% alcohol by volume that Carchelo sports? A deceptive, easy-to-drink red wine it is indeed. Consider yourself forewarned. However, wine was meant to be shared, so why not keep a second or third bottle on hand, and remember the words of a wise old sage: "Wine without a friend is like life without a witness." Enjoy Carchelo with some friends, or pour a few extra glasses and make some new friends.
Bodegas Agapito Rico produces a fine array of Mediterranean style wines, of which Carchelo is the most notable – a wine that continues to delight critics and savvy consumers alike. From 175 acres located in a high, remote mountain valley in Spain's Murcia, Jumilla native Agapito Rico fashions compelling Rhône style wines from Mourvèdre to Syrah, and small amounts of Merlot and Tempranillo. In vineyards located at over 2200 feet in the desert-like climate of Murcia, the indigenous Monastrell (Mourvèdre) thrives on its own rootstock. Moreover, a good portion of the estate's grapes are completely organically farmed and yields average an impressively low 1.5 tons per acre, one of the lowest in Europe. In the last decade a completely new winery has been put into operation at Bodegas Agapito Rico, built expressly for Carchelo and this forward-thinking bodega's fermentation by carbonic maceration or whole berry fermentation. This fermentation technique is also used extensively in Châteauneuf-du-Pape. Likewise, Carchelo is conceived to feature the intense, fresh aromas and the velvety texture and extract of the low-yielding Monastrell varietal. Hence, carbonic maceration is used to retain the full aromatic profile of the easily oxidized Mourvèdre varietal. A judicious amount of Merlot and Tempranillo is blended into Carchelo's cepage to add complexity and ageability. Just a few short years ago, it was being said that Spain was the sleeping giant of European wine, but with Bodegas Agapito and other outstanding Spanish producers coming into their own, there can be few incredulous wine-drinking souls left unaware that the giant has indeed awakened.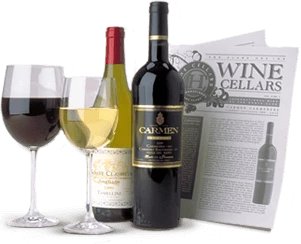 Enjoy Limited Production Estate
Bottled Wines
Discover limited production estate bottled wines such as Vergenoegd's internationally
acclaimed 2005 Cabernet Sauvignon, imported exclusively for our members.
DISCOVER OUR FOUR CLUBS