A harmonious, hedonistic fruit bomb, the 2001 Bodegas Agapito Carchelo offers up copious quantities of black fruits, sandalwood, and a certain vinosity ' the likes of which one rarely sees any longer in most contemporary wines. Eminently drinkable and utterly pleasing, it is hard to imagine a wine giving the imbiber more pure pleasure for the money than the 2001 Carchelo. Deep in color, long on flavor, and smooth as silk in the finish, it is easy to see why this wine makes every important wine critic's 'Best Buy' list. A blend of 50% Mourvedre (locally known as Monastrell), 30% Tempranillo, and 20% Merlot, the Carchelo is a rare wine in its texture and intensity, as well as its cepage: Mourvedre is a very special, highly flavored grape that it is both shy -bearing and difficult to grow, but well worth the fuss. Serve the 2001 Carchelo cool or slightly chilled (20 minutes in the refrigerator), and allow it to open a few minutes in the glass before consuming, if you can wait that long. Enjoy!
The 2001 Bodegas Agapito Rico Carchelo is a real crowd pleaser. Food or no food is hardly the question. The real problem with the Carchelo is having enough of it for yourself and everyone else who stops by. We (the tasting panel) have enjoyed the Carchelo on its own as well as with food, but it is certainly a fun wine to serve with a myriad of dishes. Whether you serve the Carchelo with flautas, tacos, hamburgers, ribs, pork barbecue or rack of lamb, you will find a smile in your glass as well as on your face. And while you are enjoying this wine, remember one wise old man's proverb wine: 'Wine without a friend is like life without a witness.' Enjoy the Carchelo with a friend. You'll be glad you did.
Bodegas Agapito Rico's fine array of Mediterranean style wines, especially Carchelo, has taken wine critics and savvy consumers by storm. From 175 acres located in a high, remote mountain valley in Murcia, Jumilla native Agapito Rico fashions compelling Rhone style wines from Mourvedre and Syrah, along with small amounts of Merlot and Tempranillo. In vineyards located at over 2200 feet in the desert like climate of Murcia, the indigenous Monastrell (Mourvedre) thrives on its own rootstock and a good portion of the estate's grapes are completely organically farmed. In addition, average yields are an impressively low 1.5 tons per acre, one of the lowest in Europe. Since 1998 a completely new Bodega has been in operation, built expressly for Carchelo and fermentation by carbonic maceration or whole berry fermentation - the fermentation technique now used extensively in Chateauneuf-du-Pape. Carchelo is conceived to feature the intense, fresh aromas and velvety texture and extract of the low yielding Monastrell. Carbonic maceration is used to retain the full aromatic profile of the easily oxidized Mourvedre varietal. A judicious amount of Merlot and Tempranillo adds stability and ageability, along with complexity. It has been said that 'Spain is the sleeping giant of European wine,' but with Bodegas Agapito and the realization of great wines beginning to flow from the country's huge acreage of old vine Mourvedre, one has to wonder if the giant has indeed already awakened. Consider yourself forewarned: if you snooze, you'll lose.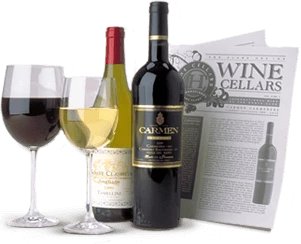 Enjoy Limited Production Estate
Bottled Wines
Discover limited production estate bottled wines such as Vergenoegd's internationally
acclaimed 2005 Cabernet Sauvignon, imported exclusively for our members.
DISCOVER OUR FOUR CLUBS