There is no wimp or wispiness in Vistalba's 2010 Corte C. In fact, the 2010 Corte C comes across bigger and more buxom than previous renditions, due no doubt to this vintage's cépage of 80% Malbec and 20% Cabernet Sauvignon. Nearly black and impenetrable in color, the 2010 Corte C provides one hearty mouthful of wine, but with balance and charm. Upon aeration, a wellspring of berry, black fruit, and dark cherry scents rise from the glass welling up from the wine's dark, brooding core. Hints of cedar, grilled meat, and wood smoke mingle with the wine's lush berry flavors to provide one big satisfying mouthful of wine. With extended aeration, 2010 Vistalba Corte C reveals even greater complexity and flavor, not unlike fine young Bordeaux. For optimal enjoyment, we suggest serving the Vistalba Corte C at cool room temperature (no more than 66º F), after an hour of aeration.
Beef is the national dish of Argentina and a natural companion to the 2010 Vistalba Corte C. For those who enjoy a good steak, we suggest pairing this wine with a marinated sirloin or New York strip steak. Add sautéed Cremini, Portabella, or Shitake mushrooms, prepared in a red wine reduction with shallots and a dash of rosemary and spicy mustard, for an added treat. Hearty pasta dishes, with rich red sauces; pizzas with everything on them; and calzones provide equally satisfying companionship to this wine. Eggplant Parmigiana offers another winsome complement as does a plate of artisan cheeses comprised of Cantal, Port Salut, and young Camembert. Enjoy!
Vistalba is the family estate of Carlos Pulenta and his family. It is located in the heart of the renowned Luján de Cuyó region of Mendoza, Argentina. Here the Cordon del Plata and the towering snow-capped Andes that define the Mendoza loom over Vistalba and the estate's vineyards, which spread up the foothills in search of the cold, living waters of snow melt that allow the Mendoza to bloom. Vistalba is the finest area in all Mendoza for Malbec, and Pulenta and his family exploit their enviable location and exceptional terroir to the fullest.
Begun in 1948, the Vistalba estate comprises many old vines. In total the estate counts 143 acres under vine, most of which are devoted to Malbec – the backbone of Carlos Pulenta's fine range of wines and the mainstay of Mendoza viticulture. However, Malbec is hardly the only red varietal grown at Vistalba or at Pulenta's sister venture, Tomero: Merlot, Cabernet Sauvignon, and Bonarda are all well-represented at Vistalba. While Malbec provides the basis for all of the estate's red wines, the other red varietals play significant supporting roles.
At Vistalba, one encounters what we have come to call the A, B, C wines. Each of Vistalba's wines is called Corte, meaning harvest, cutting, or cross section in Spanish, to which an A, B, or C is attached. With each of the A, B, C wines, the actual blend or cépage is likely to vary somewhat from vintage to vintage, much as the classified wines of Bordeaux alter the percentage of each varietal, depending upon the vagaries and gifts of an individual vintage. Nonetheless, Corte A is typically the fullest of the trio. A blend of 40% Malbec, 40% Cabernet Sauvignon, and 20% Bonarda, Corte A sports 15% alcohol and can require some time in bottle to tame its intensity. Corte B, a blend of 57% Malbec, 30% Cabernet Sauvignon, and 13% Bonarda, is another full-bodied, rather intense offering. Corte C is a slightly more refined wine, though it, too, weighs in at 15% alcohol and is no featherweight. In most vintages, Corte C is comprised of 80% Malbec and 20% Cabernet or Merlot – a cépage that highlights the glory of Argentine Malbec at the same time that it affords Corte C a tailored, sophisticated Bordeaux feel and style.
Vistalba fashions several fine offerings in addition to the Corte series, including an excellent white wine from Torrontes – an Argentine specialty. Vistalba also produces Tomero, a series of traditional varietal wines that reflect the noble lightness of the melted snows that irrigate the Mendoza.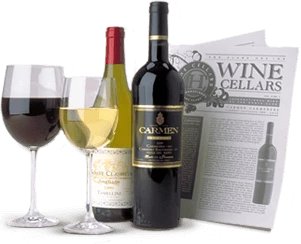 Enjoy Limited Production Estate
Bottled Wines
Discover limited production estate bottled wines such as Vergenoegd's internationally
acclaimed 2005 Cabernet Sauvignon, imported exclusively for our members.
DISCOVER OUR FOUR CLUBS