The 2001 Septima Malbec (60%) Cabernet Sauvignon (40%) is a tasty, straightforward, no muss, no fuss kind of wine. Deeply colored and long on old-fashioned flavor, this is the kind of wine that old timers used to call foursquare. The scents and savors of cherry, plum and cedar pop out of a stalwart frame that is rimmed with just enough tannic structure to provide character and definition, without proffering any hard edge. In keeping with its easygoing nature, the Septima Malbec Cabernet Sauvignon requires very little advanced preparation; breathing time and decanting are optional. Our only suggestion would be to serve this wine at cool room temperature, and often.
Mama's meatloaf is a winner with the 2001 Septima Malbec Cabernet Sauvignon, as are burgers on the grill, replete with condiments, and many more home cooked, stick to your ribs kinds of fare. Barbecued spareribs and marinated flank steak are some of our other favorite foods with this gregarious wine. Also, Spaghetti and Meatballs, Eggplant Parmigiana, and even Italian subs make for good friends in the company of the Septima. Traditional Greek favorites, such as Souvlaki, Spanakopeta, and giros, do justice to this fine Malbec Cabernet Sauvignon blend as well. Lest you think you are dealing with a one-dimensional plebian, fancy fare goes just fine, too, but no need to be pretentious here. The 2001 Septima Malbec Cabernet Sauvignon is easy to please and a pleasure to take almost anywhere. Enjoy!
Bodegas Septima is the newest winery from the prestigious Codorniu Group of Spain. Located in Mendoza Argentina, this showpiece of a property comprises nearly 700 heart-stopping acres at the base of the towering Andes. The name Septima was chosen because it is the seventh (la septima) of the group's wineries and because seven is universally considered to be a lucky number. Additionally, the name is easy to pronounce. Yet, luck is not all this hot new winery has going for it. This picturesque estate is wholly within the Agrelo district of the Mendoza, which provides ideal conditions for the production of Argentina's finest red wines, and already Bodega Septima's first releases underscore the greatness of the estate's terroir and the ultimate quality we can expect from Codorniu. The estate combines traditional Argentinean construction and the latest in technology. The Septima venture pays homage to the cultural and historical legacy of the Mendoza by the use of all natural stone from the Andean cordillera and the adoption of the indigenous technique called pirca whereby local stones are placed on top of each other. All of the winery's buildings have been meticulously constructed in the local way, adding to the elegance and charm of the estate. At the same time, Septima incorporates the most innovative computer-assisted drip irrigation in their vineyards. This technology makes possible the precise control of soil humidity via sensors, thereby conserving water and preventing mildew and unnecessary spraying. It also localizes modification in each area of the vineyard. Thanks to this control, it is also possible to use the latest techniques for the optimization of wine quality such as RDI (Regulated Deficit Irrigation) and PRD (Partial Root Drying), which are designed to intensify the flavor of the resulting wine. Modern sector fertirrigation methods are also employed, so that each vine receives the exact level of nutrition required to maximize its quality, without over fertilizing. And you thought tending a vineyard was simple and making wine a natural phenomenon. Guess again Bullwinkle!
Argentina: An Awakening Giant Argentina is one of the world's most important wine producing countries. Presently, it ranks fifth in wine production, behind Italy, France, Spain and the United States. It boasts more than 500,000 acres of vines, most of which are planted in the valleys and tablelands of the Andes Mountains. The huge sprawling province of Mendoza, often referred to as the Mighty Mendoza, is responsible for the majority of Argentina's premium wines, but much of this vast province still remains unexploited. Not surprisingly, this sleeping giant rests a mere hundred miles or less from Chile's premier vineyards in the Colchagua, Curico and Maule valleys, which lie just to the west on the windward side of the Andean spine. In spite of the Mendoza's fabulous climate and terroir, and a number of world class wines, most Argentinean wineries have been content to slake the thirst of the local populace by producing quantity over quality ' until recently. Since 1995, wine producers in Argentina have begun modernizing their vineyards and utilizing new technology in order to produce world class wines that appeal to international palates. Consequently, exports have quadrupled in the last five years to more than 100 million dollars. This figure may be small in comparison to Australia, Chile, and other powerhouse wine exporters, but it underscores the potential of Argentina as a producer of world class wines and confirms the claim that the 'giant has awakened.' Although Argentina produces a formidable quantity of white wine, it is the nation's reds that have rightfully garnered the world's attention. Cabernet Sauvignon, Malbec, and Syrah lead the march, followed by a host of other French, Italian, and Spanish varietals.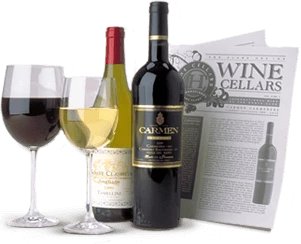 Enjoy Limited Production Estate
Bottled Wines
Discover limited production estate bottled wines such as Vergenoegd's internationally
acclaimed 2005 Cabernet Sauvignon, imported exclusively for our members.
DISCOVER OUR FOUR CLUBS