The 2012 Aldeya Garnacha is a friendly, quaffable red wine whose only fault may me be that it goes down too easily. Sporting a vivid purple color with a ruby rim it immediately attracts the eye. The 2012 Aldeya follows up with an inviting nose of cherry, raspberry and plum fruits, which are well-integrated with soft oak and gentle spice tones. In the mouth, Aldeya comes across as medium-bodied as it exhibits plenty of smooth, satisfying flavors, all of which are tempered by soft, well-integrated oak tones. As it makes it exit down the thirsty gullet, the 2012 leaves a very long, smooth finish by which to remember it. Afford the 2012 Aldeya Garnacha a few minutes of aeration and enjoy it cool (60°-64°F).
Pago Aylés' 2012 Aldeya Garnacha is what many fortunate wine savvy Spaniards have come to see and taste as their birthright. It is wine to accompany food, whether it is a simple tapas or a fine, multi course meal. Rice and beans, hearty paellas, empanadas, and meat and vegetable tacos all taste better in the company of the 2012 Aldeya Garnacha. Burgers, full-flavored cheeses, pizzas and barbecue chicken make good companions to this wine, too. For those looking for something a bit more grandiose, consider a roast loin of pork or venison with a black olive and herb studded tapenade. And if there is time after dinner and miraculously a bit of Aldeya left in the bottle, pour a glass, take a sip and savor the wine that Spaniards have come to love and expect. Enjoy!
Bodega Aylés enjoys Vino de Pago status for its wines, which means it is not only a single winery of high quality; it is a small well defined territory with special characteristics that distinguish it from other wineries in the surrounding area. In short, a Pago enjoys its own unique classification. The current estate came together in 1994 from longstanding properties that once belonged to Spanish nobility, the Catholic Church and perhaps even the Knights Templar. Aylés fashions exceptional wines from Garnacha (Grenache), one of Spain's most ubiquitous grape varieties. Aldeya Garnacha (this month's feature) is Pago Aylés's premier barrel aged Garnacha from 100% Garnacha vines.
At Pago Aylés, nature and wine coexist. In addition to the proliferation of Garnacha vines that flourish at the estate, Pago Aylés stands out for its environmental acumen. It is included in the European Union's Natura 2000 network, thanks to the Pago's efforts in the breeding and restocking of native endangered species. Pago Aylés is also part of a Special Protection Area for Birds (ZEPA) in Spanish.
Garnacha, which is Spanish for the varietal more commonly known by its French name, Grenache, claims to be Spain's most planted grape variety. Although ubiquitous throughout Spain, Garnacha is often blended with other varietals by Spanish winemakers, so much so that it rarely stands alone as a 100% varietal. Because of its thin skin and ability to tolerate extremely hot conditions, the grape ripens slowly to produce wines of vigor with high alcohol levels. In warm dry climates Garnacha yields a fruit forward wine complemented by a spicy quality that makes it a perfect palette upon which to paint. It can be used either to mellow more highly tannic varietals with its smooth rich fruit or add character and strength to thinly structured varietals. In addition, Garnacha's thin skin carries relatively little pigment, so it doesn't drastically affect the coloring of a wine when it's blended. From old vines grown in an ideal terroir such as Provence, Tarragona or Carineña, Garnacha can be majestic and pure magic as the bevy of Grenache based, old vine Spanish renditions and French Châteauneuf-du-Papes will readily attest.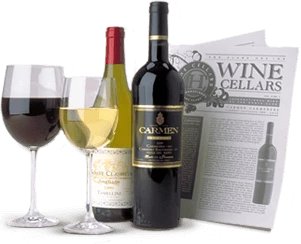 Enjoy Limited Production Estate
Bottled Wines
Discover limited production estate bottled wines such as Vergenoegd's internationally
acclaimed 2005 Cabernet Sauvignon, imported exclusively for our members.
DISCOVER OUR FOUR CLUBS