A traditional Bordeaux style red, the 2001 Bodega Lurton Malbec Reserva sports a very deep garnet robe that is nearly opaque. From the initial sniff of this comely wine, it becomes apparent why the lusty Malbec varietal reigns supreme in Argentina. A rich, flamboyant nose, redolent with black fruit, rose petal, and violet seduces the nose. Fortunately, the aromatics carry through on the palate, with additional traces of vanilla and a patina of new oak to frame the brilliance of this very flavorful, but immensely smooth Malbec. Seductive and captivating are the two adjectives that best describe this wine. For the ultimate in drinking pleasure, we suggest you allow the 2001 Lurton Malbec Reserva to breathe for at least twenty to thirty minutes before serving it at cool room temperature.
Beef is the national dish of Argentina, as any one who has ever visited Argentina will attest. And what better accompaniment is there to the national dish than the national wine? The 2002 Bodega Lurton Malbec Reserva will most assuredly fill that bill, and then some. Given the high flavor profile of the Lurton Malbec we suggest serving it with a serious steak. Some of our favorite cuts of beef with Malbec are sirloin, t-bone, rib eye, and porterhouse. To complement the woodsy, flamboyant side of the wine, a side dish with the steak of sautéed Cremini, Portabella, or Shitake mushrooms, prepared in a red wine reduction with shallots and a dash of rosemary and spicy mustard, can constitute a heavenly feast. However, lest you think the Lurton Malbec Reserva is a one dimensional wine, we also suggest you try it with some tried and true alternatives to Beef Almighty. Lusty red pasta sauces, three mushroom pizzas, and grilled ostrich provide other splendid parings with the Lurtons' lovely Malbec. And let's not forget lamb or even the best burger money can buy; they are all splendid complements to Lurtons' work of viticultural art. Enjoy!
The Lurton brothers have done it again: namely, Jacques and Francois Lurton have upped the ante on the quality of wine in Mendoza, Argentina's sprawling wine juggernaut, just as they have done elsewhere around the world, in every great wine producing region where they have chosen to make wine or set up shop. However, this time they have raised the bar on themselves. The 2001 vintage marks the tenth vintage for the brothers Lurton in Argentina and a bell weather of quality, especially for the Lurton's Malbec, their flagship wine and Argentina's most important red grape varietal. Jacques and Francois Lurton SA was founded in 1988, when the Lurton brothers established their own wine production company. Initially, Jacques and Francois were wine consultants and distributors for other leading wineries and distribution companies around the world (Vina San Pedro, Catena, Ginestet, Hardy, Saintsbury, and the Swedish State Monopoly to name a few), but always having been enamored and intrigued by Argentina and its potential for producing great wines, they began their own production of wines in Argentina, releasing their first vintage in 1992. Since 1995, Jacques and Francois have acquired more than 500 acres in Argentina, of which in excess of 250 acres have already been planted to vines. In addition, the Lurtons have built their own cellar and winery in Tunuyan, about 100 miles south of the city of Mendoza, which demonstrates just how serious these two guys are about Argentina. Unequivocally, the brothers' Mendoza bodega has been the dynamic duo's most successful venture to date. The Lurtons' own vineyards surround their beautiful new Mendoza winery, but several other neighboring terroirs have been chosen as well to augment the estate's philosophy of producing natural, high quality wines. These terroirs have been selected for the quality of their soil, climate and proximity to pure Andean water. All of Bodega Lurton's Mendoza vineyards were virgin territory, without ever having any input of chemicals. The Lurtons continue to safeguard their properties by refusing to employ herbicides and by practicing natural methods of production. For the estate's Reserva bottlings, select old vine parcels (some as old as 100 years) at neighboring estates are sourced to augment the Lurton's more youthful vines. Today, the frères Lurton are currently producing world class wine not only in Argentina but in a host of other countries around the world, too. The brothers have always worked on the principle that it is possible to make fine wine wherever vines grow under good normal, healthy conditions. As proof, Jacques and Francois have put together a truly impressive range of wines, from the widest variety of places around the world. Currently, the Lurtons have operations in Australia, Chile, France, Spain, and Uruguay in addition to Argentina. Each of the Lurton offerings possesses its own distinctive style and reflects the terroir of its origin. Furthermore, and, perhaps, more important to the quality conscious consumer is that the Lurtons' wines constitute excellent values and possess uniformly a very high quality/value ratio. Jacques and Francois Lurton have made the most of their early experience in the vineyards of Bordeaux, the advantage of being the offspring of André Lurton, one of Bordeaux's leading proprietors of famous Chateaux (Chateau Bonnet, Chateau La Louviere, Clos Fourtet, etc.,). The have also capitalized on the considerable expertise in wine production and distribution that they have garnered personally and collectively through their varied international experiences. And if nothing else, the Lurtons have proven their hypothesis; namely, that fine wine can be produced in a myriad of locales. In the process, they have also demonstrated that in many wine regions around the world the overall improvement in the quality of wines has not consistently kept pace with the technological progress made by cutting edge winemakers, like themselves. Happily, the Lurton bothers have been bent upon improving that scenario, along with the overall state of winemaking around the world, so that consumers can enjoy consistently the high quality wines they have come to expect. Bravo! Malbec at a Glance Malbec is one of the five classic red grapes that comprise red Bordeaux or claret. Although now relegated to a minor role in Bordeaux, Malbec or Cot as it is sometimes called remains the heart and soul as well as the brawn and brains of Cahors, the illustrious black wine of southwest France a wine renowned for its power and longevity Malbec produces one of the deepest, most intensely hued wines in the world. Argentina is now considered to be the spiritual home of Malbec, where old vines of this premium varietal yield the finest wine that nation can produce as well as one of South America's most compelling wines.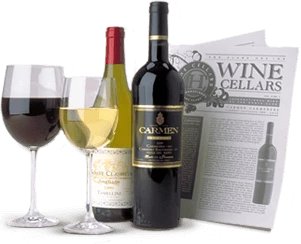 Enjoy Limited Production Estate
Bottled Wines
Discover limited production estate bottled wines such as Vergenoegd's internationally
acclaimed 2005 Cabernet Sauvignon, imported exclusively for our members.
DISCOVER OUR FOUR CLUBS