In the days before pretty wine labels came into vogue, with pictures of exotic animals, flowers, and the inventive wares of well-known artists to adorn the bottle, there was a saying among wine lovers: "The simpler the label, the better the wine." In the case of Eidos de Padriñán, the adage still holds true. As a classic wine of Spain, the Eidos de Padriñán Albariño sports the simplest of labels, but what rests within is not simple at all, nor has it anything to prove: the wine will speak volumes once it has been poured. Made for wine drinkers who truly love dry white wine – and we mean classic dry white wine – the Eidos de Padriñán quenches like an ocean breeze. Its aromatic profile is both fresh and profound. The enticing scents of ripe pear and stone fruits, mingled with a pleasant, refreshing minerality, dominate the nose. Full but not flabby, the 2007 Eidos de Padriñán enlivens the palate with a charismatic concoction of vibrant fruit, liquid stones, and bracing acidity, all of which add length and depth to an already brilliant offering. Although thoroughly enjoyable when well chilled, the 2007 Eidos, like most first rate Albariño wines, is at its finest when served only lightly chilled. At 50º-55º F, the Eidos will unfold gently in the glass and seduce those patient enough to allow the stinging chill of modern refrigeration to subside. Enjoy!
In its native Galicia, tapas and seafood constitute the accompaniments of choice with Albariño. And the 2007 Eidos shines on both counts. It pairs beautifully with clams, mussels, and oysters, especially when served in a heady broth. Cod, scrod, or almost any flaky white fish steamed in parchment or foil with chopped onion, garlic, tomatoes, olive oil, and herbs provides exemplary companionship to the 2007 Eidos de Padriñan Albariño. Traditional tapas, marinated olives, stuffed mushrooms caps, full-flavored Spanish cheeses, and cured meats like prosciutto are perennial favorites, too. However, one need not travel to Rias Baixas to appreciate this wine. Asian stir-fries, sushi, sashimi, and grilled tuna steaks offer equally pleasing accompaniments and are easy to prepare or take out. One simple favorite is Ahi tuna that is grilled medium rare, drizzled with a tangy ginger or teriyaki sauce, and then served over a bed of organic greens, shredded carrots, edamame, and broccoli. This simple offering accentuates the taste of the wine and exemplifies the art of fusing Asian-accented recipes with traditional European wines like the 2007 Eidos. Salud!
Bodega Eidos is one of the bright new stars in Spain's Rias Baixas appellation of Galicia, Spain's cool, green region that rises from the pounding surf of the North Atlantic to the towering Pyrenees Mountains. It was founded in 2000 by Manuel Villalustre, a well respected local viticulturist with 20 acres of old vines of Albariño. In just a few short years, Bodega Padriñán has established itself as one of most compelling producers of white wines in Spain. Since the completion of his modern winery in 2003, Manuel Villalustre has fashioned two persuasive Albariño wines: Eidos and Veigas. Eidos is the winery's flagship offering. Manuel Villalustre's 100 separate parcels of vines are located at the most northern end of the Salnés Valley, among the steep hills of Padriñán, from which the winery draws its name. These hand-harvested vineyards are set among the gardens of the village of Sanxenxo, where they enjoy a commanding view of the sea. However, each of these parcels occupies a south facing slope that protects it from the north wind and the stiff ocean breezes that buffet this coast. Superb fruit results from this region's favorable terroir and microclimate, resulting in the most concentrated and intense wines of Rias Baixas. Little wonder, then, that vines have grown here since time immemorial. Albariño: Spain's Most Compelling White Grape Albariño is an indigenous Spanish grape variety whose home is Rias Baixas and the Galician hills and hinterlands of northwest Spain and neighboring Portugal. Albariño was once thought to be distantly related to Riesling, but some enologists now believe that Albariño may be more closely connected to the Petit Manseng variety of southwest France, which lies just to the north of Galicia and the towering Pyrenees Mountains. However, no dry white Petit Manseng can match the body and finesse of Spain's finest Albariño wines. In Portugal, Albariño goes by the name Alvarinho, where it typically ends up as a light summertime quaff in the guise of Vinho Verde. Surely, nowhere could a single grape variety be more different than Albariño is in Spain and Portugal. While Portugal picks this varietal early and makes a low alcohol wine (8.5%-9% on average), Spain, under the tutelage of Manuel Villalustre and similar minded individuals in Rias Baixas, turns out a full-bodied, intense Albariño with aromatic and flavor profiles more akin to Viognier – the greatest white variety of France's Rhône Valley. Because of its intense flavors and adaptability to difficult climates, Albariño is now extensively planted and studied in other locales around the world, including Australia, California, and South Africa. Early reports from winemakers and consumers elsewhere appear promising for this late-maturing grape, but nowhere more than in Australia where extended growing seasons are common and the grape's firm, bright acidity is much appreciated. A debt of thanks belong to Manuel Villalustre and his Galician counterparts for helping resurrect over the past two decades the great Albariño varietal in Spain and sharing it with the world.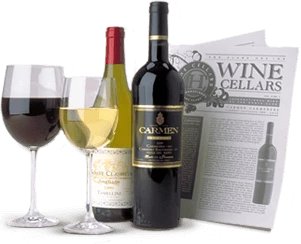 Enjoy Limited Production Estate
Bottled Wines
Discover limited production estate bottled wines such as Vergenoegd's internationally
acclaimed 2005 Cabernet Sauvignon, imported exclusively for our members.
DISCOVER OUR FOUR CLUBS