A traditional wine from a traditional region, unencumbered by the so-called exigencies of the international market, the 2006 Boccadigabbia Rosso Piceno does the Marches proud. This classic, nearly opaque Rosso Piceno remains bold and brooding, but thoroughly packed with flavor. Boccadigabbia makes the finest and fullest Rosso Piceno we have ever tasted, and the 2006 vintage in Central Italy is one of best we have seen in a decade. An entrancing, deep-down scent of black fruits, tinged with licorice and truffle, haunt the nose. Equally full, rich, and immensely flavorful on the palate, too, the 2006 Boccadigabbia Rosso Piceno delights and surprises as it unfolds for hours in the glass: its savor of black fruits, earth, roses, violets, and forest woodlands all meld harmoniously with the wine's tannins. Big boned, but not coarse, the 2006 Boccadigabbia Rosso Piceno finishes beautifully and sets the bar for all Rosso Piceno. Yet, like most of Italy's finest red wines, the Boccadigabbia Rosso Piceno is best when allowed to breathe for an hour or more in a decanter. Consequently, the extended aeration afforded this wine will more than repay the patience expounded. We suggest serving the Boccadigabbia Rosso Piceno at cool room temperature (62°-66° F). Enjoy!
The traditional hearty, stick-to-your-ribs kind of foods that typify the Marches are indeed the perfect accompaniments to the 2006 Boccadigabbia Rosso Piceno. Pork bracciole, also known as the tomato, onion, and herb-infused loin of pork the local inhabitants refer to as porchetta, remains one of our favorite Marchesan dishes with the Boccadigabbia Rosso Piceno. Sweet or hot Italian sausage cooked to perfection in a thick, mouthfilling tomato sauce makes for another fine pairing. In fact, most beef, bean, pasta, and pork dishes get our nod with this wine, too. For those avoiding meat, cheese tortellini served with fresh pesto sauce provides an intensely gratifying experience with this wine, as well. And if you want to turn an old-fashioned pizza into a special affair, open a bottle of the 2006 Boccadigabbia Rosso Piceno ahead of time, and have a party. Lest you think this wine a mere country bumpkin, we are equally proud to serve it in the company of more sophisticated Northern Italian or Piedmontese fare, so as you like it!
Boccadigabbia is a small producer of premium wines in one of Italy's finest but least-known wine regions – the Marches – but even by the modest standards of the Marches, Boccadigabbia's 17-acre estate is quite diminutive. However, by now we should have all come to the realization that good things do indeed come in small packages, or at least from small estates, and this is especially true of the top wines from Italy. Therefore, it should come as no surprise that Boccadigabbia is the Marches' premier producer of Rosso Piceno, a delicious blend of Sangiovese and Montepulciano that emanates from the region's sun drenched hills, which rise above the gleaming Adriatic Sea. Rosso Piceno is also the region's most important and prolific DOC, surpassing even Verdicchio in both prestige and sheer volume. Until 1950, Boccadigabbia belonged to Prince Luigi Girolamo Napoleon Bonaparte, a direct descendent of the Napoleon Bonaparte we all know from legend and lore as well as high school history class. Moreover, the Boccadigabbia estate was one of the first to plant French varietals under the Napoleonic administration in the early 19th century, and this practice continues even today under Elvio Allessandri, the present owner. Under the auspicious leadership of Elvio Allessandri, Boccadigabbia has gained international distinction to match the well-deserved accolades the estate has always received in Italy. And in addition to being the Marches' foremost producer of traditional Rosso Piceno, Boccadigabbia is now fashioning miniscule quantities of Akronte, a very fine Cabernet Sauvignon; La Castelletta, a distinctive blend of Pinot Gris, Pinot Blanc, and Pinot Noir; Montalperti, a barrel-fermented Chardonnay that is ranked among the finest in Italy; and Garbi, a spunky, refreshing blend of Chardonnay and Trebbiano. Given the outstanding quality and limited availability of Boccadigabbia's wines, we are extremely pleased to be able to offer to our members this estate's exemplary Rosso Piceno.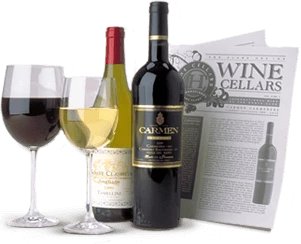 Enjoy Limited Production Estate
Bottled Wines
Discover limited production estate bottled wines such as Vergenoegd's internationally
acclaimed 2005 Cabernet Sauvignon, imported exclusively for our members.
DISCOVER OUR FOUR CLUBS