Red and White Italian Wines from the Best Grape Varietals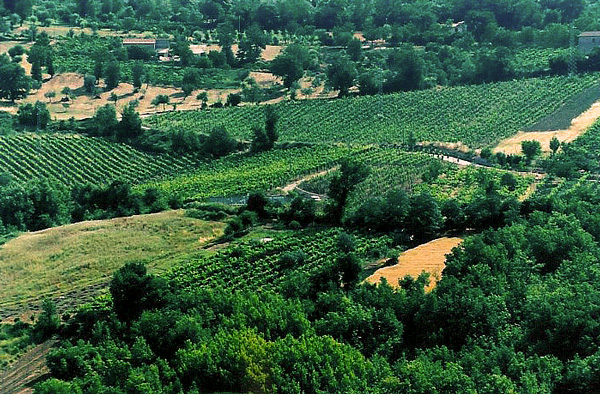 Southern Italy is best known for its robust reds, a flavorful family of wines that accompany the region's traditional pastas that seem inevitably steeped in heady tomato sauces laden with olive oil, garlic, and herbs.  Negromaro, Nero d'Avola and Primitivo are just a few of Southern Italy's red grape varietals capable of producing big-boned reds to accompany the region's specialties.
Unfortunately, few Americans have heard of Aglianico, Southern Italy's most prized red varietal.  Brought by the Greeks to Italy more than 2,500 years ago, Aglianico thrives in the Campania on the hills and spine of mountains inland from Naples and the spectacular beauty of the nearby Amalfi Coast.
The finest Aglianico is known as Taurasi.  Not only is Taurasi the most robust and age-worthy of the wines of Southern Italy, it matures into a velvety potion with exceptional aromatics and deep down complex flavors.  Taurasi ranks with Barolo, Brunello di Montalcino, and the finest Super Tuscan reds as Italy's greatest wines.
Superlative Taurasi emanates from a growing number of exceptional estates, including Antonio Caggiano, Colli di Lapio, Benito Ferrara, Molettieri, and Mastroberardino, the region's oldest producer of Taurasi.  Although not Taurasi, some very good lighter Aglianico is produced in outlying areas of the Campania.  Cantina del Taburno and Vesevo make tasty medium-bodied Aglianico at an affordable price.
Lest one think red wines are the only prized wines of Southern Italy, the Campania also produces two of Italy's greatest white wines in Fiano di Avellino and Greco di Tufo.  Both white varietals thrive in the hills and low mountains above the Amalfi Coast and are made by the great producers of Taurasi.  Caggiano, Colli di Lapio and Benito Ferrara consistently fashion exceptional Greco and Fiano.  To my taste, there are no better white wines to accompany the region's seafood than these.
What to Look For in Southern Italian Wines
Colli di Lapio Taurasi Andrea 2010 and Colli di Lapio Fiano di Avellino 2013 are wines to look for in our red and white wine June Collector Series. This pair comprises two of the best wines we tasted on a recent trip to southern Italy and are not to be missed.  Both are highly allocated.
Querciola Barbera d'Alba 2012 and Errazuriz Max Reserva Sauvignon Blanc 2013 make a formidable duo as our June Primary Premier Series offerings.  Past vintages of Querciola's Barbera have been some of our most popular red wine offerings, while Errazuriz's Max Reserva Sauvignon Blanc is making its International Wine of the Month Club™ debut in June.
Salud!
Don