Looking back at my past 40 years as a wine enthusiast, I can safely say that I've seen my fair share of wine tasting parties. A common theme I've noticed over the years is that many of the hosts of these parties tend to overthink them, and put too much of the focus on the details. The format of the party, the wine glasses used, the way the host collects feedback; all of these things should be secondary aspects of the party. The true ingredients of a successful wine tasting party are simple: good wine and good people.
What supplies & tools you'll need for your Wine Tasting Party:
½ a bottle of wine per guest is ideal – supply your own or have everyone bring a bottle or two
Clean, clear wine glasses – I prefer Riedel
A couple of wine openers and a corkscrew as backup
A bucket or spittoon to dump out the excess wine
Simple wine tasting sheets so that guests can jot down comments
A camera to photograph the wine labels
Optional: Bottled water
Optional: Food pairings like cheese and crackers, chocolate, fruit, etc.
Optional: Decanter for red wine
Optional: Ice bucket for white wine
Step 1: Invite the Right Guests
Choosing an eclectic group of people for your wine tasting party will help your party run itself, especially by the time everyone is on their third or fourth wine. The key here is to invite people with varying tastes and degrees of experience with wine. That way, newbies can comfortably learn about wine from more experienced enthusiasts, and the more experienced enthusiasts can happily banter about the wine selections.
Step 2: Decide on a Theme
Although choosing a theme isn't required, it can definitely help your guests pick the right type of wine for their palate. I'd recommend going with wines by region or appellation. Some other common themes are new world vs. old world wines and blind tastings. A note about blind tasting, however – although much can be learned through blind tastings, especially among seasoned wine drinkers, I have never found blind tastings contribute much fun to a wine party. Instead, they usually make people defensive and competitive. Therefore, I would skip the blind tasting in favor of a more fun activity.
Step 3: Serve, Taste & Enjoy
The best way to educate the palate, enjoy wine and preserve an air of mystery is to serve premium wines from wineries, varietals and places that your guests will not likely have tasted or seen before.  This way, the tasting party can be both fun and mysterious without making guests apprehensive.  If you are unfamiliar with such wines, consult a reputable and knowledgeable retailer for suggestions, or better yet, contact the International Wine of the Month Club for some of our most popular recent selections! Lastly: It is wise to try some of your provider's selections ahead of time, and then serve the wines you choose from lightest to heaviest, saving the sweetest wines for last.
A Final Note
With a little research and planning, hosting your own wine party can be a fun opportunity for you, your friends and your family to try good wines with good company. Some of the key things to remember:
A fun, outgoing group of people will make the party all the more enjoyable
A wine tasting party theme can help your guests narrow down their wine selections and help you increase the educational value of your party
If you're still a beginner with wine, consulting a knowledgeable retailer will help you pick only interesting, premium selections that fit within your theme
Wine tasting parties are still parties: remember to have fun!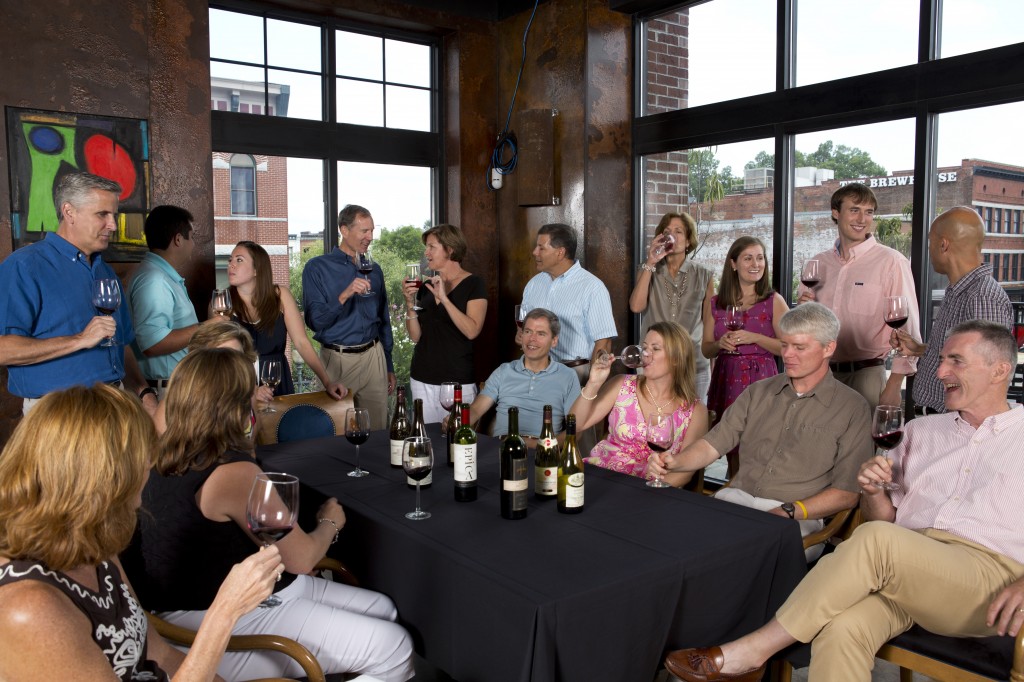 Salud!
Don