When and How to Decant Wine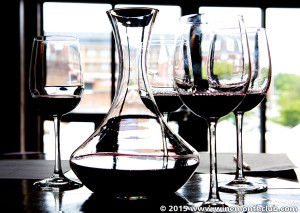 To decant or not to decant wine is a hot topic and almost always a leading question.  Personal choice and impatience dictate whether or not you should decant your wine. In reality, decanting serves just two purposes: aeration and removal of sediment.
Young, tannic red wines benefit the most from aeration.  In order to begin releasing the esters that give a wine its aroma and flavor, oxygen needs to be introduced and work its way into the wine.  Decanting helps to speed up the oxygenation process, but it also tends to tame a bit of a wine's youthful tannin.
For many wine drinkers, the most compelling reason to decant a wine is to remove all or most of the natural sediment from mature wines whose sediments precipitate out over time. Some younger unfined and unfiltered wines may also contain sediment or tartrate crystals.  Although sediment (grape skin, yeast, etc.) and tartrate crystals are harmless natural byproducts of wine, they are unsightly and can detract from the pleasure of drinking a wine.  Hence, decanting becomes a viable option.
How to decant a bottle of wine
Steps:
Allow a bottle of wine to stand upright for at least several hours before opening until the sediment settles to the bottom of the bottle.
Upon opening the bottle, carefully pour the wine slowly into a clean carafe or decanter.
For best results, shine a light behind the bottle of wine so that you can see when the sediment begins to rise in the bottle.
If done carefully, one should only need to leave a couple of ounces of wine in the bottle for you and your guests to enjoy the rest.
Here at The International Wine of the Month Club™, we leave decanting up to our customers, especially members of The Bold Reds Wine Club. You can find more information about decanting throughout our website, and even learn how our international wine clubs work to see that you aren't just getting great wine – you're getting the best value and quality, guaranteed.
So, whether you decant your wine or enjoy it straight from the bottle, together we will raise a glass with you.
Salud!
Don