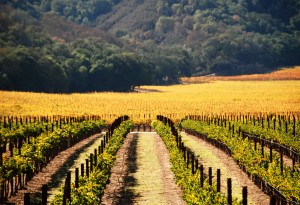 John Steinbeck would have no problem finding Hollister, California, or making his way through the nearby Cienega Valley to taste the fruit of the vines that grow upon the slopes of the Gabilan Mountains or in the valley of the Salinas River.  But, how many of the wine tourists that crowd the tasting rooms of Napa Valley would know where to begin to look for Hollister or the Cienega Valley?
Off the beaten path and under the radar of the masses who travel to more trodden wine destinations, Hollister and the Cienega Valley offer the thirsty traveler in search of fine wine a trove of affordable treasures.  Located on the San Andreas Fault in the northern half of California's Central Coast AVA, Cienega Valley may well be the most unspoiled wine country in California.
Calera is perhaps the region's most recognizable name and the most lauded winery in Steinbeck country. Year in and year out, Calera's wines are consistent favorites among critics and consumers, especially its award-winning Pinot Noirs and Chardonnays.  Who knew that Calera wasn't in Napa or Sonoma?
Pietra Santa is another Cienega Valley jewel.  Pietra Santa's Tuscan-born winemaker, Alessio Carli, possesses a magic touch with Sangiovese, as the estate's recently released 2010 Pietra Santa Sangiovese will attest.  Equally compelling is Pietra Santa's Sassolino, a delicious, age-worthy super Tuscan red consisting of a blend of Sangiovese and Cabernet Sauvignon.
Recent Pietra Santa Signature Selection Pinot Noirs merit special attention, too, as does the 2014 Pietra Santa Estate Chardonnay and Amore Pinot Grigio, easily one of California's finest Pinot Grigios. In addition, remember that Léal and Derose are two other noteworthy Cienega Valley wineries.
If you are in search of a wide variety of high-quality California wines at affordable prices, wander the road less taken and beat a path to Cienega Valley.