The 2021 Black Pearl The Mischief Maker (90 Points – James Suckling) is simply the latest in a string of excellent Shiraz-based wines from Mary-Lou Nash and Black Pearl Vineyards. With the estate's small production and the consistent critical acclaim for Mary-Lou's The Mischief Maker, procuring enough of any vintage of this wine to feature has been a daunting task. However, patience often pays off. The eye catching 2021 The Mischief Maker (80% Shiraz, 10% Grenache, 10% Mourvèdre) offers a saturated purple color. With a few minutes in the glass, black currant, mulberry, and a cache of exotic spices emerge to greet the nose, yet it is in the mouth where the wine truly shows itself. Layers of fruit infused with sizzling bacon, deft touches of sandalwood, and a subtle smokiness tantalize the palate. The 2021 Mischief Maker embodies energy and purity along with a disarming charm thanks to Mary-Lou Nash's commitment to the land and the wine she brings forth from the good earth of South Africa's Western Cape. For optimum enjoyment, afford the youthful 2021 The Mischief Maker 30 minutes of aeration, and the wine as well as the land and the people of Black Pearl will emerge like magic in the glass. Serve at cool room temperature (60°-65° F). Anticipated maturity: 2023-2028. Enjoy!
Mary-Lou Nash's beautiful 2021 Black Pearl The Mischief Maker needs nothing but a clean glass to shine. Nonetheless, adding some tasty morsels will double the pleasure, beginning with a delectable veal or lamb stew with peas and carrots over faro. A perfectly grilled beef or lamb burger topped with fresh avocado and melted Boursin cheese makes a splendid accompaniment, too. Heady sauces and rich spices won't diminish this Mischief Maker either. Mushroom risottos and delicious pasta dishes served with creamy tomato sauces also provide fine companionship. In the presence of the 2021 Black Pearl The Mischief Maker, leek tarts and a splendidly crafted tomato basil pie make our mouths water, too. Moreover, cheeses such as Cheddar, Gouda, Gruyere, Pont l'Eveque, and creamy goat's milk cheeses offer easy to prepare accompaniments. Bon Appétit!
Stumbling upon Black Pearl Vineyards on a trip to South Africa many years ago remains a stroke of great fortune, although I still wonder if divine providence is more responsible as the visit my family and I made to Mary-Lou Nash and her father Lance at Black Pearl Vineyards that day remains one of our fondest memories of a month-long wine trip. It was a magical spring day on Africa's Western Cape, a day in which the air appeared distilled and rarefied and the sky and surrounding landscape scintillated and vibrated with a brilliant pulse. Yet, it wasn't only the land that hummed an electric tune. Mary-Lou, the self-proclaimed mischief maker, and Lance, too, embodied the vibrancy of this special place, a space filled by perfectly tended vines, the Western Cape's unique flora, and eye-popping scenery, which made us believe we could see clear across the continent. Yet, none of the wonder comes about serendipitously. Starting a winery and making wine requires hard work, persistence, and more than a bit of blind faith as American ex-pat Mary-Lou Nash will attest. Moreover, you have to love both wine and the land.
Mary-Lou came to South Africa in 1996 to visit her father, who planned to retire to an old rundown farm in Paarl that he had recently acquired. Instead of spending a holiday with Dad, the bikini-clad recent college grad along with two farm workers began picking the farm's ripening Chenin Blanc grapes, before Mary-Lou drove the tractor full of grapes to the Windmeul Cooperative for crushing. Smitten with both wine and the land, May-Lou planted 10,000 Shiraz vines on the farm in 1997 and an additional 6000 Cabernet Sauvignon vines in 1998. Mary-Lou and Lance have since refurbished the farm, restoring the natural flora and fauna to assure biodiversity and sustainability.
At present, there are many more vines at Black Pearl along with a bevy of award winning wines from Mary-Lou Nash, including the delicious Shiraz-based The Mischief Maker as well as an excellent Cabernet Sauvignon and Chenin Blanc. Since our visit to South Africa, Mary-Lou's Black Pearl wines have made several appearances in our clubs as club members have clamored for more of these highly allocated wines, especially The Mischief Maker (Mary-Lou's favorite wine and this month's feature). A self-taught winemaker, Mary-Lou is the first American Cape Wine Master and one of South Africa's most accomplished winemakers. As a child Mary-Lou acquired the name Mischief Maker, a moniker she has refused to give up. We invite you to taste and revel in the mischief she is making.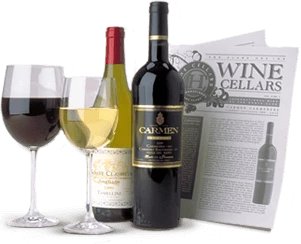 Enjoy Limited Production Estate
Bottled Wines
Discover limited production estate bottled wines such as Vergenoegd's internationally
acclaimed 2005 Cabernet Sauvignon, imported exclusively for our members.
DISCOVER OUR FOUR CLUBS