A deep rich ruby robe, the color of finest velvet, sets the stage for the many pleasures that flow from a glass of 2001 Bisci Villa Castiglioni. A combination of the pleasures of Bordeaux (Cabernet Sauvignon) and Tuscany (Sangiovese), the Villa Castiglioni is redolent with the scents of woodland blackberries, truffle and anise. On the palate this Super Tuscan style wine is smooth as silk, but ohhh so flavorful. In this respect it already drinks like a supreme bottling of aged Chianti Classico or first rate Médoc, and further ageing will only increase this wine's pleasure quotient, so you may want to stash a few bottles away for another day. As with most fine Italian wine, we suggest extended breathing time (at least thirty minutes in a decanter or an hour if a glass is poured off and the rest remains in the bottle. Enjoy!
Given the great elegance, velvet smoothness, and considerable flavor profile of the 2001 Bisci Villa Castiglioni, it has no difficulty finding suitable companionship. It is equally adept at providing the ideal accompaniment to an elegant dinner party as it is to sprucing up midweek meatloaf or the weekend's leftovers. Nevertheless, fine wine begs for food of similar stature, so why not bring the best that your kitchen has to offer? Some of our top choices with the Bisci Villa Castiglioni include Lamb Shanks with Beans, Florentine Steak, or freshly made Cheese and Wine Sausages that are gently grilled over Cabernet vine cuttings or mild mesquite. As a second course or for those limiting their ingestion of meat, we suggest Cavolo in Casseruola, a Northern Italian dish that adds new meaning to the raison d'être of the humble cabbage. Spit roasted chicken or game hen, Duck à l'Orange, and even hearty marinara sauces do the Bisci Villa Castiglioni proud, but no need to stop here, as there are very few dishes that this wonderful wine won't enhance. Salute!
The Castiglione Bisci estate is the Marches' finest expression of quality and style for both red and white wines. This is a superbly situated property whose consistent success with Verdicchio, the region's most renowned wine, and Villa Castiglioni, an outstanding proprietary red, make Bisci the Marches' most illustrious wine estate. In fact, its owners produce several wines of extraordinary eminence. In order to produce such outstanding wine, draconian measures are taken by Bisci to assure the ultimate quality of every bottle: rigorous pruning to limit yields, strict selection of every cluster at harvest, the bottling of only free run must, and the steadfast refusal to bottle wine in poor vintages – a rarity in today's cash flow driven economy. And these are just a few of the measures that set this estate apart from the majority of commercial producers in the Marches. The Marches is the picturesque viticultural region of Italy that lies between the Apennines and the Adriatic; a green pastoral land that recalls the simple delights of Tuscany in times gone by. Here several excellent and increasingly well-known wines are produced: Verdicchio, Rosso Piceno, and Rosso Conero. But the region's best-kept secret remains outstanding proprietary reds such as Bisci Villa Castiglioni, which rival those of neighboring Tuscany. Moreover, Bisci is also widely acknowledged to be the foremost producer of Verdicchio, the Marches' signature white wine. Verdicchio is a commonplace name among wines consumers, and so is the striking but hopelessly impractical fish-shaped bottle that encapsulates the most commercial of Verdicchio's wines from the Castelli di Jesi appellation. However, very few experts, let alone consumers, know that there are indeed two appellations in the Marches where Verdicchio is produced – Castelli di Jesi and Matelica. Both appellations employ the same indigenous white Verdicchio varietal, but the similarity ends there. In short, Matelica is the smaller and less famous of the two regions, but its wines are much fuller, richer, and infinitely more interesting than those of Castelli di Jesi. Not surprisingly, Bisci fashions the two finest Verdicchio di Matelica. Bisci is located in the heart of Matelica, a very small township couched in the hilly rural part of the central Marches. Yet, even in the Marches, Bisci's wines are fairly rare and difficult to find. Matelica is the real Marches, a land of substance as well as charm, whose attributes are aptly reflected in the property's wines. All of Bisci's wines are handcrafted in tiny quantities and most are consumed locally. In addition to producing outstanding Verdicchio di Mettalica from the estate's vineyards, Bisci crafts small quantities of superb red wine. The estate's proprietary red, Villa Castiglioni, is a seductive blend of 70% Sangiovese (the famous Tuscan varietal which is also indigenous to the Marches) and 30% Cabernet Sauvignon. This is roughly the same blend or cepage as the great proprietary reds of Tuscany, known as Super Tuscans, who legally cannot claim to be Chianti Classico, Brunello di Montalcino, or any other well-known wine because of the addition of Cabernet Sauvignon. Villa Castiglioni proffers a heavenly bouquet and more than enough elegance and flavor to put many so-called "Super Tuscan" reds to shame. And like its Tuscan counterparts, Villa Castiglioni must be labeled with a proprietary name and not that of an appellation. If Villa Castiglioni substituted the local Montepulciano grape for its portion of Cabernet Sauvignon, it would be entitled to the Marches' Rosso Piceno appellation. Such is the Byzantine intrigue and the confusing vagary of fine wine production in Italy. No matter, the wine is super and that's what counts.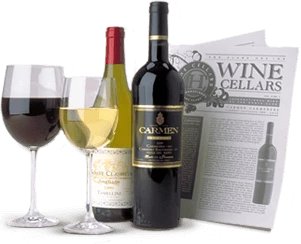 Enjoy Limited Production Estate
Bottled Wines
Discover limited production estate bottled wines such as Vergenoegd's internationally
acclaimed 2005 Cabernet Sauvignon, imported exclusively for our members.
DISCOVER OUR FOUR CLUBS